By Tony Bennett
In It for the Long Haul
A-1 Movers Helps Take the Stress Out of Moving for Businesses and Families – Whether Across Town or to Another State or Country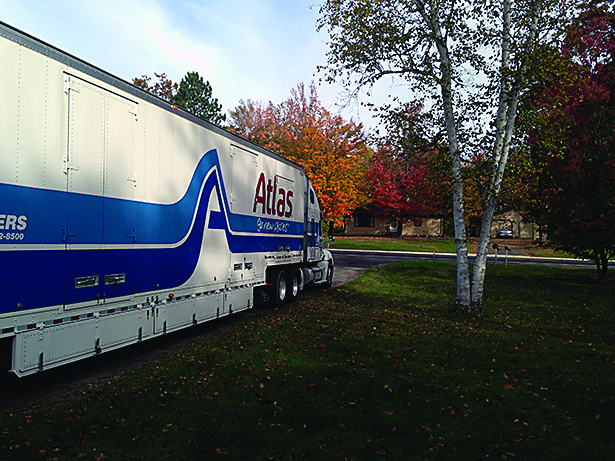 When it comes to life's stressful experiences, moving – whether to a new home or a new business location – is probably on the Top 10 list for many people.
Taking all of your belongings and stuffing them into heavy boxes, straining to lug them around while not damaging anything and loading it into vehicles and trucks involves a lot of hard work and sweat. And that's not to mention the cleaning, the "what's in this box" labeling – and the nagging thought that you may not have adequately protected valuable, breakable equipment, furniture, treasured family heirlooms or other items.
Superior-based A-1 Movers knows this, and that's why their mission is to make the process of moving as painless as it can be. The staff assists with moves from single-family houses all the way up to large companies. And they do so with a family-business touch that helps make the experience a more comfortable one. Whether the move is across town, to another state or to another country, A-1 can provide customers with just the right solutions for their particular moving challenges.
The company was formed in 1983, when owner John Nye opened it with business partner Terry Bishop.
"We had been working for a local moving company," – Nye said in referring to Rookey Transfer, "and they went belly up. So we thought 'What a great opportunity,' and we decided to start a business. The way I tell the story is that they closed the business on a Friday, so we took the weekend off and then started on Monday."
While it was surely more complicated, that's actually not too far off the mark. Nye and his partner had become the de facto faces of the previous company, since they were out in the field and doing lots of interacting with the community.
"We knew a lot of the local decision makers," Nye explained. "We hit the ground running. We didn't know what we were getting into – and when we did find out, my gosh, we were scared. But we were staying pretty busy and we grew from there."
That was the beginning of A-1 Movers, which started simply as a household goods mover, much like the company it had supplanted. "We'd go in there and do all the prep people would like us to do," Nye said, "including the packing of their goods, crating of things that are needed to be in wood crates, inventory, loading and transportation. We didn't reinvent the wheel; we just approached it with the attitude that we were going to try everything we could and take on any job that we could. There were two letters that we didn't know, and that was 'N' and 'O.'
"Our short-haul and intrastate geographic region can stretch from International Falls to southern Minnesota, throughout Wisconsin and into Michigan."
– co-owner Chris Nye
"After a couple years of that, we realized there was a call for expanding our area of service," he continued. "We thought that we'd try to get affiliated with a major interstate carrier, which we were successful in doing." Today, A-1 is in its 34th year as an Atlas Van Lines agent.
From those early days to now, Nye says that his business has "changed tremendously." In the beginning, his mentality was just to create a job for himself. However, that goal evolved and grew.
"As time went on, we felt a great deal of responsibility for our employees, and we felt it was necessary to make sure we got enough work so they could take care of their families," said Nye. "We're a very family-oriented company; I feel responsible for 20-plus families."
The moving profession has also evolved and grown since A-1's launch. "It's a lot more involved," Nye says about his job. "The industry has changed quite a bit and is continuing to change – everything from safety regulations to the cost of doing business." He noted the complicated processes of remaining compliant with regulations pertaining to the transportation industry. But Nye says that his employees – he calls them his "team" – keep him on the ball and everyone at this business supports each other. And he is clearly proud of them.
"My crews do a great job, from the initial call to when the final piece is put in place," he said. "We try to make it as easy as possible for the customer."
A notable transition that took place over time is that Bishop sold his stake in the company and Nye's son Chris then came on board as a co-owner. Nye says that he brought a level of professionalism and expertise that has been good for the company.
"Chris had been a Professional Van Operator – that's what we call our drivers within the Atlas system – and he has taken on that role and various other ones for A-1. In between, he went back to school, and he's got a transportation and logistics management degree from the University of Wisconsin-Superior," Nye said. "So he really knows more about the entire transportation industry than his dad does – he's really on the cutting edge. I was really happy when he made the decision not to go other places, because he had job offers from other transportation companies. He decided to get involved here."
As Nye puts it, his son Chris is "the future of A-1 Movers; he's got such a good handle on it. He's super hardworking, he's a tough taskmaster. He likes things done a certain way, because that's the way I started training him when he was 6 years old."
"We're kind of the middleman between you and the international shipping company."
– Office Manager Joanne O'Hara
Chris Nye remembers the early days of A-1 as being something "my father started in his garage." He worked for his dad through high school, went off to college, worked for another freight company and came back "to help with the family business," as he explained it. Chris became part-owner in 2011.
Far from being tied to their desks in the office, the Nyes are very much involved in the hands-on moving work that A-1 prides itself on. Oftentimes, they're out on the highways of America, driving vans to places like Colorado and Florida (as they both were when taking a break to be interviewed for this Positively Superior article).
"Our short-haul and intrastate geographic region can stretch from  International Falls to southern Minnesota, throughout Wisconsin and into Michigan," said Chris Nye. "We have a handful of trucks in the Twin Cities every week. We've got quite the short-haul fleet."
And that's only the intrastate side of things. The interstate side of the business is where the Atlas Van Lines name is prominent. "That's the long-haul portion – people looking to move out of [or into] our region, snowbirds going to Florida, people switching positions at companies," Chris explained. "We utilize our partnership with Atlas Van Lines for those bookings."
Jeff LaPorte is one of those Professional Van Operators – PVOs, as they're referred to within the company – who drives for A-1 and its partner, Atlas. His history goes way back with John Nye, and he's worked with the business since 1999. "Pack, load, deliver – I'm able to do it all," he said.
The moving profession has also evolved and grown since A-1's launch.
Ask LaPorte why he's stayed with the company for so long, and he'll tell you it's because A-1 is "a great, solid, good company. They look after family. It's like working with family."
LaPorte's geographic coverage area includes "48 states and Canada," he noted. "There ain't a nook or cranny in this 48 that I haven't been in." His job duties are varied. "You do a lot of pack and load, deliver. Some of these bigger families – husband and wife and two or three children – you kind of get to know them. There are some families that I've moved four and five times."
Talking to LaPorte, one gets the sense that the opportunity to travel and see other parts of the country can be a huge draw of the job. He speaks of a recent trip to the Carolinas, where he took a few days off to visit his granddaughter. And he seems to take a cue from the Nyes in the way that he has tailored his job to reflect his own family values and ties. In fact, his wife Terry has worked alongside him on the road for some time as an A-1 employee.
"This past three years, my wife has been with me," LaPorte said. "We travel as a team. She's my computer guru when we need stuff emailed. She does most of the paperwork, while I supervise the packing and loading and unloading."
And he's a master at that, given all those years of experience. "It's like playing Tetris," he said, referring to the classic video game in which different shapes must be fit together just so in order to win. LaPorte's least-favorite thing to transport, he confessed, is "the chipboard stuff. It doesn't move very well.
"It's been a good life for us," LaPorte says. "We raised two children on it. I have no desire to go anywhere else."
"There ain't a nook or cranny in this 48 that I haven't been in."
– Professional Van Operator Jeff LaPorte
Joanne O'Hara is the office manager and has been with A-1 Movers for 18 years – yet another longtime and loyal staff member. She holds down the fort, so to speak, while the company's trucks buzz around the nation. As she puts it, she "wears a lot of hats" with A-1: "I do ordering, finances, accounts payable and receivable, billing, ordering uniforms, customer service, claims" and much more, including assisting with the company's long-term storage service options.
"Originally, I was only going to work here part-time for six months," O'Hara reminisced, "and then I liked it so well, I decided to quit my full-time job and come here. It was a bit smaller at the time. It's grown tremendously now. It's family-oriented; you get close with people. Everybody knows everybody, and you go to people's weddings and baby showers. You know their kids and what's going on in their lives. It's very close-knit."
O'Hara also stressed that A-1 Movers doesn't see itself as just a company that moves things from point A to point B.
"A lot of our customers are repeat customers, and I don't mean just once," she said, noting that good customer relationships are often formed in the process. "We not only do household goods for people, we do offices, pianos. Word of mouth gets out – and it's the best advertisement.
"It doesn't matter if they're a little guy or a big guy," O'Hara says of A-1 customers. "They all get treated the same; we give the same [level of] service to everybody."
O'Hara said that A-1 Movers' attentive, personalized service extends to international customers, too.
"Let's say you're moving to Australia," she explained. "You call us and we'll give you an estimate. I'll call the international company, get you the quote. We pack you and we ship it out. We're kind of the middleman between you and the international shipping company."
Given the increased complexity of international moves, customers appreciate knowing that A-1 will handle all of the details for them.
"John [Nye] is compassionate and community-centered.
Obviously, his culture is one of giving back."
– Executive Director Shaye Moris, Second Harvest Northern Lakes Food Bank
A-1 Movers employees not only care about serving their customers well – they also believe it's important to make a positive community impact through their charitable work with food drives.
Executive Director Shaye Moris of Second Harvest Northern Lakes Food Bank said A-1's initiative to donate its resources "was truly the brainchild of John Nye. He knew our region's work and sought us out to work with because of our reach in several regional communities, including Duluth and Superior." The nonprofit food bank works tirelessly to feed the hungry in Northwestern Wisconsin and Northeastern Minnesota.
Through the "Fill That Truck – "Remove Hunger'"initiative, A-1 Movers partnered with Super One Foods, which hosts the annual food drive at its grocery stores across the Twin Ports area. A-1 placed donation bins and parked trucks and trailers at Super One locations so area residents and businesses could contribute. Super One also created donation bags containing food staples that customers could buy and donate right on-site.
"Since its inception, 'Remove Hunger' has raised enough food and funds for over 26,670 meals for people in our community," Moris said. "John is compassionate and community-centered. Obviously, his culture is one of giving back, not just operating within a community. I have a sense that he believes the community is stronger when everyone is strong. I hope other businesses look at what John's done and realize they, too, can have an impact." The 6th Annual Fill That Truck will take place November 20 through December 26. A-1 will be on-site Friday evenings and on Saturday the weekends of December 8-9 and December 22-23. The event benefits Second Harvest and the Salvation Army in Superior.
With deep Superior roots, loyal employees and strong ties to the community (and given the fact that people will always need to move their belongings from one place to another), it's clear that A-1 Movers is in it for the long haul.
"I've got eight grandkids now," said John Nye. "I'm looking forward to them being part of Chris's workforce in the future."  P.S.
Tony Bennett is a freelance writer based in the Twin Ports.
Like this article? Want to read more?
Click here to subscribe to Positively Superior magazine.