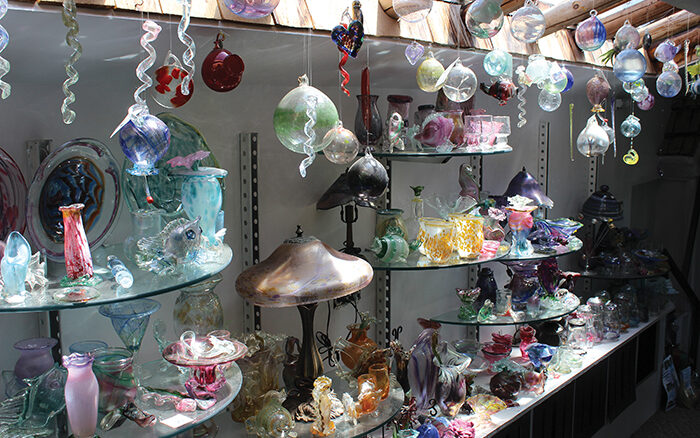 By Patrick Lapinski
The Oulu Glass Gallery Attracts Visitors From Around the Globe
The Oulu Glass Gallery, located at 1695 W. Colby Road in Brule, Wisconsin, is a world of colorful glass objects created in the business's on-site furnaces. Vases, lamps, jewelry, fused glass and decorative and ornamental objects that glisten near a window or rest on a table are on display, along with goblets and glasses of pristine color and clarity – all elegantly shaped and sized with a true artist's eye. 
Like any master craftsman, Oulu Glass co-owner Anton "Jim" Vojacek still learns from his mistakes. He probes them, takes them apart to understand them. And often, he finds inspiration in them, seeing something that wasn't part of his original vision. Through this process, his creations leave his hands transformed, perhaps with a new technique – or, at his discretion, discarded.
"When you hold it up to the light, it looks like the pebbles on the Lake
Superior shoreline… It is probably my favorite piece."
– Longtime Customer Cheryl Burbel
Jim is in a constant state of creativity when he is working with hot, fluid glass. "What excites me most is what's coming next," says this pioneering glass artist. "A lot of times, it's just something that wakes me up in the middle of the night. I don't know if I had been thinking subconsciously for weeks or months, or even longer with that particular thing, but it didn't come to mental fruition until maybe it woke me up in the middle of the night."
An Artistic Partnership
Oulu Glass is the extended vision of Jim and Sue Vojacek's artistic partnership. The name has an exotic ring to it, and many nonlocal customers try to guess its origin. Sue, who is Jim's wife and co-owns the business, explained that it takes its name from the rural Finnish village of Oulu in Bayfield County, Wisconsin, near the area where they both grew up. In Finland, Oulu is a city located in the central part of the country.
The couple met at at the University of Wisconsin-Superior, where they had both enrolled in the Fine Arts Department. They laughed when they learned that they'd grown up only 10 miles apart, but because they attended different schools, they had never met.
"I knew that drawing, painting and sculpture was the only thing worth doing."
– Co-owner and Artist Jim Vojacek
Jim said he was confident about his calling as he entered college. "I knew everything when I was 18 years old, and I knew that drawing, painting and sculpture was the only thing worth doing. Everything else was crap," he said. Forced to take an elective in ceramics, he balked at first at the idea of "playing in the mud." But as he became absorbed in the class, he developed a passion for the glazes – the glass coatings that are applied after the clay is fired.
Jim Grittner, his ceramics teacher, recognized a raw talent and soon introduced Jim to Harvey Littleton, who had been Grittner's instructor at the University of Wisconsin-Madison. At that time, Littleton was breaking off into new and exciting directions with glass as a form of artistic expression, and he would later go on to become known as the father of the art glass movement in the United States.
"Harvey was willing to let me copy his early furnace and annealers and take measurements, so I could build my own. And he told me where I could get pipes and rods and other tools that I might need," recalled Jim, who looked to Littleton as a mentor. "He said, 'Learn from the glass, and if you love it, you'll get along just fine. You'll learn whatever you have to know.' So I took his advice, and that's what I did."
"People look forward to seeing something new when they come, and there's always something a little different here."
– Co-owner Sue Vojacek
And he's been doing it ever since. "I know a lot of glass blowers, and almost none of us that started out are making pieces that look like the next guy's stuff," Jim said in reflecting on his craft and the creative process. "And you think, well, there's probably a limited number of things that you could do. But the things you can do with glass are basically limitless.
"If you look at a whole bunch of people who are making glass, and all their stuff is different, it's because when you find a partnership with a material that's so friendly, it takes you in directions that you didn't have in your mind," he added. "It'll take you somewhere else if you're willing to go with it."
Regarding his status among peers, he said, "How I fit in? I don't know. We all fit in together, because I think that if you're still doing it, it's because you love the material."
Visitors From Around the World
Over time, Oulu Glass Gallery has developed a loyal following, and the Vojaceks enjoy interacting with the steady stream of visitors who make the trip to the studio and gallery. Those visitors include people from the local region, other states and even other countries.
"We like to meet face-to-face. We make our own things, and we always have a new little twist to things we make," said Sue. "People look forward to seeing something new when they come, and there's always something a little different here."
Cheryl Burbel has been a loyal customer of Oulu Glass since she and her husband first stepped into the gallery about 35 years ago. "We totally fell in love with Jim's work. Every time we have company, we bring them all in there to shop," said the Iron River, Wisconsin resident, noting that she owns a number of pieces from Oulu Glass. "I have a candy dish, and when you hold it up to the light, it looks like the pebbles on the Lake Superior shoreline on the bottom of the bowl. And then, from above, it would be like the blues of the waves. It's just beautiful – it is probably my favorite piece that I have of his.
"People come from all over the world. It's pretty amazing, because we are really in the middle of nowhere."
– Painter Tonya Sell
"I think for anybody in the Twin Ports region, it's well worth the drive to look and enjoy," Burbel added. And once you're there, she noted, it's a good idea to take a walk around the gardens, too. It's one of her favorite things to do every summer.
"She [Sue] has chairs where the husband can sit and enjoy the flowers if they're bored," Burbel said with a laugh, "and a little elephant garden that entertains the children who might get antsy when they're inside. So summer is just a wonderful time for a family to visit."
For people who want to explore their artistic sides, Oulu Glass has offered glass-blowing classes and workshops, in addition to classes in other media, for many years. People even show up just to watch the glass-blowing sessions, and Jim welcomes them all.
A Family Business
Tonya Sell, the Vojaceks' daughter, also contributes her artistic skill and talent to the business as a painter. And her summer art camps for youth and guided overseas art tours (currently on hold due to the lingering COVID-19 pandemic) have been an integral part of the "extended family" offerings at Oulu Glass.
Sell said she marvels at how her parents' lives are so woven into everything they create. "People come to them – people come from all over the world. It's pretty amazing, because we are really in the middle of nowhere out here," she said. "But people make the trek and they come out.
"People have strong reactions to his work. Some people love it; some people don't at all – they just don't get it," Sell added about her father's creations. "He's okay with that; he really doesn't care. He just makes his work."
And she's proud to think that someday, her children may continue the dream the Vojaceks launched in the late 1970s. A new generation of glass blowers – grandchildren Stazia, Riley, Asher and Jude – are already making the transition from creating paperweights to coming up with ideas on how to showcase Oulu Glass for a new generation of customers.
The Oulu Glass Gallery is open daily from 10 a.m. to 5 p.m. (except Sundays, when hours are noon to 5 p.m.) from mid-May through January each year. The Vojaceks' art can be purchased right on-site. It's also available at the Art Dock in Duluth's Canal Park district and at the Bayfield Artists' Guild in Bayfield. PS
Patrick Lapinski is a freelance writer who grew up in Superior.