By David Boe
Mission-Based Care
Four-Star-Rated Villa Marina Health & Rehabilitation Center Strives to Meet Patients' Physical, Social and Emotional Needs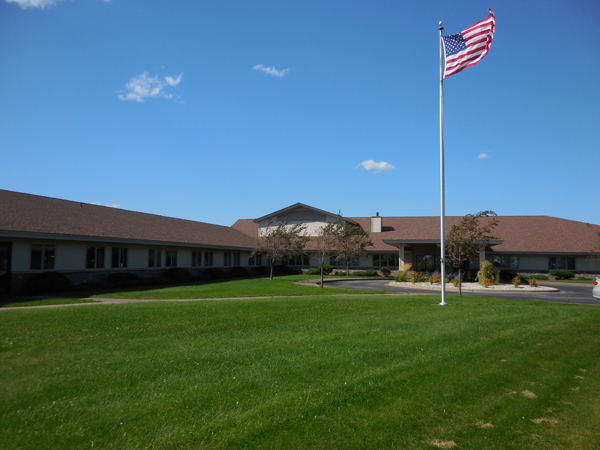 Lou Andrews has not let age or injuries slow him down. The 71-year-old Superior resident is still working, making deliveries for a local plumbing company despite a pretty banged up body.
He broke his back in 1978 while working and has undergone multiple therapy sessions for it. Then, while cleaning his gutters in late 2014, he slipped off the tailgate of his pickup truck and his elbow slammed into his side, breaking ribs and puncturing a lung. Thinking he was all right, he stoically went to work, but ended up in the ER after he started to whistle through his breathing. After recovering from that, he had knee replacement surgery in January 2015.
After his accident in 2014 and surgery in 2015, Andrews didn't just need time to heal, but time and effort to restore, regain and rehabilitate – to get back to the active life and work style he preferred. He went through recovery and therapy at Villa Marina Health & Rehabilitation Center in Superior. Both times, as soon as he was out, he quickly went back to working in the community he loves. And while at Villa Marina, he learned how the staff took care of their patients.
They're the tops. They made me happy."
– Patient Lou Andrews
"They tricked you!" he joked. "There were a bunch of ladies and one gentleman who took care of me, and one, Tiffany – boy, she knew how to get me to do my therapy. She'd tell me, 'Just a little bit more' and next thing you know, I did a lot more than I was expecting. They're tricky."
Despite that "trickiness" (or perhaps because of it), Andrews said if he had to do therapy again, he'd go to Villa Marina, where he made a lot of friends.
"They're the tops," Andrews said. "They made me happy."
Being on top is part of Villa Marina's mission in striving to meet the physical, social and emotional needs of its patients. The skilled nursing facility is part of Avanti Health Systems, which operates similar facilities in northern Wisconsin: Villa Maria Health & Rehabilitation Center and the Sky View Nursing Center, both in Hurley; Middle River Health & Rehabilitation Center in South Range; and Avanti Health & Rehabilitation Center in Minocqua. Avanti Health Systems' corporate offices are located in Hurley.
Avanti Health Systems also has a division called Home Medical Products and Services with locations in Ashland, Hayward, Hurley, Medford, Merrill, Minocqua, Rhinelander, Rice Lake and Superior, Wis., as well as Grand Rapids, Minn. In addition, Avanti operates Bay Area Home Health in Superior and Ashland and Avanti Home Care in Hurley, which provide premier in-home services (from hourly to 24-hour care) for residents of Gogebic County in Michigan's Upper Peninsula as well as Iron, Ashland, Bayfield and Vilas counties in Northwest Wisconsin. Avanti also runs Beacon Ambulance for 24/7 emergency and non-emergency medical transport.
Rounding out Avanti's operations are senior living apartments; it owns Brentlee Apartments, Garden Estates and Villa Vista Assisted Living in Hurley; Cloverland Complex, Woodland Court and Villa Manor Apartments in Ironwood, Mich.; and Piedmont Apartments and Villa Rita Senior Apartments in Superior.
Villa Marina's services are comprehensive, including dedicated short-term stay and rehabilitation, outpatient and intensive occupational, speech, cardiac, stroke and physical therapy, post-surgical orthopedic rehab and palliative and comfort care. It also has complete 24-hour skilled nursing care, provides patient assessments, comprehensive wound care management and intravenous, lymphedema and vestibular therapy, Alzheimer's/dementia care and more. In short, it's no longer your great-grandparents' nursing home.
"Nursing homes have a long history and as an industry, we have evolved into a necessary service in the health continuum," said Lori Randa, Villa Marina's regional administrator. She should know. Randa has worked in a variety of health-care settings as a R.N. for 34 years and as an administrator for home health care for many years. She's been a regional administrator for Avanti Health Systems for 16 years and has a Ph.D. in health.
"We are proud of achieving a Four-Star rating from the Center of Medicare and Medicaid Services."
– Regional Administrator Lori Randa
"Villa Marina is a skilled nursing facility, which got its start in the mid-1900s to deliver skilled care after one was discharged from the hospital," she explained. "In addition to the medical therapy, we also assist with custodial care, like bathing, getting dressed and eating."
This type of skilled care, said Randa, was driven by several forces, such as societal changes prompted by families seeking help to provide care for their loved ones, or (as in the case of Lou Andrews) it's more convenient if the other spouse is still working.
"Another reason is that sometimes patients are best served by living on-site to receive nursing, therapy, laboratory services and special diets to get stronger before returning home," she said. "This helps people successfully transition to their former lives."
Villa Marina has been helping its patients make that successful transition since 1997, when the facility was built on 28th Street near the Mariner Business Retail Center. It's licensed for up to 72 residents and its one floor ensures easy accessibility to nursing stations, the rehab gym, activity department, family room and dining room. It provides care for adults of all ages, ranging, so far, from as young as 24 to as old as 106. Its mission is to provide expert medical care, personalized attention and quality of life.
The facility is part of what Randa called a continuum of care campus that includes the Piedmont Apartments and Villa Rita Senior Living. These two apartment buildings in Superior have 88 units between them and housing assistance is available.
That's a lot of bricks and mortar, vehicles, medical technology innovation and policies. However, for Randa, it's the relationships among staff and with the residents that makes everything Villa Marina does not only effective for patients, but rewarding.
"The team at Villa Marina is the best I've ever worked with, a very caring and intelligent group," she said. "We work hard and have fun being here together. We are proud of achieving a Four-Star rating from the Center of Medicare and Medicaid Services."
"Our therapy department has a large volume of short-term rehab patients."
– Rehabilitation Director Chris Peterson
Working closely with Randa is Chris Peterson, Villa Marina's rehabilitation director. A certified lymphedema specialist with experience in long-term and short-term outpatient rehabilitation, as well as home care, Peterson is well suited for the rehab therapies that make up the bulk of Villa Marina's services.
"Our therapy department has a large volume of short-term rehab patients, with continuum of care for outpatient and home care therapy," she said.
Peterson oversees a staff of 11 to handle patients' myriad diagnoses. Basically, if a condition or injury affects the body, it can be handled by her staff. Peterson notes a long list: physical, occupational and speech therapy for balance/falls, orthopedic and total joint replacement, strokes, Parkinson's disease, general disability, cardiac, lymphedema programs for post-op care related to knee, hip or shoulder surgeries, rotator cuff repair, carpal tunnel and post-op fracture care.
That's a lot of ailments that require equally comprehensive therapy techniques, including ultrasound, electrical stimulation, manual therapy, Kinesio Taping®, therapeutic exercise and Grastron Techniques®. But behind the complex medical terminology and techniques, the same personal attitude Peterson shares with Randa and the rest of the staff is what makes the professional part of the job worthwhile.
"The best part about my work is the people I work with – coworkers and residents," she said. "The therapy team is very fun and makes the patients laugh. Someone is always singing or telling jokes. One of our residents calls the therapy room the 'laughing room.' It is a rewarding job seeing people come in for short-term rehab and then be able to return to their homes."
Part of the continuum of care for clients transitioning from rehab to home comes from the medical representatives of St. Luke's Hospital and Essentia Health. Dr. Timothy Kleinschmidt, an internal medicine physician at St. Luke's Internal Medicine Associates, serves as Villa Marina's medical director. As such, he visits the center generally about twice a month – but his actual involvement with the St. Luke's patients who use Villa Marina occurs on a daily basis.
"I'm always on the phone, or receiving up to 10 to 15 faxes a day about the medical needs of my patients at the center," said Kleinschmidt. "During a client's stay, he or she is still under the care from the hospital they usually go to. I carry that responsibility for patients from St. Luke's and work together with the patients to make sure care is coordinated."
"We're keeping in touch and helping to ease their transition from hospital to rehab to home."
– Medical Director Timothy Kleinschmidt, M.D.,  St. Luke's Hospital
But it's more than just the medical, administrative or quality assurance responsibilities, added Kleinschmidt. It's also about peace of mind for the patient.
"It's a good thing for our patients, during their stay at Villa Marina, to still have that familiarity with staff from their own hospital, whether it's St. Luke's or Essentia," he said. "We're keeping in touch and helping to ease their transition from hospital to rehab to home. I think that's very important."
Deanna Hughes, PA-C, agreed. A certified physician assistant at Essentia and one of its direct care providers for Villa Marina, she appreciates the chance to meet with clients at the center in a slower pace environment. "It's a great opportunity to slow down and get to know the patients and learn their life stories," she said. "It's very rewarding." She also uses her 25 years of medical experience to provide care in a team approach when transitioning residents to a palliative approach with dignity.
Like Kleinschmidt, Hughes takes pride in the ability to provide that oft-mentioned continuum of care and transition for clients. However, she said the staff at Villa Marina – from administrators and nurses to cooks, housekeepers and therapy staff – are the key ingredient to success in any care for the clients and to relationships with medical professionals such as herself. There is a deep sense of community.
"There is a lot of teamwork and collaboration at Villa Marina," said Hughes. "But there are also the home cooked meals and daily fresh-baked cookies or brownies. It makes one feel at home here."
Feeling at home is a big part of the quality of life at Villa Marina. That's the responsibility of Paul Raunio, the center's activity director for the past five years. Raunio began working as a CNA (certified nursing assistant) in 1996 for Avanti Health Systems and recently took over admissions and marketing. His job is to set up all the activities, and he keeps them varied to cater to the residents. "Villa Marina really does cater to each resident and his or her family," noted Raunio. "And sometimes, there are different generations of that family.
"Villa Marina really does cater to each resident and his or her family."
– Marketing/Admissions Director Paul Raunio
"We've got singing, art therapy, movies, men's breakfast, manicures, 'Snack-n-Yack' and other activities," he explained "And the bingo. Residents here love the bingo! It's our biggest event."
Keeping the residents happy means many keep coming back to visit, said Raunio. He cited one visitor in particular: Lou Andrews. The two-time resident, said Raunio, loves to visit with people and chat.
"He still likes to come and be a part of the Yack-n-Snack," said Raunio. "Plus, his wife just transferred from Middle River Health and Rehab  and is our new social services director."
Given his two decades at Villa Marina, Raunio said he's seen the children of past residents coming to the center. It's one reason he loves his job and his community. "Local businesses have also donated products and services for our residents, and the services provided by area churches and volunteers are indispensible," he said.
Randa isn't surprised when the staff and residents talk about the sense of community at Villa Marina. A Superior resident herself, she cited the support from the "beautiful" community of Superior, as she described it, in contributing to the success of the center – like the area schools and colleges and the Superior police and fire departments.
"The people are kind and generous and love their families and trust us with their care," she said. "But by far, the most rewarding part of my job is being a part of my residents' lives – supporting their choices and seeing them happy."  P.S.
David Boe is a Twin Ports-based freelance writer.
Like this article? Want to read more?
Click here to subscribe to Positively Superior magazine.