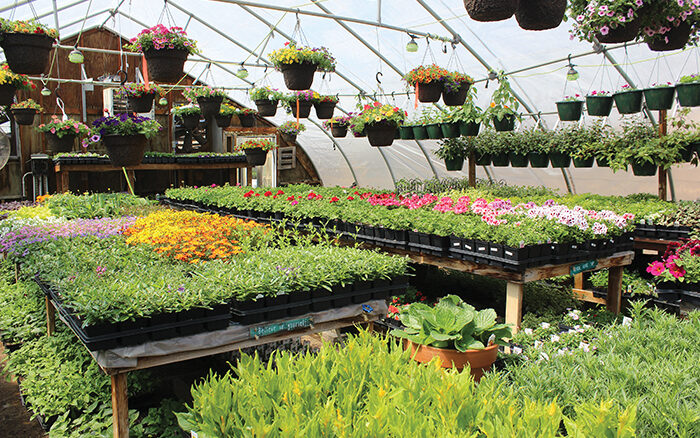 By Sheryl Jensen
  Derek and Brook Hoffbauer, owners of Duluth Flower Farm, say, "It takes a village to keep Duluth Flower Farm running and growing. There are an average of 10 farmers and designers behind the scenes, creating beauty through all the seasons!" Despite the Duluth in their title, they are actually located in Superior at 821 Hammond Avenue, with their retail garden center, floral business and gift shop across the road from Dan's Feed Bin. They offer in-store shopping, in-store pickup and delivery.  The Duluth reference comes from the location of two of the three places they farm and have greenhouses in Duluth at Pike Lake and Midway Township, as well as their Superior location. The Hoffbauers, high school sweethearts from Proctor, both went to the U of M at Crookston, where Derek majored in business and Brook in early childhood education. They have combined their skills and backgrounds in business and education to establish their Duluth Flower Farm. Before opening the flower farm, however, the couple moved to Alaska in 2002. Living in Anchorage for more than 10 years. Derek worked for a few different businesses, and Brook opened a pre-school. Alaska is where all four of their children: Donna (17), Deegan (15), Dane (13) and Dottie (8) were born.
"I am happy to never be doing the same thing. We are inspired and motivated by the seasons. We have a great respect for nature and look to do what we can to respect the land." Brook Hoffbauer – Co-owner
Wanting to return to their roots and with a family background in farming, Derek, Brook and their children came back to Duluth in 2014 to continue the family tradition. Derek's dad, known as "Farmer Doug," and Doug's wife Lois, have had a family owned and operated farm for more than 40 years.  Doug and Lois also have a long connection with the Duluth Farmer's Market with their business "Farmer Doug." They grow and sell pumpkins at Halloween and Christmas trees at the holidays. Derek's brother Jesse and his wife Allison now own the Hoffbauer Tree Farm. Every spring, "Farmer Doug" taps maple trees and makes maple syrup, which they also supply to the flower farm to sell in their gift shop. Building on their love of farming and the family tradition that Derek knew and grew up with through the years inspired Derek and Brook to open their Duluth Flower Farm in 2015. Brook does the seed inventory, ordering and figuring out the plans for their planting. She also is in charge of employee management. "Our employees really believe in what we are doing. We have a great team!" she said.   "We also enjoy doing the Farmer's Market in Duluth, and other places like the Duluth Winter Festival," she added. Becca Kroll is the wedding manager for the Duluth Flower Farm. She meets with couples to get the vision of what they want for the flowers at their wedding, including bridal bouquets, boutonnieres, altar flowers, centerpieces and more. Kroll also helps to connect people with wedding planners and other services they might need besides the flowers.  "After we choose what the wedding flower needs are, I order the flowers. Then I work with the team at Duluth Floral to design and put together everything. I am then onsite to make sure everything with the flowers is set up well," Kroll explained. Kroll also works on other types of larger events requiring flowers. "I love working with flowers, even my own gardening. And I enjoy working with the Hoffbauers. They are friendly and always willing to help and work as a team with me." As another part of their business, the Hoffbauers operate a huge seasonal Christmas tree wreath business, making and selling more than 2,000 wreaths every year. They work with organizations doing fundraising, including the Boy Scouts, East Hockey and others. At the holidays they also do beautiful centerpieces, and they sell garland and other greenery, getting their trees and greens from local growers. "We are proud of giving back to the community wherever we can and finding ways to help out organizations, especially those involving kids," said Derek.  Their onsite "Farm Charm" gift shop features items from local vendors, including candles, potpourri sprays, ornaments, gnomes, salsa, soaps, pillows, ornaments, signs, jewelry, chocolates, vases and much more. At their garden center, they have a full range of quality hanging baskets, house plants, succulents, annuals, perennials, shrubs, veggies, herbs, trees, garden gifts and bouquets. Their specialists are ready to help customers choose the right plants for their particular spaces and needs that are appropriate for their particular growing region.
"We are proud of giving back to the community wherever we can and finding ways to help out organizations, especially those involving kids." Derek Hoffbauer – Co-owner
Seasonally, their florists are ready to create beautiful flowers for winter dances, proms and other formal dance events, bouquets and centerpieces for Valentine's Day, Mother's Day, birthdays, anniversaries and other special occasions. "We also enjoy getting out to the Farmer's Markets locally and seeing people in the community. We love being at the Duluth Winter Village every year." Brook noted, "I am happy to never be doing the same thing. We are inspired and motivated by the seasons. We have a great respect for nature and look to do what we can to respect the land." Even the Hoffbauer children are part of the family business, carrying on the traditions as the third generation. "We love having our kids work with us," said Brook. The Hoffbauer kids are busy with many of their own activities, but they also don't mind getting their hands dirty working with their parents. At the Flower Farm website, each of the kids mentioned what they like best about working with their parents and what their "favorite farm fun" is. "Picking sweet peas, making bouquets and deliveries," said the oldest Donna. "Following Dad and doing everything he does, from picking flowers to planting trees," added Deegan.  "Anything to do with a tractor," was Dane's reply. And finally, the youngest, Dottie, said, "Picking and eating fresh broccoli and carrots and playing in the sweet soil." The Hoffbauers note that they are also grateful for the community that supports them. "Thank you to everyone for supporting your family owned and operated businesses. You are making a good decision for your community and keeping us in business," noted Brook. She added, "I especially like bringing joy to people and making them happy with our flowers and vegetables. Growing local products and selling them locally is important to us." For more information on the Duluth Flower Farm, call 218-409-3061 and visit them at their website at duuthflowerfarm.com. Or follow them on Facebook and Instagram.  P.S.
Sheryl Jensen is a Duluth-based freelance writer, editor and reviewer.