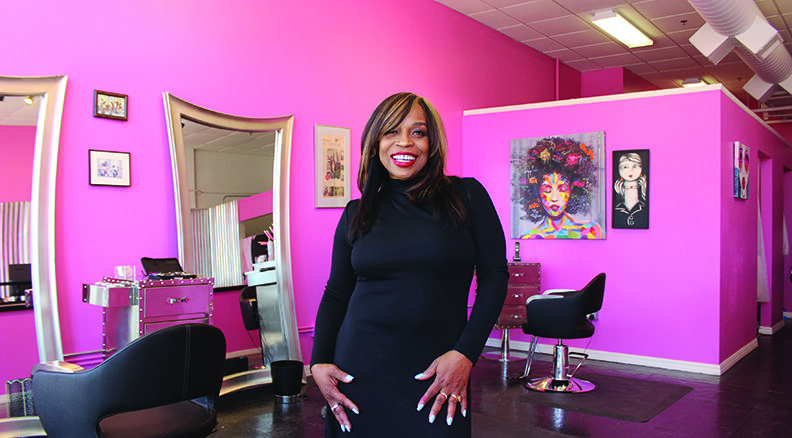 By Holly Kelsey-Henry
Black Fox Hair Studio Provides Expertise in the Newest hair
and Makeup Trends and serves women, men and children
Step into the Black Fox Hair Studio at 1408 Tower Ave. on any given day, and you're likely to hear some lively hip-hop playing in the background. Other days, the mood might be rhythm and blues or jazz.
Owner and stylist Lena Cooper greets her clients in a smart black dress with a glitter wrap. Tomorrow, it might be a hip skirt and cowboy boots.
"I'm eclectic," Cooper noted. "I consider myself a stylist, but that doesn't end at hair or makeup. It can be in the music I share with clients, the fashion choices I make and the way I do hair. As a stylist, I feel like I'm in the race, but I never feel like I've arrived. I'm always learning, always striving and always trying new things. I want to know what comes next in fashion and hairstyles. It's an overall, ongoing journey."
The journey began for Cooper in 2012, when – burned out from working long hours – she decided to take a road trip from Chicago to Duluth with a friend.
"On that trip, I saw two eagles on the road," she explained. "They didn't move. The female looked at me, like, 'We're eating here and we're not moving.' And I just remember thinking it was such a majestic sight. I almost instantly had a revelation that this was where I should be. I got called to the Twin Ports."
Cooper originally opened up a salon in Duluth, noting there seemed to be a niche to fill. "I didn't see a lot of Black stylists, and I almost immediately felt my skills would be put to use and valued," she said.
Then in 2019, she decided to move her business to Superior, noting that many of her clients were coming over the bridge to see her anyway. "I had that initial revelation with the eagles while we were traveling through Wisconsin," she said. "And as soon as I came back across that bridge, everything just clicked for me."
Innovative Trends for Hair and Makeup
Cooper, who also has a bachelor's degree in Biblical studies, officially began her career when she enrolled in cosmetology school at the renowned Pivot Point Academy. However, she recalled being drawn to the art long before that.
"I did the neighbors' hair when I was just a little kid," she explained. "I'm just a natural-born stylist, I guess."
Being at the forefront of innovative beauty trends is a priority for Cooper, leading her to continually seek opportunities to learn new skills and create unique looks for her clients. She has been a platform artist for Vitale Cosmetics, the Proud Lady Hair Show and has been sought after by Aveda as an instructor. She's even had celebrities (such as Grammy and Academy Award winner Jennifer Hudson and British-American actor Emily Mortimer) seek her services. Cooper opened her first salon in Chicago in 2003, expanding to a full-service salon in 2008.
Today, her salon in Superior specializes in natural, mixed textured hair silkening, conditioning treatments and also features a barber shop. She carries a line of wigs and provides weaves, hair extensions and chemical relaxers and offers waxing services, too. Black Fox Hair Studio uses the Framesi hair color line to create full color treatments as well as highlights, low lights and "peekaboo" color in both demi and permanent applications. To meet clients' diverse needs, Cooper only uses premium products that include the Aveda brand.
"Every time I leave her chair, I feel refreshed, connected to my roots
and also beautified. I always refer the community to her."
– Client Natasha Lancour
Makeup artistry is also something Cooper likes to focus on at Black Fox. "Again, I feel like to be put together, it's a full package – from hair to makeup to the way you dress," she said.
Client Natasha Lancour couldn't agree more.
"Lena has true passion for hair – her knowledge for hair is a library of wisdom. But that's not what keeps me coming to enjoy her talents," said Lancour. "Her nourishing and therapeutic hands speak life into my hair. She has a comfort about her personality that makes you feel like you're at home. Every time I leave her chair, I feel refreshed, connected to my roots and also beautified. I always refer the community to her, because she left my hair bouncy with a lot of body. And I left her salon feeling like a goddess, bangs blowing and all."
Cooper also offers mini makeup lessons to clients, in which they can learn professional techniques. Participants may bring their own makeup, or Cooper will use Aveda products.
"Whether you'll be posing for professional photos or having a special night on the town, Black Fox Hair Studio will also perfect your look with a professional makeup application session," she said.
Black Fox Hair Studio welcomes bridal parties for makeup and hair as well. "Our bridal packages are made custom to your needs," Cooper explained. "Makeup can be done at our studio in Superior or at your wedding location. Part of doing business the right way in this community is to be positive and flexible."
Cooper applauded the City of Superior for just that, in fact, citing its warm welcome and hospitable support.
"The city was very helpful," she said. "The mayor has supported my business and other business owners welcomed me. We need a support system as a minority business. The Chamber of Commerce has been supportive; they are receptive. When I invest in a community, I invest – and the community invested back in me. When you have community support, you can be successful. Other businesses and the community as a whole have supported me, and it makes me want to run to the finish line. They are my cheerleading squad."
She also pointed to the reconstructed Tower Avenue streetscape as a draw for her.
"The streetscape is clean and beautiful," Cooper said. "They also patrol their neighborhoods and care about each other. It all comes together for the good of the community. I'm proud to be a part of this community."
She also noted that the city was a great place in which minority leaders are encouraged to grow. "I really feel like this community is far along on their journey of diversity, equity and inclusion," said Cooper. "And I feel it is genuine. It has felt right for me, right from the start."
For more details about the services and products available, visit blackfoxhairstudio.com or call (715) 718-2772. The studio welcomes and serves clients of all ages, including women, men and children. PS
Holly Kelsey-Henry is a freelance writer based in Northwest Wisconsin.