By Thomas Vaughn
Tough Industry,
Tough Products
Equipment Manufactured by Barko Hydraulics Meets the Needs of Forestry Professionals in Wisconsin and Around the Globe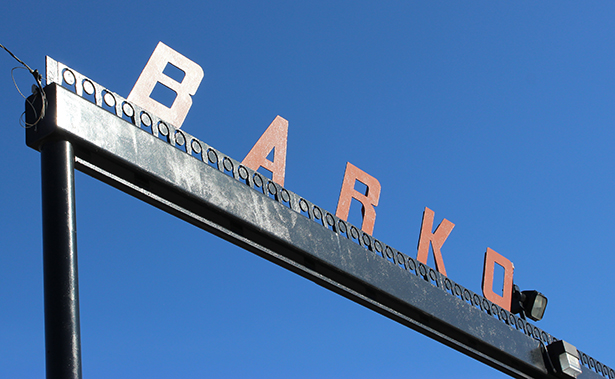 Cuts, falls and shreds are all part of the daily grind for forestry professionals. Fortunately, for those loggers and land-clearing specialists who work with equipment made by Barko Hydraulics, a smoother path over the rough ground game that is the forestry industry is always in view.
Barko's company roots date back to seven decades ago. In 1946, two brothers, Maurice and Edward Bartell, formed Lakeshore Body and Equipment out of their father's blacksmith shop in Duluth. They offered metal fabricating for mail trucks, wreckers, buses, fire engines and dump truck bodies. Then, after purchasing the legal rights to the Ramey loader from the IRS in 1962, they formed a new division of their company in 1963 and called it Barko Hydraulics.
As the brothers manufactured and marketed their well-built loaders and introduced new products, such as knuckleboom loaders, the Barko reputation grew. Within eight years, Barko had built a network of 70 dealers throughout the world.  By 1974, the company needed a larger facility to meet growing demand and purchased the Paper Calmenson Steel Warehouse in Superior.
In 1983, Maurice died and Edward retired. But even though economic conditions in the early '80s challenged the company's viability, Barko continued to make an impact in the forestry and scrap handling business, developing several new products and acquiring other companies, such as Bobcat Forestry Products in 1987. By the end of 1990, Barko had recorded the highest revenues and earnings in company history and continued to achieve steady growth and success over the next decade.
Clearly, Barko Hydraulics has demonstrated the ability to be flexible and nimble in both its business strategies and in meeting the needs of customers – who are likewise in a challenging industry.
Clearly, Barko has demonstrated the ability to be … nimble in both its business strategies and in meeting the needs of customers.
"Before I came here, I thought construction was a pretty rough industry. But it pales in comparison to forestry applications – difficult climates, difficult terrain. And it's really kind of an abusive application in general, just due to the nature of it," said Engineering Manager Scott Harms. He leads a team of eight degreed engineers, oversees several designer-detailers and supports different levels of engineering personnel (ranging from project personnel to drafters) for a current roster of 14 engineers. All of them are committed to improving the functionality and safety of forestry machinery for their customers throughout the world.
Barko Hydraulics specializes in manufacturing heavy machinery for forestry work, maintenance-of-way projects and industrial recycling efforts. In terms of corporate structure, it's part of a business unit known as the Heavy Equipment Group within its parent company, Pettibone LLC.  This group of three includes Barko and two sister companies: Pettibone Traverse- Lift, which produces heavy equipment for construction and rail; and ARDCO, which makes heavy equipment for oil and gas.
In whatever task it undertakes, Barko delivers premium service to customers by remaining faithful to three core practices: offering knowledgeable sales service, going off-road to provide thorough aftermarket support, and anticipating customer needs for business and product development.
More than 80 employees work at Barko's Superior campus – a warehouse lot on Banks Avenue that's close to the Blatnik Bridge. Along with engineering, employees work in management, accounting, operations, oversight for manufacturing and quality, aftermarket (which provides tech support, manuals and parts), sales and marketing, human resources and supply chain.
Joel Larsen, recently appointed the new president of Barko Hydraulics, previously held senior leadership roles in the industrial and manufacturing sector with Ford Motor Co., BP and Navistar International. He proudly noted the benefits of Barko
Hydraulics' smaller size compared to its forestry industry competitors: "Here, there's an element of family and community. We're a small team. We're insanely proud of what we do. We have people who've been here for their entire careers."
"We had a loader that we sent to Russia … it was so far back in the woods they had to drive for a day just to get back to cell and Internet service."
– Engineering Manager Scott Harms
Barko Hydraulics manufactures its machines at its Superior plant, while Pettibone Traverse Lift and ARDCO manufacture theirs out of facilities in Baraga, Mich. Barko's major focus is on forestry machine sales, manufacturing and service, primarily for dealership customers. 
At the same time, the Barko team in Superior supports the construction work of Pettibone Traverse-Lift and the oil and gas work of ARDCO by building industrial tractors, or mulchers, used for land clearing before major building or pipeline construction projects. Site-prep products include machines like an industrial tractor that gets mounted with a mulching head – basically a drum with teeth – that clears land by taking down brush or trees that must be cleared for new home construction, right-of-way maintenance along power lines, or seismic measurement areas slated for natural gas exploration.
In the engineering area, Harms works closely with the Pettibone Traverse-Lift engineering team, which also supports ARDCO. Together, the engineering teams develop different attachments, boom arrangements and undercarriages with each customer's specific situation in mind. "We share information, make sure that we're not all stumbling over the same types of issues and learn from each other," Harms said. "It's been a very positive relationship; they've provided us with good ideas for product improvement – and vice versa."     
Although Barko works diligently to support the Heavy Equipment Group, local dealerships like Pioneer Equipment (a two-store operation based in Rhinelander, Wis.) have always been – and remain – Barko's business mainstay. 
Steve Ory of Pioneer Equipment became a Barko dealer in August of 2016, providing parts and service for Barko machines in Wisconsin and Michigan, where there was no dealer previously. Ory knows and enjoys the business as a long-time logger.
"As a family, we were loggers. We go back to the '70s with Barko equipment that we owned," said Ory. "We had a Barko loader on a pulp truck way back when – and it was a good loader then. I started when my father had a horse, and as a kid, I'd ride the horse out to the woods and cut and skid wood. To go through all those transformations that this industry has taken us through to get us to today – where the technology is so far out there – is unbelievable. And to pass that information on is just phenomenal."
For Ory, the opportunity to sell Barko machines is an opportunity to bring better equipment to the people he has known and worked with his entire lifetime.
"The forestry business has the most resilient people in the whole world, as far as I'm concerned – very hardworking, creative, self-employed people that work in adverse conditions every day for long hours, sometimes six or seven days a week," he said. "They want a productive, reliable machine and a dealer that will take care of them on the service end. They want a good value for their money."   
"We're a small team. We're insanely proud of what we do. We have people who've been here for their entire careers."
– President Joel Larsen
Ory will sell small machines like the Barko 240 harvester or larger machines like the Barko 260, which has a bigger undercarriage and bigger head to cut large trees. He will offer different cab features, such as sun shades inside or fire suppression features, or an automated greasing system that greases the machine in lieu of a person. Ory will also sell rough terrain carrier loaders for Barko – a wheeled, knuckleboom loader designed for sawmill yards or pulp mill concentration yards where log sorting and truck loading or off-loading takes place. Another product he intends to sell is loaders with slashers. Used after whole-length trees are dragged out to the road, the slasher grabs groups of trees and cuts them into eight-foot chunks or 12-foot chunks and then can stack them in a pile or put them on a truck.
Barko Hydraulics' vice president of sales and marketing, Jim Feldman, explained the company's commitment and support for dealers. It includes comprehensive and diverse training opportunities, whether it's instruction-manual-based, online, on-site or at a regional event. Barko also provides dealers with tech support, parts shipment and technical manual distribution, in addition to resources for worker safety.
Feldman also noted that Barko currently has a strong dealer network of over 35 dealers along with agent relationships throughout the world, including France, the Netherlands and South America. "We added five dealers last year, which is really good," he said. "We've also added a dealer development group – a big focus of ours. It's really one of our values; we're all about the dealer and how we can bring value to the dealer." 
Today, Barko is poised for further growth as part of two corporate networks. First, as a member of the Heavy Equipment Group owned by Pettibone LLC, Barko is able to remain focused on its market of localized dealerships while simultaneously cultivating more corporate sales through Pettibone Traverse Lift and ARDCO.
Second, Barko (through Pettibone LLC) is also owned by The Heico Companies LLC.  Headquartered in Chicago, Heico is a privately-held organization that owns Pettibone. Heico turns revenues of over
$2 billion annually through numerous holdings and is a further source of support for Barko through Pettibone. "Heico is investing heavily in Barko, so there's a pathway toward continued growth – a lot of opportunity," said Feldman, who also explained that over the past 13 months, Heico has augmented its strategy of fostering more distinct identities for companies held within its portfolio. 
"As a family, we were loggers. We go back to the '70s with Barko equipment that we owned."
– Owner Steve Ory, Pioneer Equipment
With dealers and agents around the globe, and strong financial resources behind it, Barko continues to expand its reach to develop new customer relationships. Most sales channels are through the dealership model. "A lot of times our reputation carries by word-of-mouth to customers," noted Harms. "Repeat business and good experiences with our products generate a lot of sales for us."
Barko also hosts a website and represents itself at trade shows, including the CONEXPO, a construction exposition in Las Vegas, which is held every three years. At this event, Barko teams up with the other two companies in the Heavy Equipment Group. "We'll work together and share floor space and brand ourselves as the Heavy Equipment Group," Feldman said. "There will be three different units there:  an ARDCO unit, a Pettibone unit and a Barko unit. We share the costs and are able to project that we're from a much larger entity – which is important to show that you've got stability and are here for the long-term."
Marketing is also done through co-branded, collateral materials, brochures and cooperative advertising with dealers. Regional trade shows are also very important, of course, since tree types and sizes are different, depending on the region. And loggers work in significantly different ways in the south than in the Great Lakes region or in the Northeast – all regions where Barko works with dealers. Feldman has traveled to many regional events around the country as well as trade shows closer to home in Escanaba, Mich., and in Oshkosh, Wis.
"The technique can be different depending on the region, so we participate heavily in three or four regional log shows," said Feldman. "It's a little bit different equipment for each place, a little bit different attachment for each machine."
Whether Barko is selling through the Heavy Equipment Group, participating in a promotional event, or finalizing a contract with a new or renewing dealer, many machines are made-to-order.
Back-of-cab loaders mounted on a truck, either on the trailer itself or at the back of the cab, can be used for transporting logs, moving barriers or various materials on and off of other proximate trucks or trailers. One type of harvester offers a patented, sliding cab in which the cab slides forward, so that it can be serviced while also enhancing engine access. A modified version of the Barko loader can support scrap processing applications with its four-tine grapples and longer boom, enabling it to scoop up debris while moving on tracks or wheels around an industrial site. The company also mounts processing heads that grab a tree, cut it, fell it and feed it through rollers to remove limbs. Other features include built-in tool boxes and storage areas. Repairs can be done via a fold-out shrouding to service the machine.
"Right now, I would say that our log loaders are our highest-volume product. They've typically been our bread-and-butter product," said Harms. "Most of what the company was founded on was based on hydraulically driven log-loaders, and that's one of our key products – really what we're known for at this point. We've got some of the most productive, fuel-efficient machines out there, and that translates into bottom line dollars for the customer. Really, a lot of it revolves around making the machines accessible, serviceable and reliable."   
Barko Hydraulics manufactures its machines at its Superior plant, while Pettibone Traverse-Lift and ARDCO manufacture theirs out of facilities Baraga, Mich.
The Heavy Equipment Group also serves the railroad industry. Barko makes back-of-cab loaders for trucks that can transport railroad ties or spikes, or deliver supplies to various maintenance points. In addition, the company has manufactured a rail-version material handler that is really a scrap handler on a railcar – and it's self-propelled.
Harms and his co-workers also build machines for tough and extreme conditions on a specific-request basis.
"At times, customers contact the factory directly and inquire about how they can obtain some of our products. Our machines go all over the world and have to deal with various climates and conditions," he explained. "We had a loader that we sent to Russia. Basically, it was so far back in the woods they had to drive for a day just to get back to cell and Internet service. This machine was just buried in the woods – a 495 crawler-loader track machine. They were working so far back they had a camp set up. We had to be very proactive and forward-thinking about next steps that they could be taking to make sure things were working properly. The conditions were extremely cold. One of our service engineers traveled to the machine and said the whole time he was out there it never got above -20 or something like that – crazy cold, very remote. They needed a machine that could be reliable and productive at the same time."
Because Barko and the Heavy Equipment Group work together, they respect the value of past experience and proactively focus on product innovation. They are adept at anticipating industry changes and plan to stay on the cutting edge.
In the last four years, the company has significantly grown  in engineering. "They are building things two or three years out, with new products coming down the pipeline to bring value to dealers – working on regenerative technologies for machine efficiencies and telematics for these products, too," Feldman said. "So we're heavily invested. We're doing well. Our focus is growth. We're going to do that through improved product, a more robust product line and better products and newer products. The rest of it will happen; if you bring the right product to market, people will buy it."
Like most dealers, Ory eagerly awaits these new developments from the home office, because he knows Barko is totally focused on delivering what customers want and need.
"Heico is investing heavily in Barko, so there's a pathway toward continued growth – a lot of opportunity."
– Jim Feldman, Vice President of Sales and Marketing
"What was good enough for a logger two years ago as far as production and comfort and amenities is no longer good enough," he said. "They want the machine to cut faster, cut more. They want the cab to be nicer and they want the access to the machine to be easier. It's very demanding for a manufacturer to have to keep up with what the customer is requesting and needs."
And President Joel Larsen affirmed that Barko is ready for the challenges of the changing landscape ahead. "We'll be investing in our plant and in our community. We have a strong regional supply base: Northern Wisconsin. We want to continue to grow that," he said. "The headlines often say, 'We're growing internationally, we're growing internationally.' But in many ways, particularly from a supply perspective, we're looking to strengthen our relationships with loggers and land-clearing professionals here in Wisconsin. We have a good relationship and can take care of them in a better, much more intimate fashion than some of the big corporations can do. That's the essence of being a smaller, more local business. We're going to be who we are – a tight team that understands the needs of our customers."  P.S.
Thomas Vaughn is a freelance writer based in the Twin Ports.
Like this article? Want to read more?
Click here to subscribe to Positively Superior magazine.