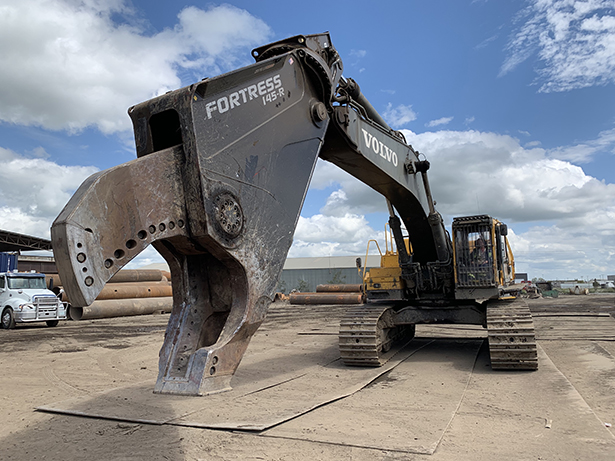 By Patrick Lapinski
From its Connor's Point Headquarters, Exodus Machines Expands its Footprint With Global Customers
Chief Executive Officer Kevin Boreen of Superior-based Exodus Machines is extremely proud of the company he leads. "I don't think many people in our community know the global reach our company has," he said. Products manufactured and distributed by Exodus are on display every year around the world at various trade shows. 
Last April, for example, he was in Munich, Germany, at the world's biggest construction machinery trade fair: the BAUMA (International Trade Fair for Construction Machinery, Building Material Machines, Mining Machines, Construction Vehicles and Construction Equipment). Described on its website as the "most thrilling" international meeting place in the industry, BAUMA draws more than a half-million visitors during its run. This year's event attracted about 3,700 exhibitors alone (that figure doesn't even include all attendees) from 63 countries.
Boreen shared an experience illustrating the importance of showcasing the Exodus product line at these events. "A customer walked into our booth and went straight to a specific demolition shear," he said. "I asked if he has ever seen a Fortress [mobile shear] in the field and he said, 'No, but these things are exploding on social media and I had to come see one.' Twenty-four hours later, he owned it."
It's this kind of excitement that fuels Boreen's passion for Exodus Machines. From its headquarters on Connor's Point, Exodus has built an impressive success story, because one can find this company's products in use every day – all over the country and far beyond. Its Fortress brand heavy industrial shear is considered one of the top brands in the world, competing against international powerhouses in the industry. Exodus Machines' products support an industry whose economic net worth is in excess of $90 billion annually in the United States alone. Scrap metal is big business, and it's expected to grow as global industrialization increases in developing countries.
The Exodus Start-Up
The Exodus story begins in 2008, when its founder, Bruce Bacon, along with Jim Campbell, Greg Bacon and several other investors, put their heads together to form Exodus Machines Inc. The men distilled their years of comprehensive experience in the scrap metal recycling business into a simple business plan: "To design, build, sell and service world class, purpose-built wheeled material handlers for the scrap industry."
The first step in getting the new company off the ground was to basically throw away preconceived ideas of what a material handler was and focus intensively on what potential customers said they really needed and wanted. What they had to do, the cofounders decided, was listen and then take those ideas to the design table, where a team of hand-picked engineers would create the first Exodus machine.
"We knew the industry and felt like there was an opportunity for an additional serious contender in the marketplace," Bacon said of forming the "first-of-its-kind U.S. manufacturing firm that will build large equipment for the scrap and recycling industry," a market that had been (and is) dominated by German companies.
"Working through the technical processes are things that we provide in conjunction with our product, and we know it very well."
– BladeCore Division Manager Jay McDevitt
As the equipment design phase was taking place, the firm also looked for a home base of operations. The City of Superior, Douglas County and the State of Wisconsin all lobbied hard and successfully for Exodus to build on Connor's Point. And locating company headquarters in Superior was a logical choice for Bacon. Today, he is president of Exodus Machines and its ShearCore Division. Prior to cofounding Exodus, Bacon was a cofounder of Genesis Attachments, a manufacturer of mobile shears that's also located in Superior.
By 2008, construction was under way on a new 25,000-square-foot manufacturing facility along the Superior waterfront, which was completed in 2009. A year later, the first protype – the MX447 – was sent to a scrapyard in Colorado for testing. This Exodus product, as its website explains, "pushed the norms with electric over hydraulic controls, onboard diagnostics, and a patented cab-to-ground feature allowing the operator to step into the cab from ground level." It was a huge hit, but would it be enough for Exodus to gain a critical foothold in the market? As Bacon and the others found, success also comes with its share of challenges and change.
The CAT Connection
Two years into its mission, Exodus welcomed an outside investor and seated a board of directors to guide the company. In October 2011, Boreen was brought on board as CEO. It was an intense time, since the company was in negotiations to form an alliance with Caterpillar (CAT) through which Exodus would build its machines under the Caterpillar brand, with CAT doing the marketing and servicing.
"Our expectation going into the CAT relationship was one of excitement," Boreen said. "We both had high expectations of where our relationship would carry us. Unfortunately, we didn't see that come to fruition."
Although the alliance was dissolved in 2017, Exodus continues servicing, rebuilding and supplying parts for CAT corporate and CAT dealers. "We still have many friends that work at CAT and our relationship is good," Boreen noted. "While the alliance didn't last, we have moved past that and harbor no hard feelings. Life's too short."
"We've been very successful in the United Kingdom, Australia and France, and we're continuing to expand that footprint."
– Exodus Machines Cofounder and President Bruce Bacon
The Global Import/Export Economy
Fueled by its early growth, Exodus embarked on a 60,000-square-foot addition in 2012, including two five-axis machining centers. Today, Exodus manufactures a diverse product line of excavator mounted shears and concrete crackers and also imports hydraulic breakers, compactors, pulverizers and fully automatic quick couplers as well as stationary and mobile shears. And it's part of a thriving global import/export economy. The company's products are sold throughout the United States as well as Canada, Europe and Australia, while Exodus itself imports products from Sweden, England, France, Germany and South Korea.
"We pride ourselves on service after sale," Boreen said. "It takes hard work – on both ends – to earn that first sale and keep the relationship strong through service after sale." He also noted that Exodus Machines' customer base is earned globally through long-standing industry relationships and attendance at trade shows throughout the USA and Europe, along with customer word of mouth (both social media and good old-fashioned conversation).
Bacon recalled with amazement, for example, how the company's product entry into the UK was unexpectedly fueled by social media. "Typically, it might take five years and a lot of effort to penetrate a market," he explained. "But in the United Kingdom, we had a few high-profile, very respected companies that adopted the product early on and then started a social media firestorm about how amazing these products were.
"The market blew up for us," he added. "We had a great distributor and we had some early adopting customers that were very loyal and very excited about the product, and it really accelerated the adoption of Fortress brand in the United Kingdom."
Not wanting to rely solely on the alliance between Exodus and Caterpillar, the company diversified product lines. It established four divisions – BladeCore, ShearCore, Connect Work Tools and OilQuick USA – encompassing an array of tools and services for the scrap, demolition, utility and construction industries.
New Divisions, More Products and Services
BladeCore was launched in March of 2014. "We provide high-quality wear parts for the scrap metal and demolition industries," explained BladeCore Division Manager Jay McDevitt, noting that specifically, it distributes replacement blades for mobile and stationary shears. BladeCore supplies blades for Exodus's Fortress shear, made in Superior, as well as for Genesis Attachments and LaBounty Co. in Two Harbors, Minnesota, which specializes in hydraulic attachments. Close to 90 percent of the blades are sold in the U.S., with a smaller percentage marketed in the United Kingdom and Australia.
"OilQuick allows machine operators to change hydraulic and mechanical attachments without leaving the cab of the machine."
– OilQuickUSA Division Manager Jason Johnson
Think of the blades as an aftermarket part, like you would have in your car or truck, says McDevitt: "They're all basically parallelograms, and parallelograms have four edges. You can take the bolts out that hold them. And you can flip them over and get a second edge; you can turn them around and get a third edge."
The blades themselves are imported from Sheffield, England, where they are built with a specialized material called chrome boron. This alloy metal reduces cracking and breaking, said McDevitt, which provides about an additional 20 percent longer blade life per edge. "BladeCore provides product support and expertise with things like blade rotations, blade installation and hard surfacing," he said. "It's just different expertise. Working through the technical processes are things that we provide in conjunction with our product, and we know it very well."
Exodus Machines' ShearCore Division, formed around the same time period, shipped its introductory shear into the North American metals recycling industry in mid-2016, and the company put together a team with expertise in the heavy shear and demolition tool product line. "I felt like we needed some products to manufacture in this facility and go back into the market that we already knew, which were the scrap, recycling and demolition industries," Bacon said. Today, ShearCore manufactures equipment described as a "full line of severe duty, excavator-mounted hydraulic attachments designed for the scrap recycling and demolition industries."
The demolition market – in which demolition byproducts such as steel and concrete are processed into a size that can be recycled – was a new area for Exodus, and the Fortress line of ShearCore products were a great fit, says Bacon. "In about 2018, we entered the international market," he said. "We've been very successful in the United Kingdom, Australia and France, and we're continuing to expand that footprint. So about 40 percent of our manufacturing or our build profile is international – outside of the United States."
In late 2015, Connect Work Tools was formed to act as the North American distributor for a line of attachments for construction machinery – specifically, hydraulic breakers that are mounted on an excavator, skidsteer or backhoe. Connect Work Tools North American Sales Manager Dave Cowen heads a team of sales and service representatives who travel the country in support of the product line of hydraulic breakers, rotating grapples, compactors and pulverizers for the construction, demolition, recycling and mining industries.
"Most of our product is used in the construction machinery business … They're also used in demolition."
– Connect Work Tools North American Sales Manager Dave Cowen
"Most of our product is used in the construction machinery business," Cowen said. For instance, if contractors were building a big housing division, they would use Connect Work Tools to break the rock out to be able to install all the piping and utilities, he explained. "They're also used in demolition, so if they have to tear a bridge down in a major city, our hammers are used to do the teardown and breakdown of that bridge, so they can build a new one," Cowen added. In addition to the construction and demolition industry, Connect Tool products are used similarly for laying pipelines, and on a larger scale they are used in the mining and quarry industries.
In early 2016, Exodus added its newest division to the product lines – OilQuickUSA, which introduced Europe's long-held premier standard automatic quick coupler systems to the American market. OilQuickAB, Sweden manufactures automatic systems for excavators from one to 132 tons, tilt-rotators, wheel loaders from five to 40 tons, most material/scrap handlers and forklifts.
"OilQuick allows machine operators to change hydraulic and mechanical attachments without leaving the cab of the machine," explained OilQuickUSA Division Manager Jason Johnson. "It automatically connects and disconnects the hydraulic, electrical, grease, air or water lines – whatever the attachment requires." Customers have reported increases of 30 to 50 percent in the productivity and efficiency of any machine or attachment OilQuickUSA couplers are installed upon.
OilQuick is a third-generation Sonerud family business that began in the late 1950s in Hudiksvall, Sweden, with backhoe loaders and later added attachment manufacturing, says Johnson. "In the late 1980s, they saw the need for making machines more versatile by being able to quickly switch attachments, leading to the development of the OilQuick product," he said. "By the early 1990s, the automatic system was born and started distribution in Sweden, moving to the rest of Europe in the late 1990s and becoming the standard there by the early 2000s – and now the world standard in automatic coupling systems."
Exodus Machines Vice President of Operations Jim Campbell oversees all four divisions: ShearCore, BladeCore, OilQuickUSA and Connect Work Tools. He's also the executive who oversees all aspects of the company's facilities in Superior, from manufacturing to purchasing.
"In 2020, our biggest opportunity will be the ability to increase our machining output due to… two new machining centers."
– Exodus Machines Cofounder and Vice President-Operations Jim Campbell
Since the 2012 expansion, Exodus has added several more machining centers, he noted.
"The machining centers remove steel in specific areas of a component with the aid of a computer numerical control [CNC] program and high-speed cutting tools that have replaceable cutting inserts," Campbell said. "Most of our components require very tight tolerances, bevels and flatness. These machines are necessary to achieve the dimensions set forth by our engineered drawings.
"In 2020, our biggest opportunity will be the ability to increase our machining output due to our recent purchase of two new machining centers," said Campbell. "We continually look at our manufacturing throughput and work on changes that will make us more efficient."
Company officials are proud to point out that a number of local subcontractors were involved in the addition of the machining centers, including Benson Electric Co., The Boldt Co., Northland Constructors and A.G. O'Brien, to name just a few.
Employees in High Demand
Exodus Machines' workforce includes factory welders, machinists, painters, assemblers, burn table workers, production control staff, warehouse staff, expediters, shippers and others. Their skilled work demands precision and attention to detail – and it's in great demand. For that
reason, the company works closely with Wisconsin Indianhead Technical College-Superior Campus by attending WITC's job fairs. Exodus also provides tours to students enrolled at WITC as well as local high school and junior high school students.
"The demand for manufacturing employees is extremely high," said Campbell, whose biggest challenge is finding qualified applicants for welding and machining. "Wages are increasing for these positions, making them even more attractive for graduates looking for a career path that only takes two years to complete versus a four-year degree."
Business is good across all types of manufacturing, Campbell noted, but he added that many companies have outsourced some of their work to keep up with the increased demand. Exodus, however, prefers looking at the local community as its primary recruiting source for qualified employees.
"I can't think of an occasion where the person on the tour has not been blown away with our employees and the work we do."
– Exodus Machines Chief Executive Officer Kevin Boreen
Currently, the company employs about 90 people in the manufacturing and warehouse facilities on Connor's Point, and they are truly Exodus Machines' greatest asset, says Boreen.
"Our employees shine, and the quality of their work is on display throughout whenever I give a factory tour," he said. "I can't think of an occasion where the person on the tour has not been blown away with our employees and the work we do." Boreen sees Exodus not as four divisions, but as one big company family, describing the workplace they have created as open, professional, respectful, extremely talented and "a place where we sincerely care for one another and like working together." PS
Patrick Lapinski is a freelance writer who grew up in Superior.