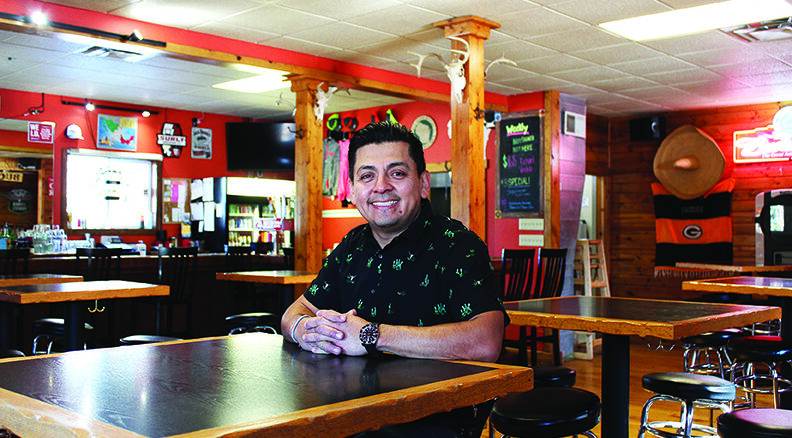 By Andrea Busche
Bucktales Cantina & Grill Has a Big Fan Base, Thanks to Its Unique Mexican and American Cuisine
Six days a week (every day but Monday), Dee Morales and his crew can be found hard at work preparing delicious food and drinks for their customers to enjoy. Morales is the owner of Bucktales Cantina & Grill, located at 6098 S. State Road 35 in the Town of Superior near Pattison State Park.
From the outside looking in, Bucktales looks like a typical county bar. There's a horseshoe pit behind the building, where bar leagues compete for bragging rights throughout the summer months. The interior décor is eclectic, featuring a mounted deer – adorned in a festive sombrero – and a Green Bay Packers poncho, among other unique items. "I would describe our vibe as cozy Northwoods mixed with authentic Mexican flair," said Bucktales server and bartender Kai Beamer.
With a name like "Bucktales," one might assume this establishment is geared solely toward the deer hunting demographic. But we can't always judge a book by its cover.
A Surprising Gem in Rural Superior
Yes, Bucktales is a county bar – or rather a cantina, as Morales prefers to describe it. But Bucktales is also a sit-down restaurant featuring made-from-scratch Mexican and American food, including burritos, quesadillas, carnitas, barbacoa, chimichangas, nachos, fish tacos, burgers, gyros and more.
Beverages include homemade Bloody Marys, margaritas and mojitos as well as craft and domestic beers, wine, a variety of seltzers and soda. There are even homemade desserts; Bucktales' fried cheesecake and chocolate lava cake are a huge hit with customers.
"I like to take pride in what I do. People pay good money for their food, so every time I serve people, it's like I'm serving my family."
– Owner Dee Morales
This establishment is family-friendly and offers a safe and welcoming restaurant vibe. "It's so cute, quaint and quiet," said Molly Robinson, a Bucktales server and bartender. "Bucktales is very much a restaurant over a bar."
Bucktales offers table seating, two "buddy bars" and a bar. There are also tables outside to enjoy dining outdoors in warm weather months.
The delicious food, made even more popular due to Morales' multiple cooking segments featured on FOX 21 News, consistently pulls in repeat customers as well as first-timers eager to try it out. "People will drive three hours just to come here and eat," Robinson noted.
Morales, who is originally from Mexico City, definitely has an edge when it comes to preparing delicious Mexican cuisine. But his dishes also have a distinct American flair.
"I wanted to do a bit of everything," Morales said. "Not everyone likes real Mexican food, like corn tortillas and cilantro, so I try to combine traditional Mexican dishes with American flavors, too."
The Bucktales History
Morales had moved to the United States from Mexico in 2000, seeking a better life and more opportunities for his family, which includes his wife, Mary Ellen, and their four children. Prior to moving to Superior, the family lived in Fridley, Minnesota, where Morales worked for a variety of restaurants.
When he saw a Craigslist advertisement announcing the sale of Bucktales Bar (which didn't have a kitchen at the time), along with an adjacent plot of land and an upstairs apartment, Morales was intrigued.
The establishment now known as Bucktales had been around for a long time. It was known as McMeekin's Bar in the 1970s and later as the White Horse.
"People will drive three hours just to come here and eat."
– Server and Bartender Molly Robinson
Morales talked it over with Mary Ellen, and they decided to buy the business in August 2014. After some consideration, he also decided to keep the Bucktales name.
Mary Ellen redesigned the logo, and together (after constructing a full kitchen and opening it just a few short months later), they added "Cantina & Grill."
The family now lives comfortably in the spacious apartment upstairs.
The Fantastic Food
Bucktales offers a bit of everything: Mexican food, American food, appetizers, desserts and unique beverages. Morales explained a bit more about the food: "We patty our own hamburgers and make our own chorizo, barbacoa, chicken dishes, carnitas, rice and beans and Pico de Gallo. About 80 percent of our food is fresh and made from scratch."
The popular fish tacos feature grilled pollack, and Morales makes a special sauce made with cilantro. Bucktales' gyros also have a distinctive twist: he adds lime juice and cilantro to the cucumber sauce.
"Dee created all his own recipes and is constantly experimenting to create new menu items," said Beamer. "He takes a lot of pride in his food and cooks like he would if he was making a meal for his family – every time."
At Bucktales, the menu changes at least once a year, with plenty of input from customers. For instance, the "Pollo Keto" was developed for diners who follow the popular Keto diet. "One of my customers mentioned that he was on the Keto diet, so I created this dish," Morales said. "It features chicken, greens, lettuce and sour cream. I always listen to my customers."
One of the best-loved items on the Bucktales menu is the queso – a delicious, molten cheese that Morales likes to pour generously on many of his items, including the unique Philly cheesesteak sandwich. And this recipe is a secret. "I'll just say it's all about the love," he said with a laugh.
The Unique Drinks
Bucktales offers plenty of options when it comes to drinks. The mojito is made with fresh mint, and the margarita is always served in the classic style – on the rocks and never blended.
Their famous Bloody Mary is served with summer sausage, a cube of queso and an olive. "Dee makes the best Bloody Mary I've ever had," Robinson said. "We spice it up and add ingredients that aren't normally in a Bloody Mary."
Morales also makes his pina colada and strawberry margarita mixes from scratch. And the Michelada is another unique concoction, featuring beer combined with Bloody Mary mix.
There are plenty of beer options, too, including Dos Equis, Castle Danger, Spotted Cow, Surly and Bent Paddle brands. Seltzers include White Claw, Bud Light and Cloudless Hard Seltzer, which is made in Wisconsin. Nonalcoholic options include both Coke and Pepsi products.
Why Customers Love It
Dan Wicklund, along with Susan, his wife of 52 years, are proud Bucktales regulars. After retiring as the owner of Dan's Feed Bin in Superior, Wicklund now has more time for enjoyable pursuits, such as dining out. And Bucktales is one of the couple's favorite places.
"We've been eating at Bucktales since they opened the kitchen," Wicklund said. "They have great food and great service. We like the quesadillas, taco salads and burritos, but Dee has excellent chicken wings, too.
"Dee and his wife and kids are wonderful," he added. "They're really great for the community."
Another loyal Bucktales customer is Brett Scott, who initially got to know Morales and his cooking in a very interesting way.
"They have great food and great service… Dee and his wife and kids are wonderful. They're really great for the community."
– Customer Dan Wicklund
"I first found out about Bucktales through my work as a reporter/anchor with FOX 21 News," said Scott, who's a morning anchor and reporter at the station. "We have filmed 'Cooking Connections' with Dee for two or three years now. At the time, he was just opening, and from what Dee told us, our segments really helped him get his business on the road to success. Now I try to frequent Bucktales at least two or three times a month."
Scott usually dines at Bucktales with his partner, Justin, and the couple often bring their close friends and family, too. "I tell everyone looking for good Mexican cuisine to make the drive to Bucktales," Scott said.
When it comes to his favorite menu items, Scott said, "I love anything smothered in Dee's famous queso. My new favorite is a burrito stuffed with chicken and smothered in queso. However, I often order the fish tacos during the summer months or the carnitas during the colder, 'comfort food' months." Scott's favorite beverage is the classic margarita.
The Loyal Staff
When they took over the business, the Morales handled just about everything. "I washed dishes, cooked, bartended and did the maintenance and snow removal," Dee Morales said.
Today, there are six employees including three servers/bartenders, an additional cook (Alexandra Langford, who is rumored to be almost as prolific a cook as Morales himself) and two employees who help with prep cooking and washing dishes.
"Alexandra is an asset to our team as an excellent cook who has become a leader within the kitchen," said Morales. "She has been able to quickly learn the menu and prepare the great-tasting meals to which our customers have become accustomed. Alexandra is a quiet force behind the scenes who always shows up with a smile and works hard to ensure that the kitchen operation runs smoothly."
With Mary Ellen Morales handling the bookkeeping and taxes, Morales now dedicates his time to cooking, inventory management and maintenance.
Bucktales employees are loyal and very dedicated to their bosses. "They are two of the best people I've ever worked for," Beamer said of the Morales. "They are supportive and continuously pushing all the employees to be the best they can be."
"I tell everyone looking for good Mexican cuisine to make the drive to Bucktales."
– Morning Anchor Brett Scott, FOX 21 News
"Dee is so accommodating and genuine," said Robinson. "And Mary Ellen is very sweet. They are always willing to help us, like a family."
"We take pride in our bar, including everything from our food and drink presentation to keeping the bar insanely clean," Beamer added. "All the employees work extremely hard to meet and exceed Dee's expectations. I've never worked with such an amazing group of people and had such fantastic regulars."
"And the best part of working here is our customers," Robinson added. "We're in the county, and the people here are small-town and genuine. If you get stuck in the snow, they will come and help you."
Bucktales Cantina & Grill's winter hours are: Tuesdays through Thursdays from 2 to 8 p.m., Fridays from 2 to 9 p.m., Saturdays from 11 a.m. to 9 p.m. and Sundays from 11 a.m. to 8 p.m. (closed on Mondays). Happy hour is offered daily from 4 to 7 p.m. Bucktales does not offer delivery, but welcomes carry-out orders. (Note: Due to changing COVID-19 pandemic restrictions, find them on Facebook to confirm hours of operation.)
Reflections on Hard-Earned Success
Dee Morales has much to be proud of. He has transformed a former county bar into a restaurant serving delicious food and created a comfortable, welcoming place for all people to congregate. He employs several people. And as an immigrant, he has had to overcome many additional obstacles to find success. Morales himself deserves most of the credit, but he also has many people he would like to thank.
"I appreciate my customers and want to thank them for their support," he said. "And I'm so proud of my employees, who are honest and hard-working. I'm happy to be here. I've met a lot of good people who have become friends and everyone has been so good to me.
"I like to take pride in what I do," he added. "People pay good money for their food, so every time I serve people, it's like I'm serving my family." PS
Andrea Busche is a Twin Ports-based freelance writer.