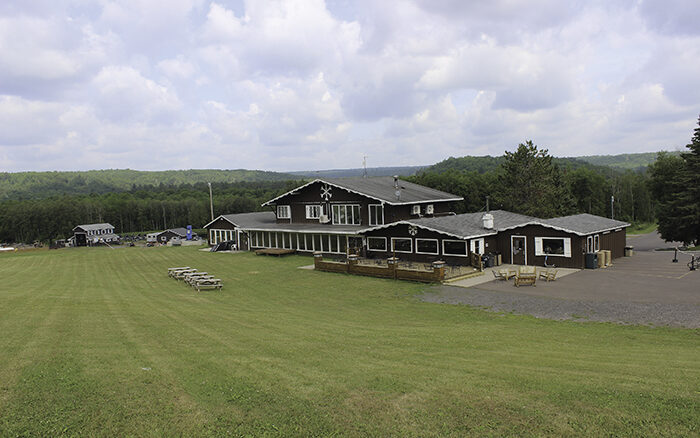 By Patrick Lapinski
Mont du Lac Resort isn't just about winter skiing
There is no better season than summer in the Upper Midwest for getting outdoors, and the folks at Mont du Lac Resort have the perfect place to play. Like the seasons, Mont du Lac has shed its winter layer of snow and the staff are geared up for another season of fun and adventure with a full slate of traditional and alternative summer activities to fit just about everyone's lifestyle.
Located in Northwest Wisconsin, in the Township of Superior, Mont du Lac resort sits on the western side of the St. Louis River, on a narrow strip of land that most people think is in Minnesota.
"We were a local, young family, learn to ski, family driven activities resort. That is everybody's story in the winter, 'I learned to ski Mount du Lac,' And holy cow, look what you've done," said General Manager Mike O'Hara. "Our summer target market is still the young family, and people who want to have an opportunity to do a whole bunch of different activities all in one spot."
The resort itself was founded in 1948 by Tony Wise, the legendary Hayward, Wisconsin, developer and founder of the American Birkebeiner ski race. At the time, and for many years afterward, Mont du Lac and its Base Lodge were the only game in town for the local downhill ski scene. The transition from a winter-only ski resort to a full-season facility has been ongoing since 2008 when the resort's current owners, Larry and Donna Pulkrabek, purchased the aging facility. Given the resort's scenic and wildly insulated location along the St. Louis River valley, the Pulkrabek's brought on O'Hara to begin transforming the property into a year-round destination.
"We found that getting that captive audience here all the time by creating the activities was the mission, so the RV park concept came, the marina concept came, along with access to the St. Louis River. That was the catalyst to continue the summer growth. Then we started doing bigger events and Bowfest came along. We started opening cabins in 2014; started getting people to stay here." recalls O'Hara, who came on board as event manager from Clyde Iron Works in Duluth.
The Trophy Lodge, erected in 2017, "is truly one of the most impressive log structures in modern North America, constructed with hand-picked western red cedar sourced from the coasts of Washington and British Columbia, then accented with Douglas fir beams and stones from Montana."
– Larry Pulkrabek – co-owner, Mont du Lac Resort
Whether you're a die-hard outdoor enthusiast, a family on vacation, or an individual seeking the solitude of a quiet sports experience, Mont du Lac resort (MDL) has developed a broad range of experiences while staying at the resort. With summer in full swing, if you plan well, you too can partake in all the activities available at Mont du Lac. Here's a little taste of what they offer.
Mountain Biking
Duluth has become one of the Upper Midwest's premier mountain biking destinations, and the trail system at MDL will challenge all levels of rider, from novice to experienced, and just plain crazy. Begin your adventure on the 3.1 mile-cross-country trail before graduating to the Gateway, the Torpedo, the PBR (yes, it's what you think it is!), or the challenging Grizzly trail. Be sure to take a moment to enjoy the vistas from on high before plunging downhill through wooded trails that will put air under your tires and get your heart pumping as you navigate the rugged terrain. 
"When the chair's running, you can hook your bike to the chair and ride up with it. Otherwise, you can free ride on the property all you want to access the trails," explained O'Hara. "We also have a mountain bike team and we run a shuttle that has a specially designed trailer on it that is made specifically for mountain biking. You just hook that bike right on the trailer, jump in; we have a 15-passenger van that goes back and forth, for access to all the trails." 
Big Kahuna Waterpark
Billed as Wisconsin's premier family getaway, your vacation plans should include MDL's Big Kahuna Waterpark as the premier place to cool down and get wet. "Our waterpark, the swimming beach, the waterslide. That's the big attraction for the family and kids," O'Hara said. "There's a beach bar there that has a menu on the patio, so you can watch the kids go swimming." 
The waterpark features a variety of trampolines, a slide, a rock-climbing wall, rope swing and diving board. The Big Kahuna and Big Splash Beach are perfect for family gatherings, birthdays, and fun in the sun. If summer slides are your thing, you'll have a great time on one of Mont du Lac's OUTTA BOUNDS summer slides. MDL offers two custom tubing lanes and four speed slide lanes. "We also have summer tubing. Using the same tubes that we use in the winter, we have some tracks that are built that support those tubes in the summer," adds O'Hara.
Water Sports
The mouth of the St. Louis River was once home to the colorful voyageurs of the pre-colonial fur trade. The Mont du Lac Marina is the perfect place to dip a paddle, wet a line or set forth on a high-speed jet ski. Whatever floats your boat, you can rent it at the Boathouse Outfitters, located at the marina.
If you're looking to reel in a walleye or battle for a trophy musky, experienced and novice anglers alike will find the thrill of the hunt when fishing the St. Louis River. If you're not sure where to go, no worry because MDL partners with guide services featuring some of the area's best anglers on the river. Be sure to bring your camera to capture your trophy catch. 
New this year at MDL are unguided float trips along the St. Louis River. "We launch from Jay Cooke Park, and you take about a 90-minute float down the St. Louis River and then we pick you up at the marina," O'Hara said. "You can make reservations for Tuesday and Wednesday, but the regular launches happen Thursday through Monday, all open to the public." A longer, "super ride" that takes four to five hours and takes you downriver to Boy Scout Landing is available once per day on the weekends, weather dependent.
As with all rentals, reservations are recommended during peak season. As you head out on the water be careful, you may just find yourself singing one of those merry voyageur songs. Mont du Lac is looking to expand its river-based activities in the next few years.
Disc Golf
Duluth is gaining the reputation as one of the Upper Midwest's premier destinations for disc golf. Mont du Lac offers three main courses with "five course play options that wind through rolling, wooded terrain" All holes are equipped with Discraft Chainstar baskets that feature multiple pin locations. Due to its nature, disc golf doesn't happen on a level playing field, so make sure you have good footwear to traverse the courses.
The disc courses are open year-round, dawn till dusk, without reservation. If you've never played disc golf and want to give it a go, you can rent or buy everything you need to get your game on at the onsite Northern Lights Disc Golf Pro Shop. Two of the courses – Ace Run and White Cedar (Forest Course) – are open year-round.
Throughout the summer, MDL hosts several disc golf events, including two opens a year, as well as league play. When planning your stay, be sure you check the schedule to make sure the courses you want to play are open and available.
Archery
Think of it as summer camp for adults. MDL's 100-yard, 3-D outdoor archery range is configured by archery experts and is the only one of its kind in the Superior/Duluth area. Archers can shoot at a variety of 3-D targets positioned in realistic shot scenarios throughout the wooded hillsides and open fields.
At mid-summer, the annual Bowfest draws thousands of participants in this unique, four-day event held during the last week of June. The event was created "to bring archery manufacturers, celebrities and common archers/hunters together in one place." Bowfest is billed as the "World's Largest Outdoor Archery & Music Festival." Come for the archery, stay for the entertainment.
Lodging at Mont du Lac
As an all-season resort, Mont du Lac offers a variety of lodging options. "We've got cabins on our hillside that have amazing views of the St. Louis River. We have every classification of lodging, like full service in the trophy lodge and suites. We have the cabins at the RV park that have full service, complete with bathrooms and kitchens inside."
The Mont du Lac RV park has standard and premium sites available and is situated in the heart of the resort, close to all the activity you will enjoy during your visit. For those who want to rough it, O'Hara says they offer what they deem the rustic cabins, replete with wood fireplaces, and even Wi-fi connections. It is recommended that you read the fine print because not all the units have amenities like running water, showers and bathrooms.
For large groups or families, the Mont du Lac Mountain Lodge can accommodate up to 12 guests, while the River Lodge can fit nine guests. If you want something a bit more upscale, and cozy, you can't go wrong with the variety of suites available at the Trophy Lodge, where the view from the top is, well, spectacular doesn't do it justice.
The Trophy Lodge, erected in 2017, "is truly one of the most impressive log structures in modern North America. constructed with hand-picked western red cedar sourced from the coasts of Washington and British Columbia, then accented with Douglas fir beams and stones from Montana," stated co-owner Larry Pulkrabek.
"Our summer target market is still the young family, and people who want to have an opportunity to do a whole bunch of different activities all in one spot."
– Mike O'Hara – General Manager, Mont du Lac Resort
As you look ahead to summer, be sure to include Mont du Lac in your travel plans. Just like during the ski season, MDL offers a season pass ($79.99) for all the summer activities that lets you use the waterpark, the summer slides, discounts on the kayaks, canoes and power watercraft are included all the time. You can also buy a day pass for $14.99.
As in the ski season, Mont du Lac is open to the public, meaning you do not need to be staying at the resort to take advantage of all the summer activities.
For specifics about lodging, dining, liability waivers that go along with special activities and events, please visit MDL's website prior to arrival and booking.  P.S.
Patrick Lapinski is a freelance writer who grew up in Superior.