By Sheryl Jensen
Barges for San Antonio
Lake Assault Boats is Building a Colorful Flotilla of River Walk Vessels to Fulfill its Largest-Ever Contract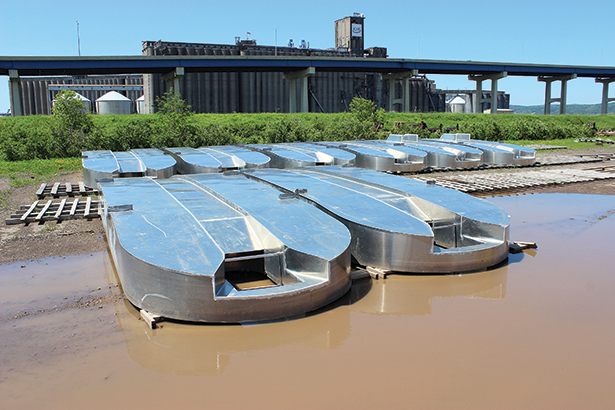 The Riverwalk (Paseo del Rio) in San Antonio, Tex., has often been called "the American Venice" with its waterway that meanders throughout the downtown area. This jewel of the city is a colorful year-round fiesta of sounds, lights and people with an exciting variety of restaurants, theaters, museums, shops and parks lining the waterway.
One of the draws for the Riverwalk as a popular tourist destination are the water barges that offer dinner cruises and narrated tours and serve as river taxis as well. The outdated, 30-year-old barges are being replaced as part of the city's 300th anniversary celebration, set to kick off officially this New Year's Eve.
Lake Assault Boats, based at Fraser Shipyards in Superior, was awarded the $6.2 million contract with the City of San Antonio to build a fleet of 43 all-aluminum commuter and tourist barges (including one "beta-barge" that was made early for testing).
In a company news release, Chad DuMars, Lake Assault Boats' vice president of operations, said, "We were honored to be selected by the City of San Antonio to build this brand-new fleet of river barge vessels that will play a vital role in supporting the city's unique identity and amazing recreational assets. We look forward to providing the city with a new fleet that will serve them well during their upcoming Tricentennial and for many, many years beyond. This has been truly a team effort that brought to bear the resources, support and expertise of our entire organization, including those of Lake Assault, Fraser Shipyards and our parent company, Capstan Corporation."
Lake Assault is one of the leading manufacturers of mission-specific boats for fire, law enforcement, public safety agencies and commercial marine industries. Founded in 2003 in Elk River, Minn., by Jerry Atherton, the company originally made recreational fishing boats. When fishing boat sales slowed with the economic downturn, Lake Assault started making boats for public agencies. Atherton sold the business to Fraser Shipyards in 2009.
Building boats from start to finish in its own custom shop (with no assembly line), Lake Assault tests them on Lake Superior to assure customers that their boats are built for quality and safety – and are ready to withstand tough conditions.
Lake Assault's pursuit of the contract with the City of San Antonio started in July 2016, when it received a solicitation from city officials to bid on the project. Bids were opened in October 2016 and narrowed down to the final four before Lake Assault and the San Antonio City Council signed a contract for the project in December 2016.
Lake Assault Boats typically does its own designs, but the San Antonio team had participated in an International River Barge Design Competition for the project earlier, before Lake Assault got involved.
A Houston-based firm called Metalab won the bid for the versatile barge design allowing for modular deck components to suit a variety of uses. The barges can accommodate up to 40 passengers and a pilot.
"The new river barge design is bold, innovative and reflects the character of our progressive and growing city," said former San Antonio Mayor Ivy R. Taylor in a press release. "The new design will truly transform the river barge experience for the next generation."
After hiring an additional 18 employees (including welders, fabricators, mechanics and fitters) to work on the San Antonio contract, the 30-person staff at Lake Assault hit the ground running on the largest project in the company's history. They had to have the prototype  – or "beta-barge" – ready and delivered by truck to San Antonio by February 8.
Once on-site testing was completed at Howard's Pocket Bay near Fraser' Shipyard's dry dock facilities, more operations testing of the beta barge was conducted on the San Antonio River for the 20 days following the delivery. After working out and incorporating the design changes, Lake Assault went into full production mode.
DuMars said they have been averaging the completion of one boat per week through the build. With 20 barges due September 15 and 22 more due November 17, the time crunch is intense.
"Our process has evolved quickly, with our efficiencies building as we have moved on in the project. With our work flow mapped out and streamlining the process, everything has unfolded as we thought," said Eric Nistler, Lake Assault's project engineer.
Deputy Director Jim Mery of the Center City Development and Operations Department for San Antonio, said, "We were really impressed with the operations at Lake Assault when we visited there. We admire their project management style. They are on a tight timeline for us, and they are handling it well. They proved to us they had the skill set  to build 43 barges in a short amount of time."
Mery added, "It will be a spectacle to see 20 barges show up in September. The new barges will be more representative of our city with their bright colors and designs."
Veronica Garcia, assistant to the deputy director, said, "The new fleet of colorful barges will bring even more tourists to the Riverwalk. With the flexibility of the design of the barges, we can have cocktail parties, yoga sessions, river parades and specialty tours. It will be a plus for both tourists and locals."
The river barges' modular components, which 27 feet long and nine feet wide, allow each barge to be reconfigured with several touring, dining, commuting and entertaining options. A variety of different layouts of tables, chairs and booths on the modular deck design will create waterway service options for numerous, diverse events and customer requests.
And since the barges feature flat decks and integral fold-down ramps, patrons have ease of access, including those with special needs. Colored LED lighting around the base of the barges will create a beautiful visual effect and and will identify the purpose of each type of barge.
Designed with both the environment and sustainability in mind, the barges have Torqeedo brand 10-kilowatt outboard electric motors, each powered by 16 rechargeable lithium batteries.
"We have had a great partnership with Lake Assault Boats," Garcia said. "They offer excellent customer service and have dealt smoothly with challenges that have arisen with strategies that have been cost effective, allowing us to stay on budget."
"We are thrilled to have received this contract with the City of San Antonio to build these barges. We feel like it will give us more visibility as a company to get other large-scale contracts, allowing us to maintain the staff we added for this project," said DuMars.
Praising the team effort of the entire Lake Assault Boats organization, DuMars added, "It has been exciting to work on such a big project and to watch it coming together. To see our plan unfold has been very rewarding for all of us."
"We made a promise to the city that we would have this project completed on time. Lake Assault's ability to be so successful in meeting our needs has been wonderful," said Mery.
While the colorful barges are set to splash down soon in their permanent Southwestern home, the spirit, energy and commitment the Lake Assault Boats team has put into each barge – and the "DNA" of the Northland and Lake Superior – will endure.  P.S.
Sheryl Jensen is freelance writer based in the Twin Ports.
Like this article? Want to read more?
Click here to subscribe to Positively Superior magazine.