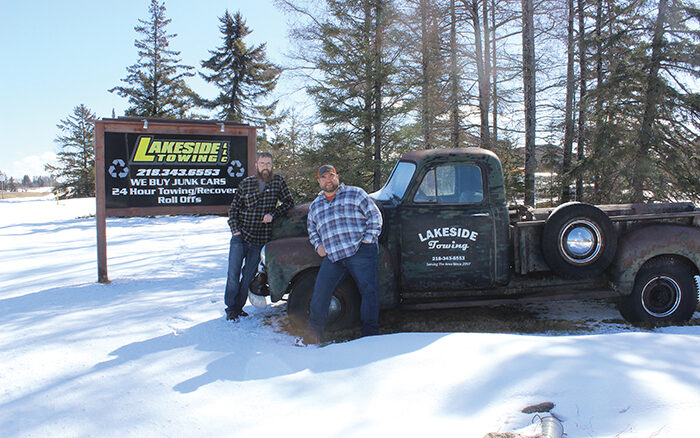 By Tony Bennett
Lakeside Towing Provides Scrap Metal, Auto Salvage, Septic, Auto Repair, Roll-Off and Towing Services
Sometimes, people make a business plan and try to execute it in an exacting way. Other times, they just know they have to try something different – and they take a chance. They roll the dice and hope that their future doesn't come up snake eyes.
Lakeside Towing Inc., located at 8492 E. State Road 13 in South Range, Wisconsin, came about over a decade ago because founder Jeremy Winans decided that he wanted to be his own boss. Today, he's just that as the company's founder and president. He and his staff provide scrap metal, auto salvage, septic, auto repair and roll-off dumpster rental services in addition to emergency towing services. Lakeside Towing's growth may have not been something Winans fully anticipated, but he'll tell you that he's right where he wants to be. For him, the dice landed just right.
"Roughly 15 years ago, I started with a pickup and a trailer," Winans said. "I was in the union trades, and in 2008, when everything got slow [due to the Great Recession], I was already scrapping on the side, and it just kind of started taking over from there. In 2010, I hired my first employee, and it's just kind of grown since then."
"It makes me really proud that I've grown it from absolutely nothing. I never inherited anything, never got a business start from anybody. Quite honestly, it all happened by accident."
– Owner Jeremy Winans
Indeed it has. While the folks at Lakeside will tell you that they're still a small business and proud of it, they can do a lot, and they have a lot of resources at their disposal. "We've bought out two other companies," Winans noted. "We bought out a roll-off disposal [company] about six years ago, and we've expanded that quite a bit since we purchased it. We bought it with 24 dumpsters, and now we have a little over 50 and three roll-off trucks. I currently have six employees for the towing side, which is the scrap and the roll-off." He also recently acquired a septic tank waste removal service, which is run by one person.
"It's just grown a little bit every year," he explained. "We just kind of keep doing what we can do. Then, when an opportunity arises to take on something new, we discuss it, and that in-house discussion keeps becoming a reality, I guess."
It's a work life that suits Winans, because he's never been the kind of person to want to do just one thing. "I've always had two or three jobs, ever since I was young," he said. "I was just kind of looking for something to do on the side. I wanted an excuse to buy a diesel pickup truck. Now, it's my full-time gig. We've invested a lot in equipment over the years and making everybody's job easier."
Though "towing" is in its name, Lakeside Towing's more significant revenue generator is working with scrap metal as a licensed salvage dealer – though it continues providing 24/7 service to help people if they have fender-benders or their vehicles break down on the side of the road. "Cars are our main gig," Winans said. "That's mainly what our focus is – scrap automobiles, or recycled automobiles."
The company fleet is pretty impressive for a place with under 10 employees. "We have two flatbed tow trucks, one pickup truck that we pull a big gooseneck trailer with, and we have four roll-off trucks," noted Winans.
"It's been a blast. It's been a crazy 12 years, and I never thought we would've gotten to where we're at, that's for sure."
– Garage Manager Jeff Burkhart
The roll-off service is something he wanted to provide for a long time. "Early on, we used to get a lot of jobs doing farm cleanups and stuff, and hauling loose scrap was always a challenge," he said. Getting some dumpsters into the equipment mix helped them to meet those kinds of challenges. In addition, an opportunity to provide roll-off work after the Husky Energy Superior Refinery fire in 2018 helped to really establish this service. Today, Lakeside also serves rural homeowners working on projects, contractors and anyone else who needs them.
"Basically, we just always try to treat our customers as fairly as we can and be reasonable with them," Winans said. "If it's something we can't do, we explain why. It boils down to supply and demand."
The company doesn't have a "junkyard" in the old sense of the term, where junk cars sit on a property and people can pick through them for parts. Lakeside Towing processes junked cars that it purchases from people who want to dispose of them and then recycles their parts for a profit. "We buy the vehicle as a whole and then we take it into our facility," Winans explained. "We drain all the fluids, we take the batteries out, take the air conditioning out, pull the wiring and separate the engine and the aluminums and stuff like that to try and stay competitive in the market."
Garage Manager Jeff Burkhart has been there with Winans virtually from the beginning. "I'm the first employee," he says. Burkhart came from a construction company he had with his cousins that folded during the 2008 recession. He happened to be driving by the Lakeside Towing property at the time and spied a vehicle with just the right blinker lens that he was hunting for.
He stopped in, noticed a slab without a building on it and inquired about who the builder was. And before he knew it, Burkhart would end up being the builder of the Lakeside Towing facility. This led to a career partnership that both men didn't expect.
"It's been a blast. It's been a crazy 12 years, and I never thought we would've gotten to where we're at, that's for sure," said Burkhart. "I've pretty much done everything on this property since I've been here – sheetrock, drywall, paint, plumbing." He even does some of the basic auto maintenance/repair services that Lakeside Towing also offers. "It's a seven-minute drive to work," he noted of his brief morning commute. "You just can't plan it out any better than that."
Winans is "one of the hardest-working people I've ever met in my life," Burkhart added. "He doesn't stop. He just goes and goes and goes. I enjoy this place thoroughly."
Customer Terry Semanko says Lakeside was recommended to him by a friend for his roofing and siding company. "I needed a dependable person for dumpsters," he said, noting that he did not have great experiences with other roll-off companies. "That's where Jeremy came in, and I don't need to look anywhere else. I bet we do an average of 50 dumpsters a year, probably for about five years now. I'll use somebody else only if it's out of the area. If it's somewhere Jeremy goes, I don't even talk to anybody else.
"They always answer the phone," Semanko added. "You always know what's going on; they take care of business like it should be taken care of."
"We've tried to diversify," Winans said. "We just roll with the market and do whatever we can at the time to make ends meet. I strive really hard to not lay a guy off once I put him on, even through the winter slow months.
"It makes me really proud that I've grown it from absolutely nothing," Winans says of his company. "I never inherited anything, never got a business start from anybody. Quite honestly, it all happened by accident. I was just trying to do this as a side gig. Now it's kind of almost a little family-oriented business, and we just try to make sure everybody is taken care of and can live on the wages we're paying."
Since (as Burkhart says) "he goes and goes and goes," Winans intends to keep doing exactly that: operating a business that has clearly found its niche while considering potential for more growth.
"I think the future is strong," Winans says. "People are scared about the markets, but I feel like we're in a good position to keep everybody working. We've got a lot of good customers and a lot of good relationships that I feel will be long-term relationships. We're very fortunate." PS
Tony Bennett is a Twin Ports-based freelance writer.