By Holly Kelsey-Henry
The Craft
Anderson & Hammack Construction Deploys the Region's Most Talented
Carpenters To Satisfy Homeowners and Business Customers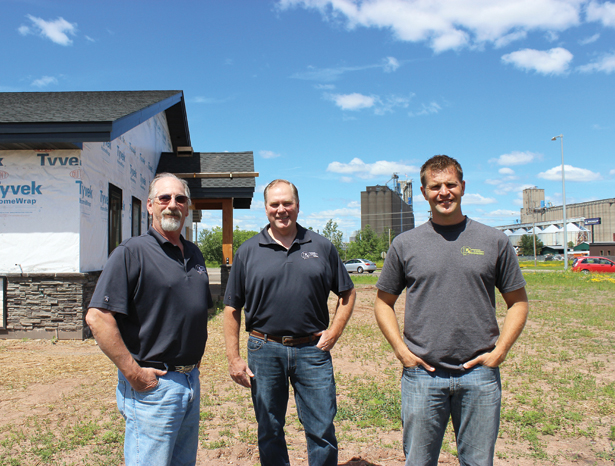 Terry Hammack comes by his craft honestly. The son of an Assembly of God preacher, Hammack and his father handled a lot of carpentry projects for the churches his father served, as well as working on houses in the communities in which they lived.
"I learned carpentry as a necessity," Hammack said. "And then at the end of one summer my dad paid me ten bucks for my troubles and I was pretty happy to get paid for doing something I really liked anyway."
Hammack went on to take a construction job that paid $1.16 an hour, but through the years realized he wanted to be the captain of his own ship. So in 1992, he and a friend, Mark Anderson, formed Anderson & Hammack Construction Co. Inc. In 2011 they welcomed a new partner, Nick Olson, who was hired as a carpenter in 2004 and has since taken on the challenge of seeing Anderson & Hammack into the future.
What started in a little garage has since grown into a sought-after construction company at the top of the custom home building industry in the region. Although they are unafraid to take on any project, Anderson & Hammack specializes in building high performance, top-end homes. From the administration and project management to the high level of finish their homes receive, each and every project is handled with care and consideration for the client's wants and needs.
"We have the most talented carpenters in the region and we are proud to show off their skills."
– Nick Olson, co-owner
If it is possible to be supremely proud and abundantly humble, Hammack is both. "We are pretty successful because we believe people work hard for their money and they deserve a quality job," he said. "We don't know how to do bad work. We just couldn't. Our name is on everything we do and we are grateful that people trust us with something so important to them."
"Quality craftsmanship and attention to detail are the cornerstones of our business," said Nick Olson. "From the initial client meeting to the end of the project, we are very diligent about setting expectations for our customers and meeting or exceeding them in the end."
To deliver customer satisfaction, this business employs people who (like its owners) believe it's important to take pride in their craft and in the quality of service Anderson & Hammack provides.
"We have the most talented carpenters in the region and we are proud to show off their skills," said Nick Olson. "They are our biggest asset and we do everything we can to show our appreciation: health benefits, retirement packages, paid time off, company picnics and the list goes on."
Today Anderson & Hammack Construction employs 18 full-time employees and is licensed and bonded in both Wisconsin and Minnesota. "Our team is continually attending workshops and seminars on upcoming building practices and new trends in order to provide our customers with a product they will love for years to come," said Anderson. "Happy, satisfied clients plus quality craftsmanship is the key to our success. Friendships made and the pride we take in our workmanship make being in the custom home building industry worthwhile."
"Friendships made and the pride we take in our workmanship make being in the custom home building industry worthwhile."
– Mark Anderson, co-owner
"I absolutely love what I do. I am still young and definitely still learning, but having these two guys as mentors has really helped me to understand not only construction, but how to run a business," said Olson. "Mark and Terry really have complete opposite personality traits. This is a good thing; they balance each other out and it's obviously working. I am trying to learn from each of them – how they make decisions and what's important to them, so that I can carry on their legacy."
Those they work with couldn't agree more.
Attorney Daniel Hannula worked with Anderson & Hammack on the Hannula & Halom law offices. "I am probably more sensitive to a good working environment than other lawyers," Hannula said. "Anderson & Hammack tried very hard to understand us and how our law office functioned before we built anything. They worked with us and our architect to design an office that was more effective in serving our clients and more efficient as a trial oriented firm. They also had a team of experienced craftsmen who thought enough to stop in the process of building and seek us out to make sure they understood the best way to solve the various small problems that occurred along the way. I really appreciated that. Our office functions very well now. Moreover, it is just downright pleasant to work here."
ShelDon Print and Design's president, Dean Baltes, also sings the company's praises. "I've had Anderson & Hammack do a number of projects for me and to say I've been pleased would be an understatement," he said. "Their attention to detail is second to none. Also, their care of the work area to not contaminate other parts of my house was great. I would recommend their company to anyone who wants a job done with perfection as the goal."
Hammack attributes much of this success to the way the business treats its employees, from the ground up. "I think we were ahead of our time when it came to how to treat employees," he explained. "Our people have families and we realize they need time to attend kids' events. We have single fathers and we know they have crazy schedules and we need to be flexible. We also take care of our people with retirement, health insurance and vacation. We treat them the way we wish we had been treated when we started out in this industry."
Richard Snyder, who has worked for Anderson & Hammack for 14 years, attests to this. "I love it here," he says. "They are very family-oriented, everyone is fun to work with and they are flexible. At the end of the day it is rewarding to work for a company with such high standards and one that is recognized for its craftsmanship."
"They worked with us and our architect to design an office that was more effective in serving our clients and more efficient as a trial oriented firm."
– Daniel Hannula, Hannula & Halom Attorneys
Indeed, among Anderson & Hammack Construction's many awards is the Builder's Association of Minnesota's Builder of the Year Award, recognizing the company's work on the iconic Split Rock Lighthouse near Silver Bay, Minn.
The company helped restore the lighthouse in 2008, after years of Lake Superior's notoriously bad weather beating windows, mortar and wood siding. The 54-foot lighthouse spent a season encapsulated in scaffolding while the Anderson & Hammack team worked its magic. Its metal top was cleaned and repainted. Each of the 27 curved windows was carefully removed and their brass frames restored and resealed. Workers replaced the rotted wood around the bases and around the sides of the structure, using the same techniques that would have been used 100 years ago.
According to Olsen, the biggest challenge was trying to make everything historically accurate. "There are thousands of people seeing the lighthouse every year, so it makes it interesting," he says. "You definitely have to have pride in what you're doing to make it look good. It makes all the difference."
Anderson & Hammack also worked on aviator Charles Lindbergh's boyhood home in Little Falls, Minn. Lindberg spent the summers of his boyhood years at the home his father built on the west bank of the Mississippi River. In 1969, the house was given to the Minnesota Historical Society and is now – together with the Museum and Interpretive Center – part of the Charles A Lindbergh Historic Site. "You can't imagine how rewarding it is to be part of such a project," Hammack said. "To see something brought back to its former glory and preserved for generations is humbling."
Among other restoration projects was the train depot in Baudette, Minn. The depot is the sole survivor of five depots in Lake of the Woods County. The 1923 Baudette Depot was abandoned by the Canadian National Railways in the mid-1980s and sat empty for more than 20 years. It once served as an integral part of the entire transportation system of the area, when all of the traffic into or out of the country came by river or rail. Products shipped out included timber, fish, furs, grain and blueberries. In 1997, the Depot Preservation Alliance (DPA) organized to preserve the Baudette Depot and adapt it for reuse. The DPA purchased the depot from the Canadian National Railways in 1997 for $1.
"Obviously, on jobs like this, there's no room for anything short of perfection," said Hammack.
But the owners of Anderson & Hammack are most proud of the homes they have built for local people. "To take a hole in the ground and watch it become something that people are thrilled to show off to their friends is rewarding," Hammack said. "To walk away seeing that someone loves their new home and thinks it is gorgeous is a good feeling."
While Anderson & Hammack takes on most any carpentry job, most of the company's projects are niche custom homes on the water or with a view of the water. But, Hammock notes, they've never built the same house twice and each one is unique.
"I've had Anderson & Hammack do a number of projects for me and to say I've been pleased would be an understatement."

– ShelDon President Dean Baltes
One such house is a log home they built for Allen M. Raffetto, owner of The Raffetto Group.
"We stumbled across Anderson & Hammack," Raffetto recalled. "It was a 2003 serendipitous event for us, because we wanted to build our dream log home. Without Mark and Terry it could have been a nightmare. We had lived in a log home and we had architect blueprints for our new home. Beyond that we were clueless about building a big, new log home here in the north country. Anderson & Hammack had log home building experience and that was fortunate for everyone, because there are a lot of ways to do log homes wrong. They got started with our project in late 2003 and we moved into the place in early 2005. Anyone who has built a home knows how many stories there are to tell and how the journey from start to finish is never a straight line. The thing to note is that Anderson & Hammack avoided bad pitfalls and kept us out of some major traps."
Along with its expertise in home building, Anderson & Hammack is also rightfully proud of its mission to give back to the community, volunteering to help on projects such as renovating a house for a person who was in an accident and working on Habitat for Humanity sites, with the goal of helping people leave unsafe, unhealthy living conditions.
Among the company's goals is to do as much business locally as possible – a fact that is appreciated among local vendors.
"We are now the only locally owned lumberyard left in Superior and we appreciate the support of the locally owned professional contractors like Anderson & Hammack Construction," said Frank Gerard, president of Campbell Lumber. "Campbell Lumber is proud to serve Anderson & Hammack as a professional contractor. I have personally known Terry Hammack for many years. We both served as presidents of the Arrowhead Builders Association. We also have partnered with them on several community service projects supporting veterans and Habitat for Humanity. Their company is well respected as a quality home builder and remodeler. We enjoy working with the owners and their employees because they are professional, yet fun to interact with. Campbell Lumber is proud to work with them."
"You can't imagine how rewarding it is to be part of such a project. To see something brought back to its former glory and preserved for generations is humbling."
– Terry Hammack, co-owner
Chris Scharte, who owns Belknap Plumbing & Heating, also appreciates the business from Anderson & Hammack. "We've worked with them on many jobs, from residential to commercial, and we've also called on them to do finish work for us on some of our jobs," he said. "It's nice to be recommended by a quality outfit like this and likewise to be able to recommend them."
While Hammack noted that the recession that begain in 2008 was hard on their business, he sees a bright future for the Twin Ports. "Construction is a dicey deal at the best of times," he said. "We deal with rain and 20-below temperatures and throw a recession in there and it makes it interesting. But I do see things getting a lot better, with people feeling more positive about building or renovating."
At this stage of the game, the owners spend a lot of their time selling, planning and doing walk-throughs on their projects in progress – and on the phone.
"One day my wife scolded me for not calling her back, so I counted my phone calls and I had 91 that day. I don't get to pick up a hammer too often anymore – though my wife would probably like it if I picked one up at home," Hammack said.
Anderson & Hammack's new offices are located at 301 Tower Ave. For more information, visit andersonhammack.com.  P.S.
Holly Kelsey-Henry is a freelance writer based in Northwest Wisconsin.
Like this article? Want to read more?
Click here to subscribe to Positively Superior magazine.