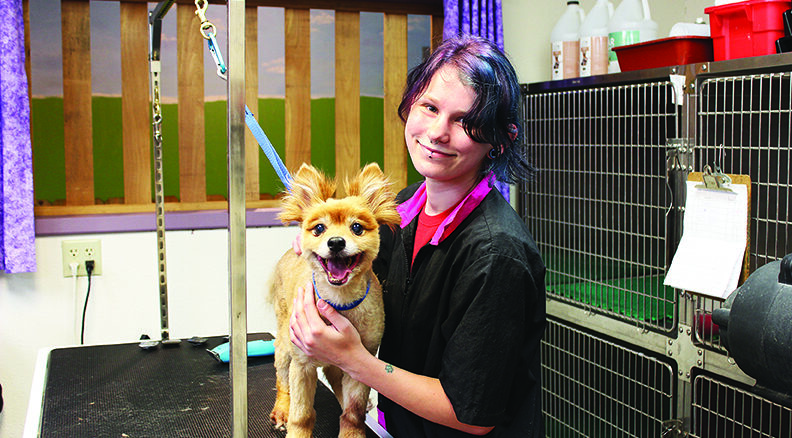 By Andrea Busche
Silverwood Petcare Provides Grooming and Boarding
For Your Favorite Feline or Precious Pup, and Even Doggie Daycare
Louie, a sweet 9-year-old Golden Retriever, has a few "favorite things," including peanut butter bones, stuffed animals and walks. He also loves visiting Silverwood Petcare LLC. 
Louie's owner, Superior resident Jane Acheson, brings Louie there regularly for boarding and grooming services. "I've brought Louie to Silverwood for the last four years, since we moved from Cloquet to Superior," Acheson said. "I bring him there for boarding and I also use their grooming services. Usually, he gets a bath, a nail trim and his ears cleaned while he's there.
"Everyone knows him," she continued. "The employees there are so friendly and nice. Louie has had both of his knees replaced and has also had Lyme disease, so he has some trouble with concrete floors. The employees at Silverwood will even set down cushion squares so he can comfortably enter his kennel. During his stay, he gets his own kennel, but also enjoys the extra stimulation he receives by seeing the other dogs. But my favorite thing is how excited he is when we get there; that really puts me at ease. I tell everyone I know about this place."
Longstanding Superior Business
Silverwood Petcare LLC (formerly known as Silverwood Petcare, Pet Boarding and Grooming) has been operating in Superior since 1975. The business was started by Liz Fredrick, who originally ran the enterprise from her home. Fredrick named the business after her favorite tree, the silver maple.
In 1995, Fredrick built the current facility, located at 77 Moccasin Mike Road, and later added a house next-door, just 100 feet away, in 1998. The property consists of 12.5 acres, featuring direct access to the Tri-County Corridor trail and other private trails – perfect for maximum doggie enjoyment. There is also a barn on-site.
The business was purchased by Kathryn Schottmuller on June 28, 2018. A self-professed "animal person," Schottmuller, who has a degree in business management and leadership from the University of Wisconsin–Stout, spent 17 years working for Petco Corp. prior to getting a job in advertising with the Superior Daily Telegram. "I've always loved animals since I was a little kid," she said. "My dream was to work with animals, too."
As part of her job in advertising, Schottmuller worked with Fredrick on a newspaper ad campaign for Silverwood. The two got to know each other, and Fredrick asked if Schottmuller would like to take over the business upon her retirement. After thinking it over, Schottmuller agreed, in large part because of Superior's welcoming business climate.
"I'm really proud of what we do for
all animals who come through our doors. It feels really good that we
can provide love and care for these cats and dogs."
– Manager and Groomer Haley Adams
"I grew up in a suburb of St. Paul, and I was so impressed with how wonderful and welcoming Superior and the surrounding communities are," Schottmuller said. "They really support their small businesses. It's been a wonderful place to own a business and raise children."
Schottmuller lives and works on-site, sharing her home with her two youngest children and plenty of pets. The family has two cats (Toothless and Shadow), a dog (Bindi, a Blue Heeler) and a hamster. Her life is full of love for animals, and she wouldn't have it any other way. "I love it," she said. "This is what I always dreamed of doing."
Lots of Services
Silverwood provides boarding and grooming for cats and dogs, a convenient doggie daycare option and a small retail section offering products for the special canine or feline in your life.
About 95 percent of its clientele are dogs. But the staff does see some cats, too. "There are a couple of cats we regularly take care of for a bit of [fur] matting here and there," said Haley Adams, a manager and groomer at Silverwood. "Some of them handle it very well, but some cats are never going to like it." Silverwood also offers bathing, brushing, nail trims, tooth brushing and cuts/shave-downs for cats.
Of the business's seven employees, Adams and Schottmuller are the only two who handle pet grooming, and they have learned to leverage their strengths. "I call Haley the 'Yorkie Whisperer," Schottmuller said with a laugh. "Yorkies are so tiny and petite and take a really soft touch. They are also high-energy and very wiggly. Haley is really good with the Yorkies.
"And she calls me the 'Cat Whisperer,'" Schottmuller added. "Some cats come in and their owners tell us they are known for scratching during a bath, cut or nail trim. But it's never been a problem for me. We do have leather gloves we can use, but I don't like to use them. Cats stay calmer and have a more pleasant experience when you don't wear gloves."
The list of services for dogs is more comprehensive, including bathing, brushing, cuts, nail trims, tooth brushing, gland expression and a variety of spa packages, including the Tropical Spa Package (to add moisture to the skin and coat) and Shedless Package (to help loosen dead fur). "The Shedless Package doesn't stop working after the shampoo," Schottmuller noted. "Customers see a drastic reduction in their dog's shedding for the next two to three months."
Another package, geared toward male dog owners, is called the Top Dog Package. It is an Argan oil-based shampoo treatment. "The dog comes out with an amazingly soft and shiny coat, but has more of a masculine, rather than flowery, smell," Schottmuller said. There are also spa packages to help soothe flea/insect bites and one to remove the dreaded skunk smell from the unfortunate pet who has been sprayed. Silverwood does not currently offer fur dying, nail painting or "show grooming" for animals entered in dog or cat shows.
When it comes to cuts, a few continue to remain most popular. "We do get some requests for lion cuts and breed-standard cuts, but most people just want the typical summer shave-down," Adams said. "They want their dog's coat cut short, so they can stay cool and clean for hunting and time on the lake."
It takes a total of seven employees to keep things running smoothly at Silverwood. While Schottmuller and Adams are busy with grooming, paperwork, bookkeeping and errands, the other five employees work as kennel assistants and receptionists.
Peace of Mind Boarding While You're Away
Silverwood offers boarding services for both dogs and cats and can accommodate up to 36 dogs and eight cats at one time. Dogs each receive their own kennel and get five individual outdoor potty breaks per day in the exterior fenced-in play yard (which is made of one-half sand and one-half cement), along with breakfast and a later lunch. Fresh water is always available.
Silverwood can provide food, beds and toys, but recommends that dog owners bring the food their pets are used to eating. "We have a supply of all items, but recommend you bring whatever food your pet is currently eating, so they don't get an upset stomach," Adams said.
Dog owners whose pets are boarded at Silverwood can also purchase additions for their boarding package, including the Happy Camper, through which their dogs will get an individual walk (one employee to one dog) outside on the trail. Romp and Roll is another option, through which dogs receive supervised socialization with the other dogs in Silverwood's care.
And the last option is the "Extra Playtime" package. Dogs are brought outside to the spacious play yard with an employee for one-on-one time doing whatever the dog loves – playing ball, catching a frisbee or just getting extra cuddles and pets.
When it comes to cats, each kitty gets an individual kennel with food, water, a litter box and bedding. They also get a piece of cat furniture, so they can "nest." Each cat, as part of the basic package, is allowed to roam around the cat room (one at a time), where they can look out the window and enjoy some other pieces of cat furniture. Cat owners are also encouraged to bring their pets' regular food from home.
Silverwood's facility is climate-controlled, featuring in-floor heat in winter and air conditioning in the summer, ensuring comfort for pets of all ages and sizes.
Fun at Doggie Daycare
Doggie daycare is another convenient option offered at Silverwood. It is perfect for people with full-time jobs or those who just want their dog to get a little extra socialization. And at the affordable price point of just $15 a day, it can fit into any dog owner's budget.
"Doggie daycare is our newest add-on," Schottmuller said. "We added it right before Thanksgiving 2019. The dogs [up to five at a time] are housed in a room right next to the grooming salon, so they can look in. It's an open room – they can socialize, play with toys and look out the window. And they get the same potty break schedule as our boarders – five breaks per day. We can keep the dogs from 7:30 a.m. to 5:30 p.m."
And when it comes to scheduling, "It can be whatever the client needs," Adams said. "Some have a set schedule, but we also do offer drop-in services." Silverwood advises patrons to please call ahead, however, to make sure it has an open space for their dogs.
"They love our dog, and our dog loves them. I believe dogs are better than most people – and you shouldn't trust someone that your dog doesn't like."
– Customer Don Leighton
Perhaps the best part of doggie daycare? Your pet will be happy and pleasantly tired at the end of the day. "They go home completely tuckered out from playing all day," Adams said.
Any dog over the age of 6 months participating in doggy daycare must be spayed or neutered. It's also important to note that pets being seen at Silverwood must be up to date on their vaccinations. This includes a minimum of: rabies vaccine for grooming services; rabies, parvo, distemper and bordetella vaccines for boarding and daycare services. Dogs over 6 months of age must also be spayed or neutered to attend the open social play daycare. Regular boarding and grooming does not have the spay/neuter requirement.
Silverwood also offers a small retail area. Here, pet owners can purchase dog treats, dog toys, biscuits and cat toys for their pets to enjoy at home.
Silverwood Petcare is a bit tucked away on what locals refer to as "the road that leads to Wisconsin Point." Eventually, Schottmuller would like to add some more signage to increase her location's visibility to passing cars. She is currently working with the City of Superior to ensure her plans meet city signage standards.
"They Become Our Babies, Too"
Schottmuller takes great pride in running her business. "We started out with Liz's ideals and I've continued with that," she said. "Everyone wants the best care for their pets, but they don't have millions of dollars. So we work hard to keep our prices affordable. I'm so proud of my staff; I wouldn't be able to do this without them. I'm very careful when it comes to hiring, because while we're a business, we're also a family, too."
"I'm really proud of what we do for all animals who come through our doors," said Adams, who also has four pets of her own at home. "It feels really good that we can provide love and care for these cats and dogs, and we give them plenty of kisses and hugs. It's not uncommon for us to even sit in the tub with a nervous dog."
"Most of all, what we offer is peace of mind," Schottmuller said. "When they drop their animals off, our customers are leaving us in charge of their babies. It's so important to know they'll be taken care of. Every dog and kitty has their own personality. We take the time to get to know them, and they become our babies, too."
Making Maggie Mae Happy
"The staff at Silverwood are just fabulous; they're always smiling when you get there," said longtime customer Don Leighton, who lives with his wife, Gloria, in Superior. "They love our dog, and our dog loves them. I believe dogs are better than most people – and you shouldn't trust someone that your dog doesn't like!
"We bring Maggie Mae [an 8-year-old Toy Poodle] to Silverwood for grooming services. She gets a nail trim and whatever kind of cut we want; Kathryn will work with us to get whatever look we want," he said. "We have been bringing our dogs there every five weeks for 25 years, minus the year-and-a-half we didn't have a dog. We have never been dissatisfied with a cut by Liz or Kathryn."
Clearly, Maggie Mae likes the cuts Silverwood provides as well. Leighton said that when they come home, she walks in front of the full-length mirror to admire her reflection – and that's the only time she walks in front of the mirror. PS
Andrea Busche is a Twin Ports-based freelance writer.