By David Boe

The Go-To Place

Whether They're Sportspeople or Want to Rest Assured About Personal Safety, Customers Rely on Expertise from Superior Shooters Supply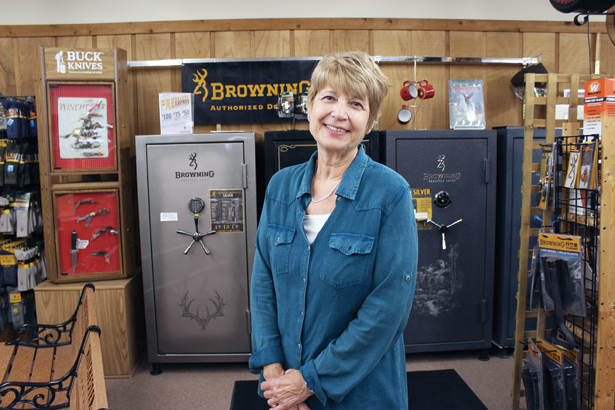 Cheryl Dahlberg and her husband moved to the Twin Ports four years ago and really appreciate the high quality of life, the vibrant port and the area's many tourism activities.
With a disabled husband to care for, Dahlberg also started thinking about the safety and security matters important to most people, regardless of where they live.
"We enjoy living here, but I wanted to protect myself and my husband," Dahlberg said. "So I took a positive step."
That step involved the purchase of several handguns from Superior Shooters Supply in Superior and taking a personal protection in the home and concealed-carry course by the store's National Rifle Association (NRA)-certified trainer, Dan Parkinson.
"They don't just sell you the guns and ammo; they want to make sure you know how to use them properly," she said. "They are extremely safety conscious."
Dahlberg hinted she has more than one handgun of varying sizes and caliber, one hunting rifle and is looking at purchasing a shotgun after trying out trap shooting and bird hunting. After years thinking only of protection, Dahlberg said she's getting into the fun aspect of gun ownership.
"There are all sorts of sporting activities for all kinds of gun owners out there," she said. "And there are a lot of good people who are doing them."
She said if she does purchase a shotgun, or simply re-supply on ammo, she knows what to expect from Superior Shooters Supply.
"They're just about the only gun shop in the area and are a reputable place to purchase from," Dahlberg said. "All the staff there is knowledgeable and experienced. They know what they are doing."
Like Dalhberg's case, Superior Shooters Supply started out due to a need and ultimately grew into the go-to place for people who enjoy the sport of shooting.
"They don't just sell you the guns and ammo; they want to make sure you know how to use them properly."
– Customer Cheryl Dahlberg
In the late 1970s, owners Gerald Bolin and Pat Kukull, both trap shooters, were looking for a place to buy reloading supplies. After one store in Duluth closed, the closest places to go to were Gopher Shooters in Faribault, Minn., and Bill's in Merrill, Wis. It didn't make sense to drive all that way for just the two of them.
"Jerry and I would drive and pick up enough supplies for our friends initially, then area clubs," said Kukull. "We would store the components in my garage – our first warehouse – and we graduated from a pickup truck to a van. People began asking not just for components, but for the reloading tools, also."
While still working fulltime at President Bar & Liquor Store, Kukull and Bolin decided to rent a small space in downtown Superior and open for a few hours, eventually ditching liquor sales and going into the shooting supplies business full-time. They opened a small store in February 1976.
"We bought a building down the block and built a new addition, adding staff and product," said Kukull, noting they moved into the new store in October 1981. "In September 1991, we put in another addition, changed some warehouse space to retail – and here we are."
In a sense, the name says it all. It's a place for shooters to get their supplies, and it's in Superior. But that's really just scratching the surface in covering the variety of products and services Superior Shooters Supply provides.
Of course, one can't miss the rows and rows of new and used firearms. The selection includes Winchester, Browning, Benelli, Savage and Remington, as well as many lines of handguns. They trade, buy and consign firearms. Consignment sales are a good way for people to divest themselves of firearms while still getting a decent price – and without having to deal with the sale themselves.
"I am happy to say that hunters and shooters have stepped up to the plate on gun ownership and understand the responsibility."
– Superior Shooters Supply co-owner Pat Kukull
Not sure about all the ins and outs of buying a firearm and worried about the tightened regulations since 9/11? The staff makes it easy – helping with the forms, answering questions and processing background checks, which are pretty quick. Kukull pointed out that, with a few exceptions, people can buy rifles and shotguns in any state, but one has to take possession of a handgun in the state one resides in. That's easy enough for Superior Shooters Supply, though.
"The majority of our business does originate in Minnesota," she said. "So we do handgun transfers to a dealer in Duluth, where the customer picks his firearms up and does the paperwork."
A recent change in Wisconsin law rescinded the 48-hour waiting period on resident handgun purchases. Kukull said this helps customers who travel a long way to buy from them.
Superior Shooters Supply also stocks a wide variety of hunting and target shooting accessories, including tripods, gun rests, shooting rests, new and used optics, chronographs, paper targets and interactive steel targets, including resealable targets that can be used again. For trap shooters, they carry, among other items, glasses, shooting bags, vests, recoil pads and sights.
They also offer clothing for hunters and shooters, and men, women and kids, as well as Irish Setter and Muck boots.
Kukull said the decision to sell gun safes has been an interesting and exciting venture. Initially, they had to order one gun safe to satisfy their contract with Browning, and they wondered how they were ever going to sell it. They did – and now sell strictly Browning safes, which they get by the semi. This year they are on their fourth semi-load of safes.
"Everything I teach – no matter the level – revolves around safety."
– Superior Shooters Supply safety instructor Dan Parkinson
"I am happy to say that hunters and shooters have stepped up to the plate on gun ownership and understand the responsibility of securing firearms goes hand in hand with owning them," said Kukull. "And the safes are not only for firearms, and they come in all sizes for every budget. One gun stolen is almost always the cost of a safe."
Needless to say, with the firearms comes a lot of ammo and powder to choose from. They still stock reloading tools, which include brands like Hornady, RCBS, Lee and Dillon.
"Reloading is still our mainstay," said Kukull. "About 35 percent of our sales are in components and tools. We are a niche store in that respect and have expanded our lines to three and four different companies, who we have a long relationship with."
Given the importance of reloading, Superior Shooters Supply provides classes on it, taught by Parkinson, who works with another employer on other classes. He is NRA-certified in basic pistol instruction and personal protection and certified by the State of Wisconsin in hunter and bow hunter education instruction. He has taught the concealed carry course since 1993 on the University of Wisconsin-Superior campus. And he said his concealed carry classes are almost always full.
"With the start of concealed carry in Wisconsin about three years ago, our trend has definitely shifted hard to handgun sales," Parkinson said. "And being so close to Minnesota, the majority of our sales are from that state."
Every class Parkinson teaches ties in with what is provided at the store, and for him it's a great experience. "I get 100 percent enjoyment in sharing my knowledge with our store's customers, right down to the 10-year-old in a hunter education class," he said. "Safety for me is always No. 1. Everything I teach – no matter the level – revolves around safety, whether you're carrying a firearm or reloading a 30-06 cartridge. You need to be responsible and safe."
"I've seen the number of women shooting sporting clays increase."
– Superior Shooters Supply employee Mendy Racine
Like the other employees, Mendy Racine is a shooting enthusiast, but she has a special place in her heart for shotguns. To her, some shotguns are beautiful works of craftsmanship and art.  She enjoys shooting them and wants her customers to enjoy it too.
"A shotgun needs to 'fit' the shooter and I can help with knowing what to look for," she said. "Length and shape of the shotgun stock are important, because you shoot standing up at a moving target. It needs to balance and swing well for you, and that will improve your ability to connect to your target."
Knowing what firearm one is comfortable with is the impetus behind Superior Shooters Supply's "try before you buy" event. That event (held at a local shooting range) is free; customers can shoot whatever they want and decide if it's the right firearm for them.
"We're there to help explain the mechanics of the firearm, the special features of each and assure the safe handling by everyone," Racine explained.
And it's not just men who come to these events. Racine said women are becoming more involved in all aspects of the shooting sports, their numbers steadily increasing in the past five or six years. "I've seen the number of women shooting sporting clays increase maybe five to 30 percent," she said. "The number of women who shot trap was a little higher to start with, but that is also on the rise. I have been shooting in a handgun league in the winter and women shooters make up a full third of that group."
Kukull said the store's staff is its strength. The number of employees varies according to the season; right now they have four full-time, including Kukull, and five part-time. She added that while her co-owner, Gerald Bolin, doesn't physically come into the store anymore, he remains a "complete encyclopedia" of reloading knowledge and still does most of the component ordering.
"The folks at Shooters [Supply] offer you something you can't get at the big-box stores."
– Customer Greg Treague
"I am extremely proud of my staff, which is knowledgeable about the different products we sell," said Kukull. "Each person brings something different to the table."
The versatile staff, with its one-on-one approach to customer care, has been an asset to at least one rookie shooter. Jim Bleskan of Superior started looking for a hobby after retiring from teaching in 1998 and some of his friends suggested pistol shooting. Since he admitted he knew next to nothing about the sport, he went to the place that had, he was told, the best expertise –Superior Shooters Supply.
"Everything I needed to know about shooting was there – a real staff of experts," he said. " This was where I bought my competition pistols, a Les Baer 1911 .45 caliber, and my competition .22lr. They're the two pistols I use in bull's-eye competition, which I have been doing for 15 years. For me it's almost Zen-like."
Bleskan said it took just a couple of visits before the staff remembered his name, and would always greet him with a smile. He pointed to Parkinson as a standout among the staff for his help regarding the owning, maintaining and firing of his pistols.
"Dan was great in showing me the mechanical aspects of pistols, because the task of detail stripping them can be daunting," said Bleskan. "He would always say, 'Go ahead, take the pistol apart.' If you run into trouble, bring the parts to him in a box and he'll help you put it back together. That gave me the nerve to try it, because I had backup."
By Greg Treague's reckoning, he's been "on the hunt" for 45 years now and is still going. As far as hunting goes, he's pretty much been there, done that: white-tailed deer, black bear, ruffed grouse, woodcock, squirrel, rabbit, ducks and geese. During that time, he liked to trade firearms on a yearly basis, and that's where he ran into Superior Shooters Supply.
"At the time, probably around the late '70s, I was trading at Northwest Outlet when it was new, and I asked the sales guy if they ever planned to put in reloading supplies. And he told me, 'You'll have to go to Superior Shooters Supply to get that stuff,'" said Treague. "Well, that's how it all began with them and I've been there ever since."
"Everything I needed to know about shooting was there – a real staff of experts."
– Customer Jim Bleskan
Treague figures he's traded more than 100 guns at Shooters – even buying some of them back. Semi-retired from the Wisconsin Division of Forestry, he works part-time as a firearms sales associate in Danbury, but still goes to Superior Shooters Supply to buy firearms or reloading components. It's an old habit he doesn't want to break.
"The folks at Shooters offer you something you can't get at the big-box stores, and that's part of the reason I keep going back: advice on how to do something and not just 'Read a book,' or 'I'll have to ask,' or 'I don't know,'" he said. "Shooters has become for me, over the years, the 'Cheers' of the local shooting world, and sometimes I feel like Norm when I walk in. You can't buy the knowledge gained by experience, but it can be had for the asking at Shooters."
Those who hunt together, stay together. Maybe it's not an actual adage in the Northland, but in Ron's and Luci's opinion, it should be. For them, hunting is a family affair.  They've hunted all their lives, starting with squirrels and rabbits. Both their fathers hunted, Ron's grandfather did, and they mentor young friends and their grandchildren in shooting sports. They enjoy sharing the quiet (yet exciting) outdoors aspect of hunting with friends and family – and, they pointed out, always eating what they hunt.
"We hunt with rifles, muzzleloaders, pistols and bows," said Luci. "Ron also shot trap for years with both Jerry and Pat, including years before Shooters was a business. Ron is into reloading, so he has done lots of business with Shooters for reloading supplies."
And not just reloading. For them, Superior Shooters Supply has been a mainstay for hunting supplies, equipment, clothing and ammunition. They like that the employees are all hunters and shooters with various interests and experiences. There is, they noted, a general hunting camaraderie in the place.
"Shooters provides a local gathering place for hunters and shooters," Luci said. "Local stories are swapped, ideas shared and friendly congrats for good hunts, which creates a friendly environment for sportsmen and women. It's the place to go and if they don't have what you need in stock, they will order it for you."
When not catering to its customers, Superior Shooters Supply supports wildlife clubs on both sides of Twin Ports harbor, such as the National Wild Turkey Federation, Whitetails Unlimited, NRA, Ruffed Grouse and others. Kukull said she has served on several of these committees in the past. For her, it's part of the commitment to the sport.
"Having grown up in a farming community, it was always instilled that one does not just live in a community, but takes part and supports it," she said. "And all of us here, we still do that."
Kukull also noted that just recently (and not for the first time), the store sold firearms to the grandchildren of some of its first customers. "That makes us very happy," she said.  P.S.
David Boe is a Twin Ports-based freelance writer.
Like this article? Want to read more?
Click here to subscribe to Positively Superior magazine.