Holly Kelsey-Henry
Customized Craftsmanship
Rob's Cabinetry and Millwork Thrives through Old-Fashioned Word-of-Mouth – and a New Product Launched through Kickstarter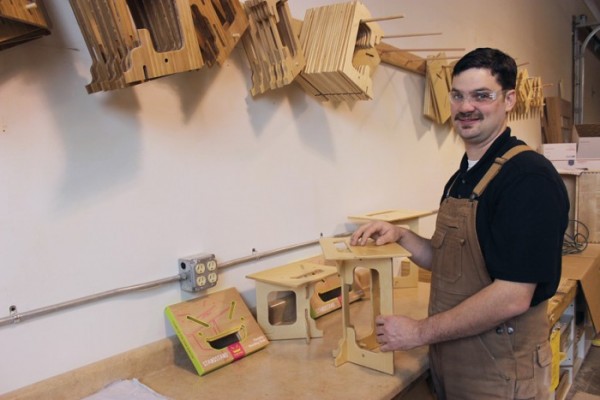 The kitchen. It's where we make cookies and memories, do homework, pack lunches, have family discussions, play board games and prepare and eat meals together. For most people, the kitchen is command central for daily life, and its functionality can mean the difference between chaos and calm.
Accommodating the masses – and sometimes a family pet or two – in one room of the house is a challenge, but the effort can actually transform a family's efficiency, communication and contentment.
Few people have seen more kitchens than the Peterson family. As owners of Rob's Custom Cabinetry and Millwork in Superior, they have seen the good, the bad and the downright dysfunctional. And it's their job to transform the great family space into the best possible family command center it can be.
"In the '70s, our grandmothers' kitchens were small and economical – often one of the smallest rooms in the house," General Manager Paul Peterson explained. "Eventually, kitchens became a community that brought families together. As our lives got busier, people started to like the idea of islands and open living plans where they could talk while they prepared meals and see what the kids were up to. The kitchen became the center of the household and a room where family members spent a lot of their time together."
Paul and his brother, Phil – who oversees production at their facility at 718 22nd Ave. E. in Superior – recently took over the business from their father, Rob. The elder Peterson started the company as a small home improvement business in 1979. He grew the business from two employees to 20. Today experienced craftsmen and women hand-make custom kitchens, vanities, entertainment centers, tables, desks, dressers and more for both residential and commercial customers in St. Louis County in Minnesota and Douglas, Bayfield and Ashland Counties in Wisconsin. Rob's Custom Cabinetry and Millwork also creates dovetailed drawers and supplies them to companies across the United States.
"My father started the business as a home improvement business, doing windows, siding and insulation," Phil explained. "When staff started to complain about working outside in January in our harsh climate, he thought of ways to diversify and he started focusing on cabinet refacing jobs and high-end kitchens. We continue to diversify to this day and it's part of the secret to our success. We grew up in the business and so we understand it. When I was a kid, I was small enough to fit into an attic when they needed someone to put insulation in tight spaces. So I was hands-on at a very early age."
The two Peterson brothers left the area to seek an education, but were later drawn back because of their love of the Twin Ports' culture.
Phil, who studied geography in college and worked as a wilderness guide in Alaska, missed the closely-knit community. "It's a great place to live and there are so many good people," he said. "Something as simple as the concept of Bentleyville [Tour of Holiday Lights] and how so many volunteers come together to make that happen is an example of how the Twin Ports works together. You don't have to look far to find this sense of community everywhere you go here."
The elder Peterson started the company as a small home improvement business in 1979.
Paul, who spent time teaching in China, wanted to return to the area because of his love of the outdoors and the innovative people who call it home. "There are so many outdoor opportunities here," he said. "It's not a fluke that people everywhere are taking notice of the Twin Ports. The camping and ice fishing and the things we do here in winter build community, and we are stronger because of it. There is a lot of innovation here. We are stable and growing and the secret is out about how great the region is. You can come here and breathe fresh air and avoid traffic and the craziness. We've got some really exciting endeavors under way and some very talented people."
Those talented people, according to Phil, are part of the reason Rob's Custom Cabinetry and Millwork is able to thrive mostly through old-fashioned word-of-mouth.
"One of the things my father was most proud of was being able to provide good employment to people in the area," he said. "The people who work with us – and some have been here as long as 20 years – are a talented and dedicated team. They get a lot of satisfaction from the products they create and they put a lot of pride into each one. We are proud of our retention rate of these talented people and their detail to their work. This passion gets passed on to each and every customer. Another bonus of doing business in the Superior area is that the workforce is dependable and hardworking and show attention to detail."
At Rob's Custom Cabinetry and Millwork, some of these details include custom touches such as round crown molding, elaborate wine racks, dovetail drawers, roll-out pantries, hidden microwaves and kitchen spaces that blend function with the latest trends. State-of-the-art machinery and craftspeople can match the historic moldings in a customer's home or create detailed moldings so casing, stairways, cabinets and paneling all look like they are meant to be together.
Clients appreciate that attention to detail. "It was a pleasure to work with Rob's Custom Cabinetry during the construction of our home," said customer Sue Henke. "We were impressed with their creative design ideas and with the high-quality workmanship and professionalism of their crew. They are a top-notch company."
"We continue to diversify to this day and it's part of the secret to our success."
– Shop Manager Phil Peterson
"Our focus is working one-on-one with our customers to develop a vision of their custom project," Paul said. "Once the vision is established, the customer's specific project measurements are entered into our software program to develop a unique cut list for their project. We're very good at designing a space that works for the individual. We listen to their needs. Sometimes people don't know what they want and we make suggestions and we see their eyes light up. Because we've seen so many kitchens, we know what works and what doesn't work."
Paul credits his diverse background in other cultures for his ability to understand people's needs. "I think I can see other people's perspectives and as a team, we listen," he said. "I've learned this and it works. We are passionate about the process and about getting a team to work together to create something beautiful. Throughout the process we listen and we communicate."
Likewise, Phil enjoys the challenge of meeting customers' more unique needs. "We've created baking centers in kitchens for people who love to bake by making a pocket drawer with a bench at just the right height for kneading dough," he said. "We've had all kinds of requests for individual custom work and it's always fun making it happen. It's also rewarding just to open up someone's floor plan, so they can function as a family, and to see the end result. As a business we are always diversifying to meet the needs of the industry."
Part of that diversification philosophy has resulted in the creation of the StandStand, a portable desk that allows one to work on a laptop while standing up. It's made of three pieces of interconnecting wood/bamboo that support a laptop. The product looks a like a large book that has been opened, with a tray on top of it. It takes two seconds to assemble or disassemble. The StandStand weighs less than two pounds and fits neatly in a laptop bag.
According to Paul, extensive research indicates that sitting for long periods of time can actually be extremely bad for one's health. "In recent years, scientists have found the more you sit, the earlier you die," he explained. "In fact there is absolutely no research indicating that sitting is in any way good for you, and the risks are not counteracted by getting a half an hour of exercise a day. Standing and working periodically throughout the day boosts your metabolism, burns calories, helps circulation and makes you more productive."
Details include custom touches such as … elaborate wine racks, dovetail drawers, roll-out pantries, hidden microwaves.
He noted that typical standing desks are large and stay in one place, whereas most people use their laptops at home, the office, the library, bookshops and coffee shops. Most standing desks range in price from about $900 to more than $2,000 and do-it-yourself versions often end up being wobbly and unsatisfactory. The StandStand, on the other hand, is portable, affordable (around $50), easy to use, stable, engineered for strength, ergonomic and sustainably made in the USA.
Paul first heard of the concept of a portable standing desk when his friend, Luke Leafgren, suggested it. Leafgren earned his Ph.D. in comparative literature from Harvard in 2012 and has since been serving as the resident dean for Mather House at the university, so he was intimately familiar with the work (and considerable sitting) habits of students and staff.
Leafgren came up with the idea for StandStand while performing his resident dean duties. He had read a lot of the scientific literature that established sitting for long periods of time as a major health risk. But he personally found it difficult not to sit, as his job required him to meet with people and use a computer most of the day. He tried to counteract this by hitting the treadmill at the end of the day. Leafgren had also taken shop classes in middle school and had worked at a cabinetry shop for a couple of summers, which gave him the confidence to handle power tools long enough to cough out a prototype.
"When Luke first approached me about this I was a little skeptical," Paul said. "I thought that surely there had to be something like this already. But I looked and there wasn't, so I thought maybe it could work."
The pair, along with Luke's wife, Lindsay Noll, launched the idea on Kickstarter – a global crowd-funding platform that invites people to invest in creative projects and products. Since its inception, Kickstarter has reportedly received more than $1 billion in pledges from 5.7 million donors to fund 135,000 projects, which include films, music, stage shows, comics, publications, video games and food-related ideas.
"I thought that surely there had to be something like this already. But I looked and there wasn't."
– General Manager Paul Peterson
The concept for the standing desk quickly caught on and out of the 250,000 proposals on the Kickstarter website, the StandStand is now in the top 1 percent of revenue earned, having currently raised $118,000. The support allowed Rob's Custom Cabinetry and Millwork to purchase a computer numeric controlled machine that allows the business to mass-produce the standing desks. To date they have produced more than 2,000 StandStands and have plans – and the capacity – to grow substantially in 2015.
"This was an emerging idea with a market and I think the support we've gained is proof of that," Paul said.
The StandStand team worked diligently to get the product in the forefront of the industry, sending thousands of press packets to tech writers and promoting it
at every turn. "We are learning as we go and have high hopes for the future," said Paul.
From the Boston Globe to publications in Greece, Spain and Japan, the StandStand is getting more coverage than the creators ever imagined.
From the Boston Globe to publications in Greece, Spain and Japan, the StandStand is getting more coverage than the creators ever imagined.
The Petersons are confident the new product will allow the business to employ additional staff members in the near future. Paul noted they hired several people temporarily in November and December to boost production.
"We are looking to grow in 2015," Paul said. "We've had to spend some time learning the ropes of the business after Dad's retirement and now we're ready."
For more information on Rob's Custom Cabinetry and Millwork, visit facebook.com/robscustomcabinetry or call (715) 398-7625. For more information on the StandStand, visit standstand.us.  P.S.
Holly Kelsey-Henry is a freelance writer based in Northwest Wisconsin.
Like this article? Want to read more?
Click here to subscribe to Positively Superior magazine.