By Holly Kelsey-Henry
Simply Smarter Shopping
ALDI's Award-Winning, Back-to-Basics Approach to Grocery Retailing Saves Shoppers Money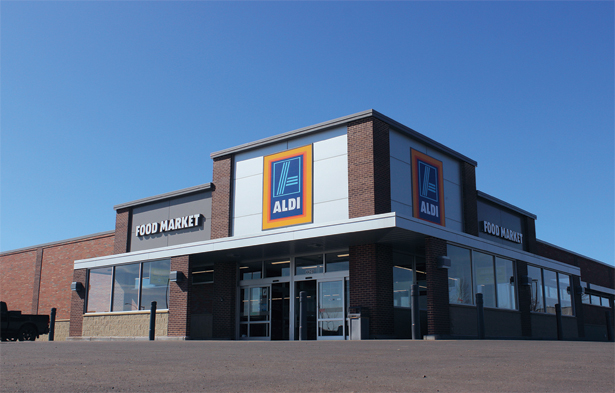 If one had to come up with a simple description of ALDI's unique business model, it could be called a company with a focus on efficiency. According to Vice President Matt Lilla of the ALDI Faribault (Minn.) Division, the grocery store company believes in reducing its environmental impact, employing sustainable buying practices and treating its employees well.
"We have dedicated ourselves to reducing our impact on the environment," Lilla said. "For starters, our stores leave a lesser carbon footprint than traditional grocers, since we're smaller – generally 17,000 square feet, compared to 60,000 square feet at a traditional grocer. We ask our shoppers to bring reusable grocery bags, or buy a few of ours at the checkout, to use for all their trips to ALDI. We also love the three Rs – we reduce, reuse and recycle our nonedible waste. Since 2012, we have recycled 100 percent of the cardboard, paper, plastic film and foil that we use in our warehouses."
ALDI works with the Sustainable Fisheries Partnership (SFP) to source sustainable seafood, and Greenpeace USA ranked ALDI in the Top 10 on its "Seafood Scorecard," which recognizes the seafood sustainability of grocery retailers nationwide. ALDI has also been a member of the Roundtable on Sustainable Palm Oil (RSPO) since 2011.
Greenpeace USA ranked ALDI in the Top 10 on its "Seafood Scorecard."
Additionally, the company is committed to improving the social and ecological standards of cocoa and coffee production. Products that display the Rainforest Alliance, UTZ or Fair Trade label are a sign of improved farming practices and compliance with minimum social standards. ALDI builds its stores with environmentally friendly materials as well and uses energy-saving refrigerators and LED light bulbs, which have reduced energy costs in its warehouses. All of its new warehouses are also constructed with sunshades and special glass to insulate and reduce heat from the sun.
But what really stands out about ALDI for Curtis Myers, who manages the new store at 4429 Tower Ave. in Superior, is the way the company treats its customers and its employees. With a mission based on simplicity, consistency and responsibility, Myers finds it not only easy to work for ALDI, but incredibly rewarding and fun as well.
"They show you what to do and they let you do it," he said. "ALDI wants every employee to succeed, so we pay well, we don't micro-manage and we offer our employees endless opportunity for growth. For me, my staff and our customers come first. I will make sacrifices to see them have what they need. Our employees take ownership and live our core values. You can tell this when you shop here. There is a level of respect and helpfulness that we pride ourselves on in the store and behind the scenes."
Myers, who spent his summers at a family cottage in Gordon, Wis., has always wanted to get back to the region. Having worked for ALDI in St. Cloud and Crystal, Minn., he was delighted to be offered the position in Superior.
"There is an exploding community here in the Twin Ports," he said. "The area offers everything for a great lifestyle, with four seasons of things to do inside and outside. And there is so much room for growth here."
And that's one reason ALDI looked to expand into the area in the first place. The store in Superior is approximately 17,000 total square feet, with 10,000-11,000 square feet and five aisles of sales floor space.
More than 90 percent of the groceries they sell are under their own exclusive brands.
"We look at a lot of factors before choosing an ALDI location, like population density, proximity to competition, cost of the property and traffic patterns," Lilla explained, "We're excited to be a part of the Superior community and wanted to be conveniently based where Superior shoppers are located. Our growth and success in Superior is due to our loyal shoppers and our unique business model: offering fresh, high-quality groceries at everyday low prices. There are smart shoppers who love a great value everywhere and Superior is no exception."
Similar to a typical ALDI store, the Superior store employs about 15 people with positions such as store manager, manager trainee, shift manager and store associate. ALDI is also proud to offer its employees wages and benefits that are higher than the national average for the retail industry. Part-time staff members working at least 25 hours per week also receive full health insurance benefits and dental coverage, and all ALDI employees are invited to participate in its 401(k) program.
Each of its divisions has the option to contribute to local charities, donate product to causes in their areas and encourage employees to volunteer with local community organizations. ALDI also is committed to being an equal opportunity employer, providing in-depth training and career opportunities for all of its team members.
The company takes equally good care of its customers, according to ALDI Faribault Division Director of Operations Lindsey Hartert.
"There is an exploding community here in the Twin Ports. The area offers everything for a great lifestyle."
– Store Manager Curtis Myers
"ALDI is a small-format food market, so while we're a bit smaller than your traditional grocery store, we focus on the groceries shoppers buy the most," she said. "Shoppers in the community will find the most essential items on their grocery list, like fresh USDA Choice meat, bread, dairy, produce – including several organic varieties of fruits and vegetables – household items and a thousand other delicious reasons to stop in – all for prices up to 50 percent less than those at traditional grocery stores."
Indeed, ALDI takes a different approach to shopping altogether. More than 90 percent of the groceries they sell are under their own exclusive brands – regularly tested in an ALDI test kitchen to make sure the quality and taste are exceptional.
The stores keep their costs down with a simple, back-to-basics approach to retailing. ALDI doesn't have hidden costs because it chooses to save shoppers money, rather than have nonessential grocery store services such as in-store banking, pharmacies and check cashing. Store employees encourage customers to bring in reusable grocery bags and products are shelved right in their display boxes, all to save money, with those savings then passed on to the customers.
ALDI also employs a shopping cart rental system as an efficiency to keep its prices low. New customers may be surprised by the simple, yet innovative, cart rental system, but usually come to appreciate its many benefits. Not only do customers get their quarter deposit back; there are no stray carts taking up space in the parking lot or causing dents to cars. By not having to hire someone to police the shopping carts, ALDI is able to pass the savings on to its customers.
"But the best proof of our quality is our customers," Lilla said. "Shoppers wouldn't keep coming back and we wouldn't be growing the way we are if we didn't offer high-quality products."
The company then stands behind the quality of the products it sells in its stores. Trying new things at ALDI is risk-free because of its Double Guarantee: If for any reason customers don't like an ALDI exclusive brand food, the store will give them their money back and replace the product. The business markets itself using a commitment to quality and has removed certified synthetic colors, partially hydrogenated oils and added MSG from all its exclusive-brand food products. It is increasingly adding specialty lines as well, such as gluten-free products and many organic items.
"Our growth and success in Superior is due to our loyal shoppers and our unique business model."
– Faribault Division Vice President Matt Lilla
Simply Smarter Shopping® is ALDI's succinct mission as well as its registered trademark. And by all accounts the business model is working. ALDI has received awards from The Fit List, been named Store Brands Retailer of the Year and also received Store Brand Magazine's Achievement Award. And it has won countless other awards for its store brands, including championship cheese ribbons.
Hartert, who has worked for ALDI for nine years, said she was drawn to the company because of its fast-paced culture, accelerated company growth and highly driven employees. "All employees at ALDI are given autonomy and variety within their job duties and a high level of responsibility in their roles, which makes what we do not only really fun, but rewarding as well," she said.
And, it would seem, ALDI has had a lot of practice setting the bar so high. The first ALDI store opened in Germany in the early 1960s, with the first U.S. store opening in southeastern Iowa in 1976. The Albrecht family founded ALDI and brothers Theo and Karl helped build the company.
"Great quality groceries and everyday low prices make for a combination shoppers love," Lilla noted. "That's why we're one of the fastest growing retailers in the U.S.; by the end of 2018 there will be nearly 2,000 ALDI stores from coast to coast. We already have nearly 1,500 stores in 32 states serving 30 million customers every month. We're excited to share the ALDI difference with 45 million customers each month by the end of 2018."
"All employees at ALDI are given autonomy … within their job duties and a high level of responsibility."
– Faribault Division Director of Operations Lindsey Hartert
ALDI has 65 stores in the state of Wisconsin and also currently operates in: Alabama, Arkansas, Connecticut, Washington, D.C., Florida, Georgia, Illinois, Indiana, Iowa, Kansas, Kentucky, Maryland, Massachusetts, Michigan, Minnesota, Mississippi, Missouri, Nebraska, New Hampshire, New Jersey, New York, North Carolina, Ohio, Oklahoma, Pennsylvania, Rhode Island, South Carolina, Tennessee, Texas, Vermont, Virginia and West Virginia. Additionally, the company is opening approximately 45 stores in Southern California by the end of 2016. Overseas, ALDI exists in Australia, Austria, Belgium, Denmark, France, Germany, Great Britain, Hungary, Ireland, Luxembourg, the Netherlands, Poland, Portugal, Slovenia, Spain and Switzerland.
Lilla has been with the company for 13 years and enjoys the constant challenges of this rapid growth.
"All of the people I have had the pleasure of working with are incredible and help make ALDI a very special place to work," he said.
The same goes for Superior ALDI Manager Curtis Myers. "I love this community," he said. "The people here are motivated and dedicated. They appreciate our clean environment, our friendly staff and our lean efficiency. I'm finding that both our customers and our employees are taking ownership of the Superior store."  P.S.
Holly Kelsey-Henry is a freelance writer based in Northwest Wisconsin.
Like this article? Want to read more?
Click here to subscribe to Positively Superior magazine.