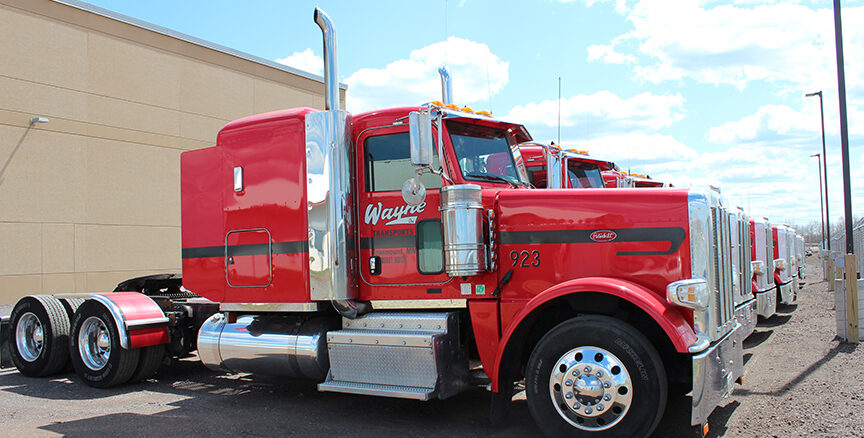 By Tony Bennett
Wayne Transports Inc. is Among the Midwest's Largest Bulk Transportation Trucking Firms
Sure, the concept of trucking (fill up a truck with something and drive it somewhere) may seem simple to some people. But actually running a thriving trucking company? That's another thing altogether, because it involves managing complex logistics and ensuring that stringent safety regulations and standards are met.
Wayne Transports Inc. – which has nine locations in the Midwest and about 500 drivers on its roster – is clearly successful at mastering both of those challenges, because this year, it's celebrating 70 years of doing business. The company's Superior terminal is located at 3116 James Day Ave.
There are a lot of people who work hard to make Wayne Transports one of the region's premier trucking companies. In fact, it's among the largest family-owned bulk transportation trucking firms in the Midwest. Terminal Manager Jeff Hill oversees both the Superior and Virginia, Minnesota, locations, and he's been with the company since 1992. He's one of the people who make sure that everyone who gets a shipment from this company ends up a satisfied customer.
"We do just about any kind of tanker work there is
– we have chemical tanks, gasoline, propane, pneumatic trailers."
– Terminal Manager Jeff Hill
Grown from Family Roots
The company was started in 1950 in Milaca, Minnesota, by Wayne Siemers. After launching the business to deliver petroleum products with just a tank trailer and a tractor, Siemers grew Wayne Transports slowly but surely.
Today, the company is owned by Wayne's son, Mark, and son-in-law, Carl Vedders. And the family's third generation recently moved into management, which includes Mark's sons (Cole and Jess) and Carl's sons (Ryan and Trent).
"In 1978, they moved from Milaca to Inver Grove Heights," Hill said. "And when I started in '92, Virginia [Minnesota] was their next terminal. I had my own trucks, leased to Wayne [Transports]. In '95, theypurchased my equipment, and I've been working for the company as a terminal manager ever since.
"In 2011, we purchased the terminal in Superior, mainly because of the Husky Energy refinery. Transporting petroleum and asphalt is a major component of our business," Hill said. "Wayne Transports is primarily a tanker company. Right now, there's a little over 500 company tractors, and with owner-operators, there are over 700 trucks total. We do just about any kind of tanker work there is – we have chemical tanks, gasoline, propane, pneumatic trailers. Here in Superior, our pneumatic trailers primarily haul lime out of the Graymont plant. Other than in Superior, the pneumatic trailers in the company are food-grade; they haul
Wayne Transports supports diverse industries to serve customers in different geographic areas in the United States as well as a large portion of central Canada. In other words, they go where the action is.
"In Northern Minnesota, it all evolved around a chemical plant in Virginia, which is now closed. The last owner was Hexion Chemical," said Hill. "For the Virginia and Superior terminals, Hexion is still a main customer, and we now serve their Sheboygan, Wisconsin plant, hauling the chemicals they produce for the housing industry."
Most of Wayne Transports' clientele comprises
long-term customers with ongoing needs.
Some of the local petroleum customers include Kwik Trip, Holiday, ICO, Edwards Oil in Virginia and Rainy Lake Oil in International Falls.
"Our biggest terminals are built close to refineries," Hill said. "Five years ago, we built a new terminal in Fargo, and our terminal in Rosemount is just down the street from the Flint Hills [Resources] refinery."
The Husky Energy Superior Refinery fire of 2018 was a major event, and its rebuilding has now been delayed due to the COVID-19 pandemic. However, Wayne Transports looks forward to the day when the ribbon is cut to commemorate its reopening. "Husky is a big, big player in the oil industry," Hill said. "We want to be here for a long time hauling their products."
Long-Term Customers With Ongoing Needs
Most of Wayne Transports' clientele comprises long-term customers with ongoing needs. "Most of our customers we haul for pretty continually," Hill said. "But our chemical trucks run in all 48 states and all of Canada. So we have customers that cover all those areas, but then we also pick up individual loads from small customers to fill in the gap."
The majority of Wayne Transports' employees are drivers, and the company also employs mechanics, dispatchers and office staff. "There are three mechanics in the shop in Superior. In the office, not counting me, there's five-six people," Hill said. "We just recently moved all the dispatch to Superior. So in the Virginia office, there's one person in the office and eight people in the shop."
As it was back in 1950, the company is relied upon today to transport petroleum products, which is the largest component of the business. "Companywide, petroleum is still the biggest revenue-maker," said Hill. "It accounts for about 50 percent of the total revenue. Chemicals and the dry-bulk division would be the other half."
"With the new facility, we've got four bays, two drive-through bays
and an 80-foot pit for working underneath the trucks and trailers."
– Shop Foreman Brian Hoff
When asked how the company built its strong reputation over the decades, Hill immediately said, "The service. The owners of the company are really service-oriented, and they take pride in the equipment. Our equipment is all top-shelf and it's clean all the time. Whenever I go see a customer, wherever it is in the country, one of the first things they'll say to me is, 'Your equipment is impressive – it's clean.' Our equipment is what the customer sees; that's our advertising. The first impression is everything, and that's what we try to do.
"We give good service and our equipment is top-shelf," he added. "Our CFA scores are always in the top 15 percent of the country on maintenance, and that's a big seller." Compliance, Safety, Accountability (CFA) scores are the primary means by which the Federal Motor Carrier Safety Administration within the U.S. Department of Transportation identifies high-risk motor carriers.
New Superior Maintenance Facility to Open in June
Currently, Wayne Transports is investing further in its Superior operations by building a new maintenance facility on its property that's slated to open in June. It's an investment that will not only allow the company to serve customer needs even better, but help pave the way for business to grow.
"The shop we have now has two service bays, 55 by 90,' Hill explained. "And our new shop, which has service bays and wash bays, is 100 by 222. It's got 28-foot-high walls, all precast concrete.
"We're going to be here for years to come," he added. "When we move into this shop, the old shop will be torn down, and then the plan is to add on new offices to that shop in the next two years."
Shop Foreman Brian Hoff started out as a construction mechanic in the Navy, and expertise in keeping equipment and engines running smoothly has been his professon ever since. His tenure with Wayne Transports goes back about five years.
---
SIDEBAR: The Business of Wayne Transports Inc.
Asphalt transport: Over 200 trucks for asphalt, asphalt emulsion and residual oil. Transport terminals in Rosemount, Minnesota, and West Fargo, North Dakota.
Primary operating areas: Iowa, Minnesota, North and South Dakota, Wisconsin.
Agricultural products: 40 trailers dispatched from West Fargo, North Dakota,
terminal. Liquid food and feed-grade products; Kosher-certified trailers available.
Primary operating areas: Wisconsin, Minnesota, Iowa, North and South Dakota
(products transported from terminals throughout these states).
Chemical transport: Over 100 trucks. Transport terminals in Centralia, Illinois, and Rosemount and Virginia, Minnesota. Primary operating areas: Iowa, Illinois, Indiana, Michigan, Minnesota, Missouri, Nebraska, North and South Dakota, Ohio,
Pennsylvania, Tennessee, Wisconsin.
Dry bulk: Over 130 trucking units. Terminals in Superior, Wisconsin, Rosemount, Minnesota, Danville, Illinois, and Fargo, North Dakota. Primary operating areas: throughout the lower 48 states and Canada.
Petroleum: Transport terminals in Rosemount, Sauk Centre and Virginia, Minnesota. 180 trucks at terminals throughout
Wisconsin, Minnesota and North Dakota. Primary operating areas: Iowa, Minnesota, Eastern Montana, North and South
Dakota, Wisconsin.
Propane: Transport terminals in Superior and Junction City, Wisconsin, Rosemount and Sauk Centre, Minnesota. Primary operating areas: Iowa, Kansas, Minnesota, North Dakota, Oklahoma, Texas, Wisconsin.
Specialized payload: Specialty products hauled for a variety of customers. Transfer terminals in Junction City, Wisconsin, and Rosemount, Sauk Centre and Virginia, Minnesota. Primary operating areas: Iowa, Minnesota, Eastern Montana, North
and South Dakota, Wisconsin. Secondary operating areas: lower 48 states, dispatched from the Upper Midwest.
---
"I oversee all the maintenance, both preventative and normal maintenance, of all of our equipment – trucks, trailers," Hoff said. "We have different divisions – chemical, dry bulk, asphalt. We maintain the equipment when it's needed. Right now, there's two other mechanics in our shop, but in the new shop, we're looking to expand and add more shifts."
Hoff doesn't have to travel much to do service calls for trucks, but he can, if needed. "I'm pretty much just here," he says. "If the other guys are busy, I'll go do what needs to be done to get a truck rolling." Given the hundreds of trucks in the fleet, Hoff also ends up working on vehicles and trailers that come from regions all across North America, not just the local terminals.
"We might have guys driving up to this area from the Fargo division that might stop in for an issue or a service that's due," he explained. "They can come from far and wide. We have the capabilities with our computers here to service the technology on the new trucks. So when it comes to parameters on trucks or recalls that you do with the computer, we do them all here.
"We do a basic inspection and greasing of each piece of equipment every 5,000 miles," Hoff said. "And then we do an oil change at 50,000 miles, which has been going up as time goes by and the engines get better. Once or twice a month, we'll see every piece of equipment."
Hoff also noted that different kinds of loads put different kinds of strain on trucks, so it helps to know what they've been up to. "The chemical types of loads are going to be harder on brakes, because of the shifting of the liquid," he explained by way of example. "When you're coming to a stop, you'll feel the sloshing – the trailer pushing you and pulling you, even after you've stopped."
"There are more [COVID-19] things that customers are looking for.
For some places, we have to do questionnaire sheets."
– Todd LaVallee, Pneumatic and Asphalt Dispatch
For Wayne Transports Inc., safety is a top priority, so it maintains a rigorous schedule of inspections. "We do all our own DOT [Department of Transportation] inspections," Hoff said. "Those are yearly. When we do our 5,000-mile services, we're pretty much doing a DOT inspection at that time, too. We look at everything. We don't want anything going out on the road that's going to bring us out on the road for repairs, or into facilities other than our own. I can probably only think of a handful of times in the last year or two that we've had to go on the road to fix something. We want to fix it in-house."
Hoff and his fellow mechanics are currently raring to get into their new facility. "It's getting very close," he said. "We're putting up shelving in the parts rooms, which is going to take a lot of organizing. Our old shop is two bays. We can get two tractors and trailers in there; we're limited. There's a lot of juggling that goes on about what needs to be fixed.
"With the new facility,' he said, "we've got four bays, two drive-through bays and an 80-foot pit for working underneath the trucks and trailers. And that is going to expedite things really well. It's better standing up than laying on a creeper. Our setup for chemicals, oils, gear lubes, everything – it's all right there in the pit.
"We've got two wash bays, so we'll be doing our own truck washes now," Hoff said about this key feature of the new facility. He added that this is done at the Virginia facility and at a truck washing company in Superior, and "both are great. But having it done right at our facility and driving them in clean to work on them is going to expedite things. We'll also be doing tanker washing – washing the insides of the tankers. Virginia or other facilities were the ones doing that. We'll be doing that in-house, too."
"A Good Family to Work For"
Jim Bodas, who started working for Wayne Transports in 2001 as a driver, now works in chemical dispatch. It's his job to help make sure that chemical products arrive at their customer delivery destinations safely. And there's a lot of this product. "Our tankers can haul up to 7,000 gallons, depending on the weight," Bodas explained. "You just try to get the least amount of 'empty miles' as you can. You try and set up loads to match with other ones to limit empty miles. No matter what, you've got to put fuel in the truck and pay the driver for every mile."
Bodas likes working for Wayne Transports Inc. because it's a family-oriented business. "They're a good family to work with, that's for sure," he said. "I've been with them for almost 20 years, so I'm on the third generation."
Todd LaVallee, who works in pneumatic and asphalt dispatch, is gearing up for a busy summer. He says that there are some days when he'll dispatch five trucks while others find him sending out 25-30. And with the rise of COVID-19, he's being particularly careful with his job duties.
"There are more things that customers are looking for," LaVallee noted. "For some places, we have to do questionnaire sheets. Most of the customers are a little more cautious now. For the most part, it hasn't changed."
Through economic times both good and bad, industries still need the products that Wayne Transports Inc. delivers all over the U.S. and Canada. And as always, this company remains dedicated to supporting its customers by delivering those products safely and on time. PS
Tony Bennett is a Twin Ports-based freelance writer.