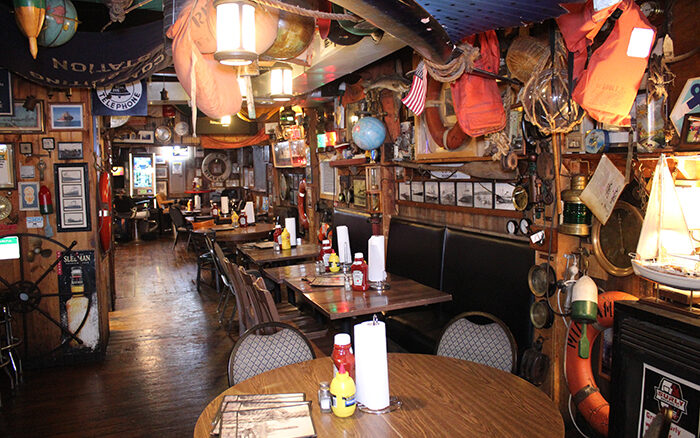 By Andrea Busche
Superior's Anchor Bar & Grill, located at 413 Tower Avenue, embraces its long-held reputation as a "dive bar." For decades, The Anchor has been a favorite establishment of truckers, sailors, longshoremen and plenty of other blue-collar workers. It has also been the scene of plenty of debauchery, most of which cannot be printed in these pages. 
"People always tell me I should write a book," said Jean "Bean" Prettie, who managed the anchor for 44 years, and is the keeper of many such yarns. "I wish I would've recorded it all."
But far from a detriment, this reputation works in its favor; not only do patrons love it, but Anchor ownership fully leans into this vibe, too. "I love dive bars," said co-owner, Adam Anderson. "These are the kinds of places I like to venture to when I try somewhere new."
Beyond its gritty history, the Anchor offers plenty that other dives don't: delicious, hand-pattied burgers and fresh-cut fries, cold beer and cocktails, tons of vintage nautical décor and even national television exposure. The Anchor was featured on season 11, episode 5 of the popular hit Food Network show, Diners, Drive-Ins and Dives (DDD). This episode still brings people through its doors, years later.
"After DDD, people still come here from far and wide," current Anchor manager Bobbie Long said. "Someone came all the way from Florida and said they saw us on the show."
Today, the Anchor prides itself on being welcoming to all. Its clever slogan, "From suits to sweats," succinctly summarizes the diverse clientele who are united in at least one thing: their love for The Anchor.
History
According to local lore, the Anchor has been a mainstay in Superior since the 1940s. The business was purchased by Tom "Tommy Boy" Anderson and his wife, Bev, in 1977. Although the business was already named the Anchor, the nautical décor that adorns its walls today wasn't added until later.
"When Tom bought the place, there wasn't much in there," Prettie said. "Together, we went to auctions, rummage sales and estate sales and bought lots of old nautical items. People also brought things in for us."
"In the summer, we go through 2,200 pounds of beef per week, and maybe 1,000-1,500 pounds per week in the winter. And we use 4,000 buns and 2,000 pounds of potatoes a week."
– Anchor owner Adam Anderson
Anderson quickly earned a reputation as a wonderful boss. "I started as a bartender, but within about a week, I was manager," Prettie said. "We got along and became really good friends."
Long, who started in 1997, shared similar thoughts. "Tom was awesome. He was a wonderful owner and boss. He'd do anything for anyone."
When Bev Anderson died in 2007, followed shortly thereafter by Tom's passing in 2008, it was a devastating time for the family, employees and patrons alike. But thankfully, the couple's two sons, Adam and Aaron, stepped in to take over ownership of the Anchor. The men had been involved in the family business most of their lives.
"In high school, we'd have to come in and clean the bar in the mornings before school," Adam said. "Then when I was a junior or senior, I started working shifts, often working 6 pm – midnight. I did lots of homework at the bar."
While Aaron has another full-time job and remains more of a silent partner, Adam now runs the business. He hopes that one of his three children, or perhaps one of Aaron's two children, will opt to take over someday.
Adam is a graduate of Hennepin Technical College's culinary arts program, and worked in some pretty high-brow Twin Cities clubs after graduation, including Hazeltine National Golf Club in Chaska, and Lafayette Club in Lake Minnetonka. But his heart was always at the Anchor.
The Anchor currently employs 13 people. This includes bartenders, servers, cooks, a kitchen helper and a prep cook. Anderson and Long both fill in wherever needed, gladly taking shifts in the kitchen and behind the bar.
Food
The Anchor has perfected the art of burgers and fries. In addition to the standard hamburger and cheeseburger, there are plenty of other iterations to suit every palate.
Fan favorites include the bacon burger (with bacon, cheese and tomato), the olive burger (green olives and cream cheese), and the cashew burger, featuring cashews and Swiss. And, their generous servings of hand-cut fries are sliced and made to order from fresh potatoes. Other options include a grilled cheese, ham sandwich and BLT.
The Anchor sources its ingredients locally, whenever possible. "We get our beef from Stokke's Meat Market, and our buns come from A Dozen Excuses," Adam said. "Both are delivered fresh every day. And we get our cheese and potatoes from Manion Foods."
Adam expounded a bit on the Anchor's enormous food volume. "In the summer, we go through 2,200 pounds of beef per week, and maybe 1,000-1,500 pounds per week in the winter," he added. "And we use 4,000 buns and 2,000 pounds of potatoes a week."
The Anchor is well-known for its low prices. Buying in bulk is one way to keep costs low. "We keep our prices low by the volume we do," Adam said. "We serve 400-600 burgers a day. There is barely any waste."
"After Diners, Drive-ins and Dives, people still come here from far and wide. Someone came all the way from Florida and said they saw us on the show."
– Anchor manager Bobbie Long
For the Andersons, keeping prices affordable for their customers is a key to their success. "My dad would always say, 'I'm not looking to get rich. I'm looking to keep the lights on,'" Adam explained. "And we still live by that today."
Hungry college students are one particular demographic who appreciate Anchor's low prices. "I've seen college kids order and eat two Galley Busters (a 1-pound triple cheeseburger), fries and drinks," Prettie said.
Drinks
When it comes to beverages, the Anchor offers more than 80 kinds of beer, including foreign, domestic and craft brews. A highly popular option is their Grain Belt pitcher, which is only $3 on Mondays, and every night after 10 pm. Wine is also available, along with plenty of cocktails.
The Anchor's take on the Bloody Mary, which includes a Stokke's beef stick, spicy pickle and green olives, is a popular option. Their "pancake breakfast shot," is another hit.
"It was started at the Anchor," Long said. "It has butterscotch Schnapps, strawberry Schnapps and a piece of bacon. It tastes like maple syrup." A variety of sodas are also available.
Just don't ask for any frou-frou blended cocktails. "We'll do our best to make the drinks people want, but we don't even have a blender," Long said.
Décor
As noted, the Anchor is decked out in cool, vintage nautical décor – the perfect vibe for a port city like Superior. This includes old ropes, paintings, photographs and more. From the Anchor's website: "Just staring at beer signs can be very boring. We enjoy the looks of wonder on customers' faces as they wander around the bar looking at all the items we have collected and had donated to us over the years. One of the main focal points of the bar is a life ring from the famed Edmund Fitzgerald. As of this date, we have only heard of two others still in existence. We have many interesting items which may not be found anymore except in collections or museums."
When dining or enjoying a beverage at the Anchor, seating options vary. The "Library" is the most popular (and most private) table at the Anchor, located on a small platform and surrounded by books. There is also bar seating, high-top tables and low-top tables. The Anchor can seat 55 people inside, and there is also an outdoor patio that can seat another 30 in the warmer months.
Giving Back
Giving back to the community it serves is important to the Andersons. "We always sponsor Superior High School sports," Adam said. "And we pitched in to help pay for the new high school sports complex, and contributed to UWS baseball.
"We also help with a variety of benefits, by donating gift certificates," he added. "We are particularly fond of helping people going through cancer treatments, since I lost both of my parents to cancer."
Reviews
The Anchor receives plenty of rave reviews on Google, Trip Advisor, and other social media platforms. From Google, T.J. H. shared, "I have been wanting to try this place for a long time. After eating here, I could have gone back the next day and the day after that. The burgers were excellent! The beef is fresh and tasty. The hand-cut fries were, well … they were hand-cut fries. It just doesn't get any better than that.
"The interior is very unique and there is crazy decor everywhere. I think you could go here 50 times and notice new things every single time. The prices here are dirt cheap. That is no exaggeration. A 1lb burger for $8.75?! It's like stepping back in time. Any future trips to Superior will most definitely include at least one meal here, if not more. Can't wait to go back!"
And, Theresa Z. said, "We like to visit places featured on Diners, Drive-Ins and Dives, and this is how we found Anchor Bar. This bar is in the 'Dive' section of the show's title; in fact, they even have an award hanging behind the bar for 'Best Dive Bar!' But, hands down, the best burger I've ever had! I'm not sure what they do to the beef, but it is unbelievably juicy and has the best flavor. I had the sour cream and mushroom burger on one of the softest hamburger buns ever. It was also my introduction to the Bottoms Up beer system. So cool to watch a perfect beer poured every time from the bottom!"
Dive Pride
While the Anchor makes a great tourist destination, it's more like a family for the people who work here; many of whom have several decades of tenure under their belts. "The owners are wonderful people, and great to work for," Long said. "We all get along like a family."
"We've gotten a lot of people through college and helped raise a lot of kids," Adam noted of his employees with a chuckle. "We're always busy, and we don't have a lot of turnover with our employees."
This longevity has been key to the Anchor's success. "It's neat to see the generations of people coming in," Adam said. "People say, 'My grandma brought me here,' or they come back with their kids.
"We put out a good product, and we aren't your typical cookie-cutter franchise," he added. "I guess we're doing something right. I like to say, 'If it ain't broke, don't fix it'." For more information, please visit anchorbarandgrill.com. P.S.
Andrea Busche is a Duluth-based freelance writer.