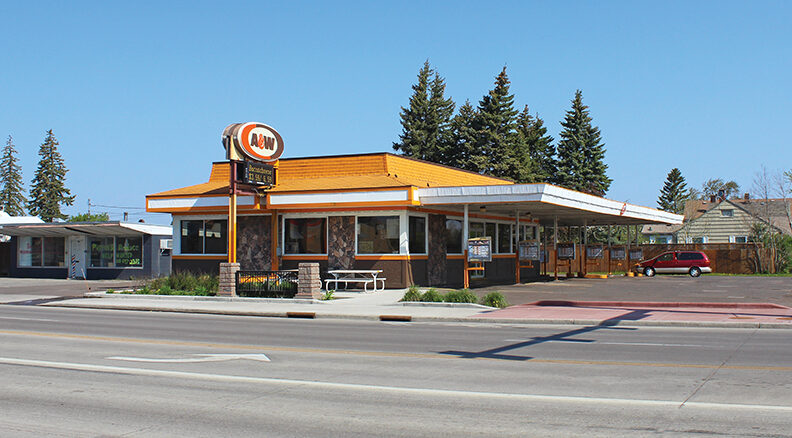 By Andrea Busche
Locals and Tourists Love Superior's A&W Restaurant, Thanks to All-American Food That's Still delivered by Carhops
In today's fast-paced world, where smartphones and social media consume so much of our attention, sometimes it helps to go back to the good old days, when life seemed much simpler. One way to figuratively rewind the clock is by visiting an A&W Restaurant. And thankfully, we have this option right here in Superior. 
A&W, a classic diner and drive-in-style establishment, definitely provides that sweet hit of nostalgia. Dining here is almost like taking a time machine to simpler days, featuring frosty mugs of fresh, made-on-site root beer, delicious, all-American food – and even the option to have a friendly carhop deliver food right to your vehicle.
"A lot of people come in the summertime and say they wanted food on a tray delivered to their car for old time's sake."
– Owner Avis Phelps
"I definitely think part of the appeal is the nostalgia," said Avis Phelps, the owner of Superior's A&W. "A lot of people come in the summertime and say they wanted food on a tray delivered to their car for old time's sake."
The Names Behind the "A" and "W"
Superior's A&W Restaurant, located at 701 Belknap St., has been in business since 1946. Before Phelps took over as the owner/franchisee in January 1998, there had been six or seven prior owners.
But the history of this popular restaurant chain goes back even further. The story began in June 1919, when Roy Allen set up a roadside root beer stand in Lodi, California, at a parade honoring returning World War I veterans. Allen and his business partner, Frank Wright, named it A&W Root Beer. Allen later bought out Wright's interest and started franchising roadside stands, making A&W America's oldest franchised restaurant chain.
Today, A&W has nearly 1,000 restaurants across the United States and Asia. Approximately 570 of those are in the U.S., with nearly 100 located in gas and convenience stores. And the restaurant's familiar mascot is still Rooty the Root Bear, a cuddly-looking brown bear outfitted in an orange sweater.
"I like all the people. I've met a lot of people over the years that I'm still in touch with today."
– Server/Carhop Anne Compton
Regionally, A&W Restaurants can be found in Iron River and Minong, Wisconsin, along with Pine City and Aurora, Minnesota. An A&W is also located within Bloomington's Mall of America. Duluth's similarly-named A&Dubs, however, is independent and not affiliated with the national franchise.
Amazing Staff Longevity and Loyalty
Phelps began working for A&W in 1997, later buying it with her former spouse, Jim Rink. With a background in accounting, she initially did not have plans to go into the restaurant business.
"Right out of school, I worked for an accounting firm in Superior and then at Maurices corporate headquarters," she said.
"After that, I stayed home to raise my kids, and I operated an in-home day care."
Rink had worked at A&W as a teen and had long harbored dreams of eventual ownership. So when the former owners, Jan and Fred Tunell, called him with a proposition, he jumped at the chance.
"Once … we got an order for 100 coneys to go, and I thought the waitress was lying to me. They gave us a half-hour, and we were able to get it done."
– Head Cook Carol Tolliver
"It wasn't really my idea; I just went along for the ride," Phelps said. Her plans were initially to handle the bookkeeping for the business. But today, this hands-on owner tackles everything from cooking and cleaning to taking orders and making root beer, and she retains sole ownership of the business.
Like Phelps, many of her staff members have an amazing tenure at this restaurant. Carol Tolliver, the restaurant's head cook, has worked there for 42 years, and Anne Compton, a server/carhop, has 32 years under her belt. Both Tolliver and Compton retain fond memories of their early days at A&W.
For instance, Tolliver remembers the days when coneys were just 99 cents on Tuesdays. "Once – it must have been at least 10 years ago – we got an order for 100 coneys to go, and I thought the waitress was lying to me," she said. "They gave us a half-hour, and we were able to get it done."
Compton has similar memories. "When I first started, it seemed so hard. I was only 15 years old, and we were so busy, especially after football games," she said. "I remember times that we offered 5-cent root beer for a two-hour period. People were lined up."
Phelps currently employs 19 people, including assistant managers, cooks, servers/carhops and staff who work the fountain area. Many of A&W's employees are cross-trained to handle a variety of these roles. Phelps plans to add additional staff as summer – A&W's busiest season – approaches.
Phelps has noticed a significant change in her employee demographics over the years. "We used to hire a lot of college kids, particularly in the summer, but now we're getting more people in their late 20s and 30s who are sticking around," she said.
Carhop, Dine-In, Takeout or Food Dudes Service
A&W has 16 interior tables, but customer seating is currently limited to eight tables, due to the COVID-19 pandemic. The more popular option, however, is to utilize those nostalgic drive-up stalls. Here, patrons pull up to a personal menu board, which features a call button for ordering.
A carhop will deliver your food on a tray, so you can comfortably enjoy it right in your car. Once you're done eating, you flip a switch to indicate your tray is ready for pickup. (However, contrary to popular belief, A&W carhops don't wear roller skates.)
A&W also established a partnership with Food Dudes back in 2019, which turned out to be particularly fortuitous when the pandemic began. Due to COVID-19, the restaurant's interior site was closed completely from St. Patrick's Day 2020 through June 1, 2020. After that, it was reopened for the limited seating that exists today.
Throughout the pandemic, drive-up, call-in, takeout and Food Dudes orders have been available. The tough economic climate resulted in Phelps having to lay off a large portion of her staff (she was left with just four or five workers), but the business has survived, and she's looking forward to a busy summer season.
Plenty of Menu Options – And Root Beer Made On-Site
As an all-American restaurant, A&W has something to suit every palate. Plenty of burger options are available, including Mushroom Swiss, Barbecue Bacon Crunch, Mozzarella Bacon, Bacon Cheeseburgers and the very popular Papa Burger (featuring double cheese, Thousand Island dressing, lettuce, tomato, pickle and onion).
If you're in the mood for chicken, there are hand-breaded chicken sandwiches and chicken tenders. Regular hot dogs, along with coneys (featuring made-from-scratch coney sauce) and coney cheese dogs are available. Fish choices include cod sliders and shrimp, served up in pub baskets. A variety of soups and chili are also available.
Sides include corn dog nuggets, French fries, chili cheese fries, cheese curds (along with sriracha cheese curds, which are limited to the fall season), onion rings, deep fried mushrooms and coleslaw.
Desserts include root beer floats and freezes, soft-serve cones, shakes, real fruit shakes and sundaes and Polar Swirls (with your choice of Oreo cookies, M&Ms, Reese's Peanut Butter Cups or chocolate chip cookie dough, swirled with vanilla soft serve).
Kids' meals include a choice of cheeseburger, hamburger, chicken tenders, hot dog, grilled cheese or a mini corn dog, served with fries and a drink.
And then there's the namesake of the entire establishment – that delicious root beer. A&W root beer is made from real cane sugar along with a proprietary blend of herbs, bark, spices and berries. Phelps mixes it up herself in A&W's basement. While other sodas are available, the root beer is the only soda that's served in an icy-cold frosted mug. It's also available to go in half-gallon or gallon plastic jugs.
Staff members concur that the most popular menu items include the bacon double cheeseburger, Papa Burger and coney, while noting that the hand-breaded chicken is gaining in popularity.
A&W Merch and Mug Club
Additionally, A&W merchandise is available for purchase. Phelps always keeps mugs in stock, and there's also a catalog that customers can browse, so they can order items like A&W-themed hats, t-shirts and more.
Customers can also sign up for the A&W Mug Club to receive exclusive coupons and deals e-mailed directly to their in-boxes. A free root beer float on your birthday is also part of the promotion.
"Brake for A&W!"
Phelps and her staff offer up delicious food in a unique setting, providing their customers with a comforting feeling of nostalgia that's hard to find nowadays. And they enjoy serving people, whether they're Superior-area residents, tourists or other visitors.
"I like all the people. I've met a lot of people over the years that I'm still in touch with today," Compton said, noting that A&W has plenty of "regulars."
"I love my job – I've been in the restaurant business my whole life," said Tolliver. "I like working in the kitchen, but I also enjoy the interaction with people."
"I enjoy getting to know all the different people," Phelps added. "And I like the freedom of being my own boss."
And judging from the many great reviews on the Trip Advisor travel assistance site, their customers definitely return the love:
Brake for A&W! We were lucky and thrilled to have passed right by this A&W Restaurant while visiting Superior, Wisconsin, and quickly pulled in. It's a nostalgic, old fashioned drive-up where you park and they bring the food to your parked car. The root beer here is SO MUCH better than what you get from a can or bottle. Happy we stopped here.
A blast from the past with delicious food!! Remember pulling up to the outside speaker, rolling down your window, and ordering your food?! Then having a tray brought out and hung on your window, with a cold frosty mug of foaming, world-famous A&W Root Beer? You can have it all again at this restaurant … Bring a big appetite – the food is scrumptious! They even have a Shrimp Basket!!
I'm happy! Thank you for your food! I love your cheesy cheese curds and root beer! We always have a great time at A&W! PS
Andrea Busche is a Twin Ports-based freelance writer.