By Tony Bennett
Driven:
Thatcher's Tire Pros & Auto Center has a 63-Year Track Record of Satisfying Customers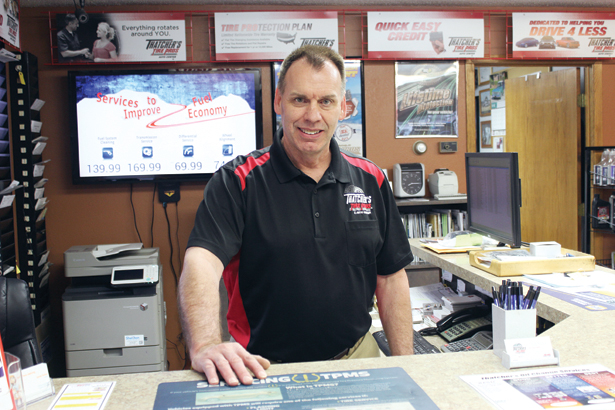 During the course of one's life, people are faced with big decisions that require considered responses: Where to go to college? Whom to marry? What job to take? Should I buy this house or not? These types of questions are faced by everyone on some level – but let's consider an issue that is also important, but probably goes overlooked by many: Whom can I trust to fix my car when it breaks?
If cars had been around in the time of Plato, that's a question he would've pondered deeply. In fact, our lives literally depend upon them operating safely and reliably. How can you trust that the person you brought your car to when it started making a funny noise will fix said funny noise for a fair price? How can you trust that they won't overcharge? How can you trust that they won't find additional problems to "fix" that don't really need fixing?
The answer, of course, is that old, reliable method: word of mouth. In Superior, Thatcher's Tire Pros & Auto Center is one of those names that come up in people's conversations when they have a car problem that needs addressing. And Thatcher's reputation as being a trustworthy garage has been well earned over time. In fact, that reputation has been growing steadily since 1953, when the first iteration of the business (then called Thatcher's Service) was opened by a man named Maurice Thatcher. As time went on, Maurice passed the business along to his son Robert, and Robert then handed it off to his son Jay, who runs the place today.
"I started working for my dad when I was 12 years old, actually," Thatcher said. Asked if he had an early interest in working on cars, he chuckles. "I was interested in working – earning money," he clarified. "I did that for a number of years through high school. I ventured off into other things for a little while, came back, helped my dad out. He was getting out of the gas business due to regulations and things such as that, and we decided to pull the tanks and we went to just service."
"Every day, we have new people come in the door because we were recommended … by a relative or a friend."
– ASE-Certified Technician Jerry Olson
In August of 1997, Thatcher's moved across the street to a new location at 5810 Tower Ave., where the business stands today. The switch gave the Thatchers three extra bays to work in – up from two to five – and it allowed them to focus on service and maintenance.
Since then, it's been a steady trail of perfecting the recipe for success. "We've kind of grown," Thatcher said. "We're keeping up with industry trends and technology – the greatest equipment that's available for us to work on vehicles with."
As is the case with many family businesses, Jay Thatcher is interested in carrying on and building upon the reputation of the family name that's been established over the decades. For him, it's not just a name – it's the promise of a certain level of service.
"We were always kind of focused on service and taking care of the customers, and I'm still a big advocate of that," he said. "I think we really cater to our customers. We have free shuttle service. We have a loaner vehicle. We provide the best warranties."
Thatcher is keen to speak of a relatively new aspect of his business: the fact that it's now a part of the Tire Pros franchise, which makes them part of a national network of independent tire dealers who offer special protections and perks to people who buy tires through their licensed outlets. Tire Pros offers the brands customers really like, including Michelin, Goodyear, Dunlop, Hankook, Firestone, Continental, Bridgestone, Uniroyal, BF Goodrich, Titan, Falken, Nitto and General Tire
"It gives us national recognition," Thatcher explained. "It gives us a lot of different benefits that we can offer the customer on the tire side of the business. People can be taken care of across the country for most of their needs, as far as if they're on the road with tires that they bought from us." This business is also proud to be a NAPA AutoCare Center.
"It's that service thing that we've always tried to stress," he noted. "We still continue to do that. It's important to me that my customers are taken care of appropriately, and if they have a problem, we want to resolve the problem. We want to make everything as hassle-free as we can for our customers."
"It gives us national recognition … benefits that we can offer the customer on the tire side of the business."
– Owner Jay Thatcher
While Thatcher started working for the business young, he did take time to go off to school. And while his schooling wasn't necessarily meant to affect his future role as owner of Thatcher's Tire Pros & Auto Center, there were lessons that he was able to apply.
"I took business administration in school and I studied a lot of marketing, accounting, advertising, sales and stuff such as that," he said. "I attended several management courses within this industry by some of the top trainers in the country, also."
As one might expect, the Thatcher name has been on the lips of many locals who go back as far as the business's early days – people who have long been frequenting the establishment. "A lot of them still come in today," Thatcher said, adding that even his father still makes regular appearances: "My dad comes in every day, still. He helps out if we need an errand run or if someone needs a ride somewhere."
There have been a lot of changes since Thatcher's dad and grandfather ran the place. As is the case with every other aspect of modern life, computers and other new technologies have become commonplace. "There have been drastic changes from even when I was a kid versus today," he said. "In today's world, everything has to be computerized."
Keeping up with the times is essential to him. "I attend training quite often myself, and my guys will attend training for different aspects of their work," said Thatcher. "Technology-wise, I think I'm pretty good about buying the best auto balancers. Our alignment rack is the Cadillac of alignment-rack machines. Our scanner is a good scanner. I really just try to have the best equipment for the guys, so they can do their job and perform the best service for our customers."
Thatcher's is operated by a small crew of employees. "We've got three full-time techs," he noted. One of them has been on board since the late 1990s and the other two are newer and handle the lighter mechanical duties. In addition, Thatcher's has a part-time bookkeeper and they're looking for the right person to fill a service advisor position. Jay Thatcher himself spends a lot of time answering the phone and interacting with the public, as well as doing service on cars.
The longest-running technician is Jerry Olson. "He's a master technician," said Thatcher. "He's pretty much able to do anything that we need to do, whether it's diagnostics or engine replacement or tranny replacement. He can handle whatever needs to be done."
Prevention and maintenance for vehicles are important, just as they are with human health.
"I grew up by Amnicon Lake," Olson said. "My dad was an aircraft mechanic and was a mechanic his whole life, and I kind of picked up on that when I was 9 years old. I went to school for auto body and graduated in '92. I did that for about five years and then I hooked up with Jay over here, and I've been working here ever since as a mechanic. I got ASE [Automotive Service Excellence]-certified and took all the tests that they want you to take."
Olson says the job "comes easy" for him. "I enjoy the challenge of it. It's different every day, of course," he noted. "Just yesterday, I did two water pumps on different vehicles and an oil pan. All three of those jobs are pretty involved. Tomorrow I could be doing head gaskets or electrical diagnosis on computer problems. Some days, I might not get my hands too dirty. Other days, I'm greasy right up to my elbows.
"I was aware of the business just from being in this area my whole life," Olson says of the time before he was hired. "I think we have a really good reputation. We try to take care of our customers in every way we can, and we get new recommendations from customers all the time. Every day, we have new people come in the door because we were recommended to them by a relative or a friend. I probably wouldn't have stuck it out so long if I didn't feel like we were doing good service here."
A key piece of advice Olson and Thatcher like to share with both new and longtime customers is that prevention and maintenance for vehicles are important, just as they are for human health. "We try to teach [customers] that if you do the maintenance, you'll probably avoid the major issues," Olson said.
"We do stress maintenance," said Thatcher. "Some people will be good about maintaining their vehicle; others decline to. But my philosophy is that if you maintain your vehicle and do the services when they're needed – fluid flushes, filters – your vehicle is less likely to break down and will need fewer repairs or repairs less often. Those are things that in the long run are a benefit to the customer; it is going to save them money. Initially, they'll pay a bit more to maintain that vehicle, but they'll have less money invested, because the car will hold up better for them. It's going to be more dependable."
This kind of customer-considerate thinking is a hallmark of the Thatcher's Tire Pros & Auto Center way, something that longtime customer Jon Wojciechowski attests to.
"In my mind," he said, "it comes down to a couple of things. First and foremost, I'd say trust. Trust that the vehicle's going to be fixed right. Trust that something that doesn't need to be fixed doesn't get fixed. And trust that it's done at a fair price. Going back to when they originally opened that shop, that's been my experience.
"When my daughter graduated from high school back in 2009," said Wojciechowski, "my vehicle broke down on the Friday before her graduation. Jay was aware that my daughter was graduating and he gave me a vehicle for the weekend, so I didn't have to worry about how I was going to get around. Going above and beyond – that's an example of the kind of service you get there."
"Their lot is usually pretty packed. In my mind, that's the best barometer."
– Longtime Customer Jon Wojciechowski
Wojciechowski has also had his kids' vehicles worked on at Thatcher's, as well as numerous cars of his own. "I don't know how many sets of tires I've purchased from Jay over the years," he says. And if he bought tires and ended up a year later with a nail in one of them, the problem was repaired free of charge. "It's that kind of service," he said.
"Their lot is usually pretty packed," Wojciechowski says. "In my mind, that's the best barometer. You can tell they have a lot of customers. And I'll tend to see the same folks there from time to time. If you're not doing it right, you won't get repeat business." When asked how many people he's recommended to Thatcher's over time, "dozens" is the word he uses: "It's been a good relationship."
Wojciechowski also takes advantage of coupons in the business's quarterly  newsletter on a regular basis. And Thatcher noted that newsletter is a key part of keeping an open channel with his customers. "If I don't send it out," he said, chuckling, "I get phone calls." In fact, people have told him that's one of the pieces of mail they actually look forward to receiving: "They read it cover to cover and they just love it."
Add in a very modern, thorough website and the secret to Thatcher's success
becomes clear: Do good work to attract new customers via word-of-mouth; be available in myriad ways for your existing customers; and stay on top of changes in the industry to remain sharp.
As for the future of Thatcher's Tire Pros & Auto Center, there's no obvious fourth-generation successor to take over in the coming decades. But for now Jay Thatcher (who's in his mid-50s) still has plenty of gas in his tank, so to speak. And he's happy to keep doing business in Superior – the place that's made his family name synonymous with quality auto service.  P.S.
Tony Bennett is a Twin Ports-based freelance writer.
Like this article? Want to read more?
Click here to subscribe to Positively Superior magazine.