By Mary Beth Frost
Tough Customers
Lake Assault Boats Earns Accolades From Clients Who Fight Terrorism, Criminals, Fires – and Who Save Lives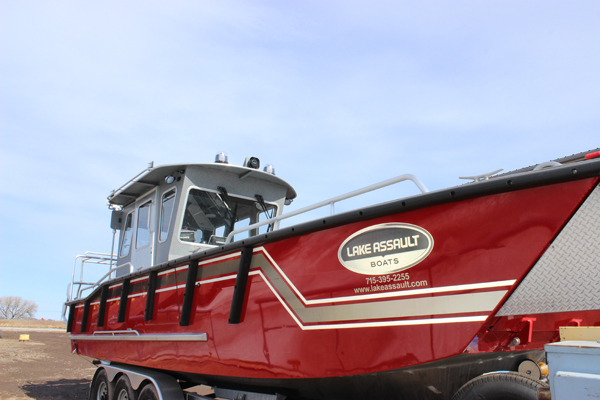 You may have seen local news footage of sleek patrol boats racing through the water in pursuit of lawbreakers, fireboats spraying thousands of gallons of water to quickly put out a blaze or rescue boats pulling survivors from perilous waters.
What you may not know is that many of these high-quality, high-performing boats are produced by the 15 employees of Lake Assault Boats LLC, a division of Fraser Shipyards, on Clough Avenue in Superior.
If you venture into the modest but well-equipped shop that contains this hidden gem, or browse the website at lakeassault.com, you'll soon discover that Lake Assault Boats produces some of the most impressive mission-specific boats in the United States.
Vice President of Operations Chad DuMars gives the credit for their outstanding products to his small but highly skilled team of employees. "I would put our quality against anybody, and that is solely because of the people who do the work here," he said.
Lake Assault Custom Boats was launched in Elk River, Minn., in 2003 with the mission to build the best walleye fishing boats. However, it soon became apparent that there was great demand for industrial, high-quality special-purpose boats beyond the fishing industry. The company responded with a new mission: to build custom-made, mid-size aluminum boats for a variety of purposes.
Capstan Corp. – a Midwest holding company with local roots that has several Superior-based businesses, including Fraser Shipyards, Northern Engineering Co. and Viant Crane – purchased Lake Assault Custom Boats in December 2009 and moved the company to Fraser Shipyards, where it became Lake Assault Boats LLC.
This new ownership and ideal location has provided Lake Assault with the technology and equipment to complete each project in-house, from the design phase through testing the boats on Lake Superior.
"Because we are a small company nestled within some larger companies, we are able to have some of the capabilities and capacities of a shipyard," said DuMars. "This gives us a strategic advantage over other builders."
DuMars is a native of LaCrosse, Wis., and his qualifications include 17 years of experience designing boats for various boat builders in Wisconsin. He joined Lake Assault Boats as a project engineer (designer) in 2010 and was promoted to vice president of operations last September.
Although he has many responsibilities, such as assisting the engineering department and supervising production, DuMars now oversees the company's sales and marketing branch. His extensive knowledge of every aspect of boat building, including design, construction, commissioning and testing, has proven to be a valuable asset when he meets with potential clients.
Administrative Assistant Lacie Glaeser is the first and only clerical employee to work exclusively for Lake Assault. Glaeser appreciates the opportunities she has been given to be involved in many aspects of the business operations since she joined the company in February 2013. "I'm like a sponge – I soak it all in," she said.
Besides her more routine duties, Glaeser also assists the sales team by checking bid specifications and traveling to trade shows. "Lacie wears lots of hats. She's involved in just about every day-to-day activity we do – other than welding," DuMars joked.
"I would put our quality against anybody, and that is solely because of the people who do the work here."
– Chad DuMars, vice president of operations
Another key player in customer contact is Gary Smith, the new director of sales and marketing, who joined the company in January. Smith has 23 years of sales and marketing experience with 3M, where he built up a series of product lines into $25-$400 million business units. "The joy, to me, is to help these new businesses grow," he said. "The products are different, but the systems, methods and procedures that I follow for marketing are the same."
After retiring from 3M, Smith worked for various boating businesses and builders. "Boating has always been a passion and a hobby of mine," he said. By 2014, he was looking for another company that could benefit from his marketing experience. Smith approached several small businesses where he saw great potential based on the following criteria: a great product, an obvious need for the product in the marketplace – and good leadership.
"All of the companies that I considered had good products, but Lake Assault had the best people," Smith said. "At 3M, I worked with some of the best and brightest leaders, and the leaders of Capstan and Lake Assault are of that same high caliber."
Since 2009, Lake Assault has built 50 boats for clients located up and down the Mississippi River and throughout the Midwest to the Northeast – including Wisconsin, Minnesota (three in Duluth, six in the Minneapolis area), New Jersey, New York, Tennessee, Iowa, Illinois, Texas, California and New Mexico.
"We're pretty well dispersed east of the Mississippi, so one of my goals is to get broader distribution west of the Mississippi," said Smith.
Lake Assault works with potential clients during the early stages, including pointing them toward financial resources. The company's website provides links to the Department of Homeland Security and Federal Emergency Management Agency, where potential customers may apply for grants available for municipalities and government entities.
"At 3M, I worked with some of the best … leaders, and the leaders of Capstan and Lake Assault are of that same high caliber."
– Gary Smith, director of sales and marketing
"A lot of our potential clients from fire or police departments need us to provide a proposal for them so they can be approved for a grant," Glaeser said. "We work with them for a year or more, making whatever changes to the specs they need."
DuMars and his team of engineers communicate with potential clients throughout the bid process, designing drawings based on their interpretation of the specifications. Once the job is awarded to Lake Assault, the "design spiral" begins at pre-build meetings, where customization options are presented.
Lake Assault is proud that their boats are custom-built – one at a time – incorporating the length, width, features, accessories and options that will make the boat most effective for the client's particular mission and location. This includes meeting the challenges of many types of shorelines and marine environments, such as intercoastal waters, rivers, the Great Lakes and smaller, highly residential inland lakes.
"We don't have a catalog that we put in front of our customers and say, 'Here, you pick what you want,'" DuMars said. "We
listen extremely well and we are able to incorporate their needs and constraints into the final, deliverable product."
"As long as we know what the customer wants, we can make it happen."
– Brad Moen, fabrication foreman
Lake Assault finds some of their skilled tradespeople locally by working closely with Wisconsin Indianhead Technical College (WITC) in Superior and Lake Superior College (LSC) in Duluth as well as attending area job fairs. Lake Assault offers full-time, year-round employment at competitive wages and provides a challenging environment where employees have multiple opportunities to grow and share their ideas. The company's extremely low turnover rate is further evidence of its reputation as a great place to work.
Brad Moen, a Superior native, joined Lake Assault in July 2013 after completing WITC's welding program. He was quickly promoted to the postion of fabrication foreman.
Moen supplies his team of four certified welders with precise aluminum parts that he burns on a high-definition plasma table. The parts are then shaped, formed and welded into tough, high-quality durable boats that are ready to be painted.
Although aluminum is the key to producing the company's lightweight, high-speed, fuel-efficient boats, the material is tricky to weld and requires the expertise and top equipment available at Lake Assault's shop. The company supplies aluminum scrap to WITC and LSC, allowing welding students to further develop this skill.
Moen has high praise for his team. "I think they're the best," he said. "They make my job easy because they do excellent work. We build some of the best boats in the United States and our quality comes from them."
"The vessels we're designing are used to save lives. They have to be perfect – the best of the best."
– Ken Johnson, electrical/mechanical foreman
No two boats are alike and the team must adapt quickly to produce a wide variety of products and custom designs. "I like a challenge," Moen said. "We'll take on just about anything. As long as we know what the customer wants, we can make it happen."
DuMars admires his team's ability to efficiently switch from producing airboats to barges to police boats. The estimated completion time is typically 90 days for smaller boats and 120 days for larger boats, and the company consistently meets its deadlines.
"One of the things I'm most proud of at Lake Assault is our diversity of product," he said. "But having that diversity within our product line can be difficult and challenging. I think our guys do a great job, keeping that unity and keeping the production going."
Ken Johnson, who transferred over from Fraser Shipyards in 2010, is the foreman in charge of the boats' unique, custom-designed electrical/mechanical components. "We bring the vessels to life," he said. Johnson relies on his capable, experienced team of three electrical technicians to do the majority of the wiring, while he focuses on the motors, pump engines, generators and layout of electrical components.
Much of this work is behind the scenes, yet it has tremendous impact on the boats' performance. Johnson's standards are very high, for himself and his team. "It takes a special kind of person to work here – a person with attention to detail," he said. "The vessels we're designing are used to save lives. They have to be perfect – the best of the best."
"They were awesome to work with."
– Sgt. Paul Harbin, Metropolitan Government of Nashville, Tenn.
Although he has been in some precarious situations doing so, Johnson admitted that his favorite part of the job is to test the boats out on Lake Superior. But he also takes this part of his job very seriously. "I run the boats for five or 10 hours, working out the bugs," he explained. I go out and hit some waves so the boat can prove itself. I'm looking for failures."
Once the boat is delivered, the company provides training on the vessel's various capabilities and keeps in close communication with clients during the break-in period, quickly answering questions and solving problems.
Lake Assault provides a one-year manufacturer's warranty on electrical components and a five-year warranty on the hull. When Johnson works with customers to solve issues, he applies a unique quality improvement approach. "When I meet a customer, I always ask them what they don't like about their boat," he explained. "Once I can get them to talk about it, I always take a lot of notes."
This attention to detail, determination to improve quality and exceptional service has resulted in a wide network of satisfied customers. "One of our best sales tools is our existing customers," said DuMars. "It's rewarding to hear their feedback. We tell potential clients, 'If you really want to know about us, you don't have to believe us – just talk to our customers.'"
One of these satisfied customers is Sgt. Paul Harbin of the Metropolitan Government of Nashville, Tenn. Lake
Assault delivered their most recent and technologically advanced anti-terrorism boat to Harbin's department in September 2013.
This fully customized "squad car on the water" includes tactical and chemical detection equipment and can reach speeds of 55 miles per hour.
"I think we received an incredible boat."
– Chief Chris Berndt, Western Taney County Fire District, Branson, Mo.
Harbin was impressed with the Lake Assault boats that were owned by enthusiastic customers in surrounding counties, but his department actually chose Lake Assault because the company submitted a bid that was significantly lower than their competition.
Harbin appreciated the excellent communications Lake Assault provided as he worked closely with the staff on the boat's custom design. "Every step along the way they sent us pictures," he said. "They were awesome to work with."
And he was pleasantly surprised that his custom boat was finished so quickly. "They were right on their deadline," he said. "When they told us they would have the boat here, it was here."
Lake Assault spent a week in Nashville, explaining various features of the boat to Harbin's department and taking it for test runs. Harbin was – and still is – pleased with the final product. "Our boat still turns and drives like a Cadillac," he said. "The performance of the motors versus the stability of the boat far exceeds our expectations."
Chief Chris Berndt of the Western Taney County Fire District in Branson, Mo., is another happy customer who has proudly shared pictures and videos of their 32-foot fire boat, delivered last April. This fully customized "fire truck on the water" reaches speeds of 45 miles per hour and can quickly put out a fire by pumping 1,500 gallons of water per minute – the length of a football field.
Early in the bid process, Berndt was a reluctant customer at first. "We thought we were going to purchase our fireboat from a company in Canada," he said. "Lake Assault came in with the lowest bid, but we did a lot of discussing back and forth with Chad and inspected some Lake Assault boats in Nashville, Tenn., before finally deciding to go with their company."
According to Berndt, it was the right choice. "That was a great move; we could not be happier," he said. "I think we received an incredible boat, particularly for the price we paid. It does everything and probably more than what we had hoped for. We're amazed at how well the boat handles and performs. I would recommend Lake Assault in a heartbeat. They built exactly what they said they would and they stand behind their product."
The Lake Assault employees find reward in knowing their boats have helped save lives in the Twin Ports and across the nation. "It's rewarding when our boats come back for repair after being used – hard – for six or seven years," Johnson said. "Then we know there is a purpose behind what we do."
Lake Assault currently has two shallow water rescue boats under design. "Because of our diversity, we have the capability to build anything from smaller runabout-type skiffs to 75-foot large-scale fire boats," said DuMars.
But the company's production is not limited to fire or rescue boats "When I think about the future at Lake Assault, our potential is huge," DuMars said. "Most of our products right now are fire boats and that's been good for us. But for me, the exciting part is taking what we have done in the fire market and extending it into the patrol and work boat market. Basically, anything marine-based that needs a vehicle on the water is potential work for us."
Lake Assault is in the process of designing their first 40-foot pilot boat for the Soo Locks and is building two unique survey boats for the National Oceanic and Atmospheric Administration, with the potential to build four more.
The future is bright, both for Lake Assault and for the vast pool of subcontractors, engineers and trade workers in the Twin Ports area.
When asked about Lake Assault's potential over the next five years, Smith grinned. "Give it one year," he said. "Oh, my goodness – hold on to your hat. This is going to be fun."  P.S.
Mary Beth Frost is a Superior-based freelance writer and personal historian.
Like this article? Want to read more?
Click here to subscribe to Positively Superior magazine.