By Holly Kelsey-Henry
Performance By Design
With a New Superior Office and Growing Wisconsin Workforce,
LHB Continues Building With its Longtime Entrepreneurial Spirit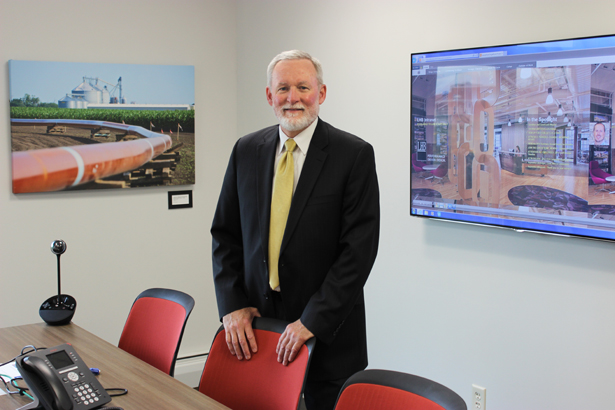 It is a theme that resonates with all LHB team members – "Always maintain an entrepreneurial spirit."
That very philosophy has kept Chief Executive Officer Bill Bennett at the award-winning engineering, architecture and planning firm for decades.
"It's easy to be proud of LHB's story," Bennett said. "We have organically grown, adding new disciplines along the way. If one of our team members has an idea or an area they want to explore and it's grounded and well thought out, we encourage it 100 percent. We don't hover."
Because of this willingness to think outside the corporate box, the company has grown from one person in 1966 to seven people in 1980 to more than 250 today. Recognizing the importance of future workforce for continued growth, it has also brought on about 15 interns each year. Providing challenging, rewarding careers helps the Twin Ports area attract educated – and motivated – young professionals. With this growth, LHB (which has offices in Duluth and Minneapolis) recently opened a new office in Superior at 63 E. Second St., Suite 150.
"This is kind of coming home for us. LHB has designed numerous buildings and infrastructure in Wisconsin."
– Chief Executive Officer Bill Bennett
"We opened the office in Superior to accommodate our expanding client base and staff in Wisconsin," Bennett said. He noted that 15 percent of LHB's staff resides in Wisconsin and many of its clients are based in Wisconsin.
"This is kind of coming home for us," he said. "LHB has designed numerous buildings and infrastructure in Wisconsin and we even chose an office space in the same neighborhood as the Richard I. Bong Memorial Center, of which LHB was a part of the design team. We used to have an office in Superior and we have done a lot of work here. We have a rich history here."
Indeed, Mike Fischer, senior vice president of the Minneapolis branch, worked in the Superior office in the '90s and credits the city's business leaders and residents with helping to form his career. He was involved in the Bong Heritage Center project, Barker's Island master plan, City of Superior/Douglas County Metro Center, various Superior Housing Authority projects, early planning of the Tower Avenue redevelopment project and UW-Superior's Ross and Hawkes residence halls. He also served as a city councilor.
"It was huge part of my life," he said. "I was the city council president at one time and I went through the Superior-Douglas County Leadership Program and learned so much there. Superior is an incredible community with people who will roll up their sleeves and get to work. It is this experience and history that has led me to where I am today."
"Superior is an incredible community with people who will roll up their sleeves and get to work."
– Senior Vice President Mike Fischer, Minneapolis office
LHB was founded in Duluth in 1966 as Larsen, Harvala and Berquist (hence the LHB). One of its first projects was led by the company's founder, Lauren Larsen, who worked on the Duluth Arena (now the Duluth Entertainment and Convention Center). Almost 50 years later, LHB still works with that client.
"From its inception, we have focused on good partnerships, long relationships and growing our disciplines," Bennett said. This, he noted, has led to the company's unique balance between engineering and architecture.
Although founded as a structural engineering firm, LHB quickly expanded to include civil, mechanical and electrical engineers and architects. In addition, the company brought in landscape architects, interior designers and land surveyors. The team is made up of experts in public works, pipeline, industrial, housing, health care, government, education and commercial design and is also dedicated to being environmentally responsible, reducing long-term operating costs and improving the quality of life for its clients.
"As a company, we choose to define 'sustainable design' in a more detailed way that is more meaningful to our employees and clients by using the term 'high performance.' Because of our diversity, we can be design leaders and push the envelope on implementing high-performance design," Bennett said. "Sustainability means different things to different people, and we endeavor to determine what it means to that specific client early on in the project design process. Are operating costs and performance more important that initial capital cost? How important are environmental considerations? What payback period is acceptable to them in making decisions on high performance? We attempt to clearly understand the individual company's desires before we begin a project."
With energy costs always increasing, efficient energy management can drive a client's ability to invest in and expand facilities, Bennett said. While the end result should save clients energy and lower costs, having clear, time-saving project management is imperative to the overall budget as well. LHB project managers have an average of 20 years of real world experience. "We know that great projects are built on comprehensive, realistic designs, attention to detail and a commitment to doing it right the first time," Bennett said.
That sentiment is seconded by Director of Facilities Tom Fennessey of the University of Wisconsin-Superior, who said LHB clearly understands the university's goals when working on its projects.
"UW-Superior has used the services of LHB for numerous campus improvement projects for well over 20 years," he said. "Projects consisted of master planning, pedestrian and vehicle traffic improvements, classroom upgrades, new building designs, utility upgrades, landscaping designs and others. Their multi-disciplined services of architecture, engineering and construction management have been a nice one-stop shop for needed services.
"LHB's familiarity with UW-Superior, their desire to understand us and our unique needs and their commitment to the region has been an asset to the campus," Fennessey said. "Their experience and understanding of the needs of higher education has allowed UW-Superior to plan, design and complete projects that meet the needs of the student today and well into the future."
"UW-Superior has used the services of LHB for numerous campus improvement projects for well over 20 years."
– Director of Facilities Tom Fennessey, University of Wisconsin-Superior
Along with working with UW-Superior, LHB has been involved with many other educational projects, including: planning with the Superior School District; Maple School District's Elementary, Middle and Northwestern High School additions and renovations; Carleton College's residence halls; Normandale Community College's Kopp Student Union renovation; Lake Superior College's Academic Student Center and Health & Science Center; University of Minnesota Duluth's Life Science Building renovation; Duluth School District's Lincoln Park Middle School and Ordean East Middle School; Lake Superior School District's Two Harbors High School; and Mahtomedi School District's Wildwood Elementary School.
According to Education Focus Leader Kevin Holm, LHB strives to create optimal learning environments first and foremost when working on all educational projects. He is currently working with the Superior School District, UW-Superior and the Maple School District. He also opened his own business in Superior called Superior Sands.
"Education design is about creating ideal places where young people grow, learn and become who they want to be," Holm said. "Education has changed for the better over the years and technology has changed the playing field. Collaboration in small groups and student presentations are replacing memorization and lecture-style delivery. Education facilities must be designed for those changes, while providing safe social interaction and giving students an inspirational setting in which to learn and imagine."
LHB also applies that same philosophy when creating high-performance workplaces. The firm understands that the environment where businesses plan, produce, store, distribute or sell their products is critical to their success. LHB designs allow teams to work efficiently and effectively by creating engaging, healthy and safe workplaces that will attract and retain quality employees and clearly state the business's brand, while using the client's dollars wisely.
LHB applies this principle when working on government projects and health care as well. Some of these projects include: Essentia Health-St. Mary's Hospital of Superior pain medicine, cardiac and chapel rooms; Superior/Douglas County Metro Center; Superior Public Library; Fairlawn Mansion and Museum restoration; the City of Duluth Police Headquarters; Duluth Transit Authority Multimodal Transportation Center; the St. Louis County Sheriff's Department/911 facility; Brainerd Lakes Heart and Vascular Center; Duluth Children's Hospital; Duluth Clinic Eye Department; and St. Mary's Medical Center pharmacy.
"We make wise use of public dollars," Bennett said. "We explore what a client currently has and where they're going in order to create a facility that improves workflow now and adapts for future growth."
LHB recognizes the importance of working with physicians, hospital staff and administrators when designing health care projects. The firm consults with user groups, staff and facility committees to determine the vision for the project and the needs of the individuals who will be using it. This approach can minimize costly changes late in the project and ensures that all options have been considered.
LHB has also partnered with for-profit and nonprofit housing developers on renovation or new construction projects. The more than 3,000 of these projects on its resume add up to a total of  $170 million in the region and represents a broad range of projects including townhomes, condominiums, apartment buildings, supportive housing, senior living, student residence halls and mixed-use developments.
"Our structure is such that we can provide architectural services specializing in housing design with the benefits of a consistent team of in-house landscape architects and civil and structural engineers," Bennett said. "Through this integrated design approach, we can offer our clients opportunities to incorporate elements of high-performance design into each project."
LHB's housing team was awarded the 2013 Affordable Housing Design Award from AIA Minnesota and The McKnight Foundation for the Renaissance Box project in St. Paul.
LHB is also highly in demand for its pipeline engineering services, according to Pipeline Focus Leader Dan Heldt, who oversaw the establishment of LHB's Superior office and is in charge of its daily operations. Currently, he is working with Enbridge.
"We recognized the demand for this niche in the 1990s, and again, LHB was willing to have an entrepreneurial spirit and let us put together an A-team for our region," Heldt said. "Prior to that, people would hire firms from as far away as Tulsa and Houston. Now, clients here can call us and we can meet with them in person that day or the next day and get moving, instead of waiting in line to work with a company from out of state."
"We provide good jobs to area graduates who already know and love this region."
– Pipeline Focus Leader Dan Heldt
LHB also provides promising employment for students from area educational institutions, according to Heldt.
"Not every engineer from areas like Tulsa or Houston would want to relocate to this climate," he said. "We provide good jobs to area graduates who already know and love this region."
LHB pipeline and utility projects include: the American Transmission Co.'s 220-mile Arrowhead-Weston power line connecting Duluth with Wausau, Wis., designed to accommodate electric load growth in northern Wisconsin; Enbridge's pipeline system expansion from Superior to Mokena, Ill.; the Southern Lights Streator to Manhattan pipeline project from Manhattan, Ill., to Streator, Ill., and Southern Access Pipeline expansion projects; the City of Duluth's West Leg gas main; and the Indianapolis-to-Chicago Williams Fiber Optic Cable project.
The firm works hard to stay ahead of the learning curve on developments in oil, water and gas pipelines, pump houses and switchgear buildings, maps and surveys and fiber optic lines. Its engineers and survey teams are committed to understanding their clients' industries and being resources to answer questions.
LHB is known in the industry for its public works projects as well, including analyses and design work on: the Blatnik Bridge; Barker's Island master planning upgrades; Center City Park; City of Superior gateway signage; Second Street reconstruction in Duluth; City of Duluth Seven Bridges and Road reconstructions; the Duluth Entertainment Convention Center's parking structure; the Minnesota Department of Natural Resources' Gitchi-Gami State Trail from Schroeder to Tofte, Minn.; the Sturgeon Lake Wastewater Treatment Facility sanitary collection ponds and water tower; and the Highway 53/Piedmont Avenue reconstruction.
Bennett said the firm is well aware that successful infrastructure and site development projects should fit their communities and function well within the surrounding environment. LHB team members consider all of the technical aspects of a client's project and bring cost-effective solutions to improve the quality of life in the entire community. The firm also understands the regulatory aspect of construction and can handle the permitting process that goes along with it. By having civil and structural engineers, surveyors and landscape architects all in-house, the firm assigns clients a single point of contact to coordinate the progress of a project, so clients do not need to make multiple phone calls.
"We recognize the importance of working with the community and stakeholders in our projects," Bennett said. "We listen to feedback. We're invested in the communities where we work and enjoy being a resource before, during and after projects are completed."
According to Duluth-Superior Market President Michael Colclough of BMO Harris Bank, LHB is indeed a stellar community member and supporter.
"The office in Superior is a great addition; the firm has always had a market presence here and the new office location solidifies this," he said. "LHB employees are active in the community, and any board or organization I have worked with usually has someone from LHB involved. Having an office in Superior can only be a good thing for us. They are a great firm to work with. The culture of collaboration pervades the company. I typically work with them on banking needs and we
always have an open dialogue, which helps uncover what works for both LHB and BMO Harris Bank. Their employees have a high level of expertise and are consummate professionals."
Through the years, LHB has won numerous awards for its work in the region. But today, its CEO is probably most proud of being named one of the Top 100 fastest growing engineering and architectural design firms in the nation two years in a row.
"It is gratifying that I find I can't walk a block in the Twin Ports without seeing a building or a project that we have either designed or been involved with on some level," Bennett said. "We can't help but be proud of that."
As for the future, Bennett believes there is only good ahead.
"We all suffered from the economy following 2008, and when one business doesn't do well there's an impact on other businesses in that region, so that's why we always try to do business locally," he said. "But because we have diversified, we can count on having different aspects of our business do well at different times. It is an element of our business that helps keep us stable. We're optimistic about the future of the Twin Ports and LHB." P.S.
Holly Kelsey-Henry is a freelance writer based in Northwest Wisconsin.
Like this article? Want to read more?
Click here to subscribe to Positively Superior magazine.