By Tony Bennett

Generations of Business
Family-Owned Kimmes Oil has Served Customers for More than 80 Years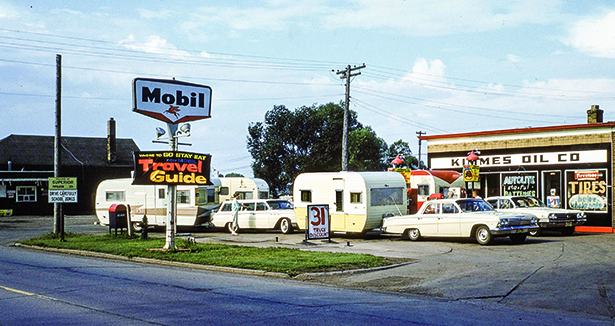 When you've been in business for 80 years, it's a given that you know how to give your customers what they want, even as their needs change over time. Kimmes Oil in Superior has stayed in business for an impressive eight decades because it has been able to adapt to the morphing needs of customers.
Today, the company has diversified its operations from primarily providing fuel oil to largely concentrating on selling tires and providing tire and brake services, along with delivering fuel oil and propane to those who need it.
As is the case with many long-term businesses, Kimmes Oil is a family-owned and operated establishment. These days, Kimmes Oil is their main business, but things used to be much different. Lori Buttrick (whose mother, Kathleen Kimmes, owns the shop) grew up doing vastly different jobs for the family. Her stepfather, Joe P., had been married to her mom until his death in 2007, and she learned her dedicated work ethic from them at a very young age.
"We had a farm," Buttrick explained. "I was on a tractor when I was nine years old, raking hay. We had way over 500 head [of cattle]. I was interested in the slaughterhouse and became the meatcutter when I got older. As we grew, he [Joe P.] would have us go over to the Prime Steer restaurant and make salad, you know – just simple things and learning the business. And I was the head cook at the Prime Steer when I was in 11th grade. So I've been working pretty much all my life."
Back then, the family ran their farm, their Prime Steer restaurant and a construction business alongside Kimmes Oil. Buttrick didn't work for the shop back then, but it was a part of her life from the age of 7 or so onward.
"We weren't selling as many tires then," she noted. "It was pretty much gas and fuel oil. That was real big back then. The tires and batteries really got going back in the '80s." By the mid 1980s, Buttrick had mostly transitioned into working at the shop.
The family ran their farm, their Prime Steer restaurant and a construction business alongside Kimmes Oil.




"There's been a lot of change," Buttrick says of the last three decades. "Back when I was really young, we had several trucks on the fuel oil end. That part of the business had been dying before my stepdad passed away, so he got the propane going. And another thing is, we used to get loads of tires in a big semitrailer Now, there's so many different sizes and all, we get delivery five days a week. We don't have to stock all these hundreds of different sizes. Today, people are very understanding when we do not have a certain tire and they have to wait a day or leave their vehicle."
Buttrick's job today is primarily focused on the paperwork and office management side pertaining to customer service, versus the sales or repair side. "I do customer relations, ordering and billing and posting receivables and payables and that type of stuff," she noted.
In keeping with the family business dynamic, two of Buttrick's sons also work at Kimmes Oil. "Dustin worked with Grandpa Joe out on the farm when he was young," she said in noting their bona fides, which also provided them with a strong work ethic.
General Manager John Jacobson isn't family – but he is in a sense, since he's worked for Kimmes for more than 30 years. "I started here in 1988, when I was 18," said Jacobson. "Joe called me to fix his computer; that was how it started. And then he hired me and I've been here ever since. At the time, I was working for a pizza place, and he said he'd pay me more than any pizza place."
Jacobson basically started as an office information technology staffer, but then he moved into the tire sales area. Eventually, his mother came in to do the office books for a few years, and his wife is currently employed there. So while he's not a blood relative, Jacobson is a longtime member of this close-knit family business team.
"I'm waiting on, like, third-generation people. We've waited on their grandparents. They keep coming." 
– General Manager John Jacobson

"We're family oriented," Jacobson explained. "We try to be more personal with people, instead of them just being a number. Most companies don't care anymore; it's all about the almighty buck now. We push more towards helping the customer on a friendly basis instead of having them walk through the door and saying, 'Here's your tires, and see you later.' If they have a problem, we talk to them. We work with them. We help them out."
Jacobson noted that Kimmes Oil gets a lot of customers who have purchased tires from corporate entities and then come to Kimmes later on, when their service experience leaves them wanting more.
Given that Kimmes Oil has focused so heavily on tires, it's only appropriate that this company offers just about any quality brand and style anyone could want. "We're a Goodyear dealer," Jacobson said, "plus Dunlop, Kelly and Hancook. That's our main four that we push." More than 30 other well-known brands are also available.
Kimmes' customers are mostly individuals. "We've got some businesses," Jacobson said, but he notes that the focus is on serving area residents. And just as generations of family members have worked at the company, generations of customers have relied on Kimmes Oil.
"We're hoping we can be here another 80 years." 
– Co-owner Lori Buttrick.

"I'm waiting on, like, third-generation people," Jacobson said. "We've waited on their grandparents. They keep coming. We've always treated them well, and if there's any way we can help them, we do it."
Good word-of-mouth from loyal, satisfied customers is the type of promotion that's most valuable to Kimmes Oil. "We don't do a lot of advertising on the radio or anything," said Jacobson. "We've got a few commercials here and there, but not a lot. We don't spend a lot of money on it."
Auto repairs are another part of the Kimmes slate of services. "We do alignments, brakes and ball joints," Jacobson explained . "We have one mechanic on duty all the time while we're open. He's actually been in the business for over 30 years.
"We try to keep our prices as low as we can for everybody," he added. "We don't try to play the game where you'll give one guy a special price over another guy. We try to keep them as low as we possibly can."
In keeping with the family business dynamic, two of Buttrick's sons also work at Kimmes Oil.

Jacobson has watched the heating oil side of the business change greatly over time, too. "We've been selling fuel oil since 1935," he said. "When I first started, we had a lot of fuel oil customers. Then we took on propane in 2007 and we watched things go from having tons of loyal fuel oil customers and hardly any propane. Now it's the opposite [to primarily propane customers]."
The folks at Kimmes Oil are proud of their 80 years in business. They know that their customers depend upon the quality of the brand names they offer and the services they provide. And they're confident that this company will still be working hard to serve those customers as Kimmes Oil reaches the 100-year mark and beyond.
"We're hoping we can be here another 80 years," Lori Buttrick said, adding with a laugh: "I know I won't see it ­– but we have children!" Given this business's track record of longevity, it appears that future family members will indeed keep Kimmes Oil operations running smoothly long into the future. P.S.
Tony Bennett is a Twin Ports-based freelance writer.

Like this article? Want to read more?
Click here to subscribe to Positively Superior magazine.