By Tony Bennett
Sustainable
 

Business
U-Haul Transforms the Former Kmart to Serve Business and Residential Customers – And Help Them Save Money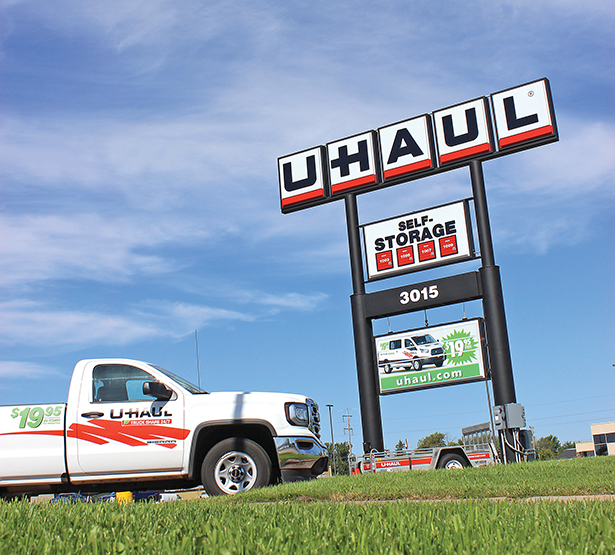 It's truly a time of transition for the Twin Ports. Yes, a lot of construction projects have already started to change the area's landscape. Conversely, a number of business closings have also occurred, many of them spurred by consumers' desires to shop online instead of at physical, bricks-and-mortar locations.
This change would have been hard to imagine 30, 20 or even 10 years ago. With the recent closings of some major retail locations all across the U.S., including Kmart, Younkers, Target and Sears stores, we have yet to learn how these losses will affect communities (and in a larger sense, the country) long-term. 
But a recent business development in Superior has made the loss of one of these nationwide retailers sting a bit less. U-Haul, the well-known American moving and storage chain, is now operating in the former Kmart location at 3015 Tower Ave. It has taken an empty storefront that was a reminder of what once was and transformed it into a burgeoning new business – U-Haul Moving & Storage of Superior – that serves a wide range of customers in myriad ways. More than 700 storage units, climate-controlled rooms, 24/7 access and high-tech security, a showroom, shipping options and virtually every kind of truck and trailer one would need – it's all there.
The former Kmart building's metamorphosis is actually part of U-Haul's nationwide business plan. In concert with the company's commitment to sustainable business practices, it is repurposing vacated spaces, rather than building new ones from the ground up. And former Kmart locations, as it turns out, are buildings for which U-Haul is always on the lookout.
"It's a lot more convenient for people to be served right there in their own community."
– James Hall – General Manager, Superior
It's been a big development for the city, and for the individuals and businesses finding that the new Superior U-Haul's services and products are just what they needed. For General Manager James Hall, who also served as project manager of the Superior facility's renovation, it's an exciting time to be in his line of work.
"I actually started with U-Haul when I was 18 years old," he said, "so I've been with the company for 15 years now. I basically started as a customer service representative in the Minneapolis area." Hall eventually landed in the Northland, where he attended the University of Minnesota Duluth and worked for U-Haul part-time while he received his education. 
"I ended up taking over the Hermantown store shortly after my graduation, and I ran that store for 10 years before U-Haul decided to buy the old Kmart over here [in Superior],' said Hall. "At that point, they offered me the position because of my experience."
So his new role began even before the Superior location was open. "I ended up overseeing a lot of the construction," he noted. "We started last year; it was around April. I was somewhat involved at that point, and I ended up being moved over here in July. So I was kind of back and forth – I had my foot in both doors at that point."
The new Tower Avenue U-Haul location was meant to help customers who were looking for moving equipment and storage facilities like the ones offered at the Hermantown location, but without necessitating a drive all the way up to the Miller Hill area in Duluth. "There really wasn't a U-Haul facility in Superior serving the community," Hall explained. "There was definitely a huge need for it. We didn't want people to have to drive 11 miles to get to the Hermantown location. It's a lot more convenient for people to be served right there in their own community."
"This was not the first one that we've remodeled. The company itself is experienced at remodeling Kmarts and other buildings."
– Project Coordinator and Facility
Maintenance Technician Terry Blees
For that reason, Hall felt strongly about the benefits of the Superior location right from the get-go. "I ended up touring the building in late February of 2017," he said. "It's a perfect setup for what we do as far as storage, truck and trailer rentals and all of our different services we offer. It was just a perfect building for climate controlled, individually alarmed self-storage. It's all indoors. It was the right type of building – the right size, the right location. It ended up being kind of a no-brainer. There's a huge need for this kind of facility. It's secure, it's dry, it's clean. It's what people want nowadays.
"Being over at the Hermantown facility, I knew that there was a lot of demand for a lot of self-storage," said Hall. "My store up there at the time – we've been full for five years, and rarely did we have one [storage unit] open up. And when it was, it got sold quickly. The demand is there, for sure."
The Superior location actually opened in a limited capacity back in March, providing trailer and truck sharing and moving supplies out of a temporary showroom. Then the six-month renovation and cleanup project began in earnest.
Hall worked with U-Haul Project Coordinator and Facility Maintenance Technician Terry Blees to hire a number of local contractors that could execute building plans drawn up by U-Haul International. "It all started with demo," Hall said. "The building was pretty much empty, but there were things we needed to clean up. So that's where Terry came in. He definitely started things while I was training in a new manager at the Hermantown store."
U-Haul also hired local Twin Ports companies with comprehensive expertise in industrial and commercial construction. 
"Climate-controlled storage isn't a product that was offered at all in Superior … We wanted to provide that service for the community."
– Kellin Sybrant, Company President,
U-Haul of Northern Minnesota
"We hired JR Jensen as a general contractor," Hall said. "Through them, we got to know a lot of the other local contractors that they work with on a regular basis." He named Belknap Plumbing & Heating, Belknap Electric Co., Central Sheet Metal Works Inc., DoorCo and Summit Companies as some key figures in the project.
Terry Blees says the project went pretty smoothly, with little turbulence along the way. And that's no surprise, given that U-Haul International, whose corporate headquarters are in Phoenix, Ariz., has undertaken projects like the one in Superior in the past. "They've purchased and remodeled several Kmarts," he explained. "This was not the first one that we've remodeled. The company itself is experienced at remodeling Kmarts and other buildings.
"Probably the most unique part of the building is the way it's painted," noted Blees, "and that posed some challenges. The block has flutes – it's a grooved block with a two-inch protrusion, so it's not a flat surface."
Blees is still involved in the project and comes up from the Twin Cities area in Minnesota for three days of work a week. But his role is "wrapping up," he said at the time he was interviewed for this article. "We're striping the parking lot and doing a little repair work on the ramp in the back of the building, but it's pretty much complete. It's the little details – putting in curb stops and wheel stops, painting this and that. It's coming to an end."
Indeed, U-Haul was ready to welcome area residents and the media at its grand opening on Sept. 21. The event featured facility tours, a complimentary barbecue lunch, U-Haul giveaways and a ribbon-cutting ceremony. Company officials and employees were pleased to showcase the 88,914-square-foot facility, which offers more than 700 self-storage units at affordable price points. It also provides U-Haul Remote 24/7® access, high-tech security, two covered load/unload areas, as well as a U-Haul Re-Use center for sharing boxes and gently used household items. In addition, towing equipment, professional hitch installation and a U-Box portable storage container warehouse are offered. And in the near future, propane will be available on the 6.2-acre lot.
Kellin Sybrant is the company president for U-Haul of Northern Minnesota, and the Superior location falls under his purview. He says the opportunity that arose due to the Kmart vacancy helped the company make the decision to invest in Superior. 
"If there's any way we can help any other businesses along in Superior, we're willing to."
– Assistant General Manager Zach Roberts
"Our whole goal when starting a new location in a new community is [that] we always want to reuse a building," Sybrant explained. "That's a big part of our company: sustainability. Taking a building that had lost its use for another company – that is still a good structure that we can reuse, save on a lot of construction material and provide a new use for that facility for many, many years to come – that's our goal. We all know that many Kmarts are closing throughout the country, and they kind of fit our business model. We just weren't able to serve the Twin Ports community well enough out of that Duluth store due to size restrictions. We do have storage there, but it's a smaller quantity.
"Climate-controlled storage isn't a product that was offered at all in Superior, and it's pretty lightly offered in the Duluth area," Sybrant noted of one of the main reasons the new location came to be. "We saw a need there. We wanted to provide that service for the community, and it's worked out great."
Sybrant also said the former Kmart building's size was a great fit for U-Haul. "It's a large building," he said. "It's tough for a lot of communities to find a tenant that will need that large of a building nowadays. We try to avoid any type of ground-up build, if we can, due to the impact it can have on the environment. It's a much better deal for everyone involved if we can reuse a building. That Kmart was just in a great spot on Tower Avenue – good visibility in the heart of town."
He worked directly with City of Superior officials on "permitting and planning and overseeing the buildout of the store itself with our management teams and the local contractors we hired," Sybant said. "It was great; Superior was great. Communication was fantastic, which is always the biggest thing."
Jason Serck, who is the City of Superior planning, economic development and port director, also says the project was done relatively smoothly. "Essentially, the City of Superior needed to make a zoning change to accommodate storage units to be allowed in C2 Highway Commercial Districts," he said. "Instead of just allowing storage units, the Plan Commission and City Council included caveats, including mandating a retail location and design controls to fit in with the retail corridor. I think the investment that U-Haul made is definitely notable."
"We decided we weren't going to buy a delivery vehicle anymore. They help our business save on costs."
– Owner Greg Pahos, Tri-State Business Systems
Assistant General Manager Zach Roberts is a relatively new U-Haul employee, but he, too, has a strong sense that the store is good news for Superior.
"We've had so many people say that it's nice we've done something with the building," Roberts said. "We don't want to be just another business that you drive by. If there's any way we can help any other businesses along in Superior, we're willing to. We want to be part of the community."
New jobs in Superior are also among the benefits U-Haul has brought to town. Currently, Roberts and Hall are full-time, as is another employee who serves as a "hitch professional." There are also five part-time customer service representatives and two storage custodians, and the plan is to keep adding to that roster. "We're excited that we're able to provide additional jobs for the community," Sybrant said. "This location's going to end up with 15 to 20 jobs that were created with this building."
Business customers are already happy to relay their positive impressions of the new facility. Greg Pahos, owner of Tri-State Business Systems, says that U-Haul helped his business cover for a malfunctioning truck.
"I was surprised by how nice they were and how much they scrambled to get us the right truck," said Pahos. "They did such a great job. Their billing was easy. From that moment on, we started looking into renting a couple more trucks to move copiers and furniture and things like that. We got to the point where we decided we weren't going to buy a delivery vehicle anymore. They help our business save on costs."
"They've helped us ship items across the country with the containers that they offer … It's actually helped us grow our business."
– Owner Nate Finstad, Twin Ports Bid
Nate Finstad says that his business – Twin Ports Bid – went through a similar process of realizing that U-Haul could help him save on upkeep, too. The company's personnel have many years of auction sales, marketing and management expertise in areas including commercial/industrial equipment, construction equipment and tools, restaurant equipment, firearms, furniture, collectibles and antiques,  estates and more. 
"Everything was a great experience with them. James [Hall] kind of opened my eyes about different ways we could handle stuff," said Finstad. "Before, we didn't have that in town; you'd have to go on top of the hill [to the Duluth location].
"They've helped us with packing materials," Finstad continued. "They've helped us ship items across the country with the containers that they offer. You can be a business and utilize these guys and do a lot of the work yourself – and save yourself a lot of money. It doesn't pay for me to have a huge box truck that's going to sit, and you have to worry about the insurance and maintenance. It's actually helped us grow our business." He also noted that he can market items nationwide more easily, as well as ship them to his customers, with U-Haul's help. "It couldn't have worked out any more perfectly for us," he said.
U-Haul's investment in Superior has not only resulted in a high-profile vacancy being filled. It's been filled by a business that is very eager to serve this community – both residential and business customers. And the community is already responding with praise.
"We've gotten a huge response," said Hall. "I get people walking in here all the time who just love everything we've done. I've had people stop by just to thank us for doing something with the building. It's really cool to see and hear."  P.S.
Tony Bennett is a freelance writer based in the Twin Ports.
Like this article? Want to read more?
Click here to subscribe to Positively Superior magazine.