By Kevin Ott
A Superior Celebration
Lake Superior Ice Festival Grows to Celebrate the Fun Side of Northland Winters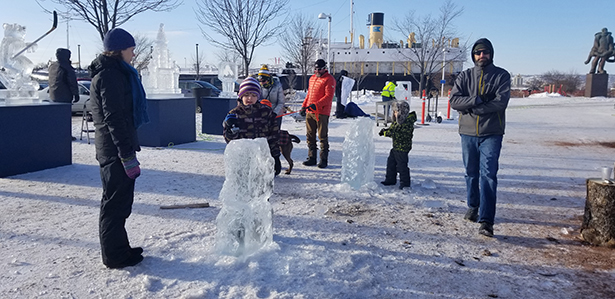 If one thing is clear about the winter season in our area, it's that it can sometimes overstay its welcome. That is why the City of Superior decided three years ago that it was time to organize an event that would be inclusive and family-friendly during the dog days of winter.
After many meetings held and calls made, the Lake Superior Ice Festival partnered with several local businesses and organizations to make its debut in January of 2017 at Barker's Island. Featuring attractions such as the Great Lakes Pond Hockey Classic, a snow slide more than 70 feet long, bonfires and s'mores, plus a fireworks show, the first festival started off with a bang.
"The festival showcases what people already know: that winter is awesome and we should be celebrating it," said Nikky Farmakes, director of marketing and social media for the Superior-Douglas County Area Chamber of Commerce. "It shows how resilient the Superior people are and how much we want to make Superior a great place to live, work and play every day."
After a successful first year, festival organizers have worked hard to find ways to bring in more partners and make it bigger and better each year. "Every year we are trying to add something new," Farmakes said, mentioning an improved Kid's Zone in 2019 that included craft activities, a scavenger hunt, photo booth, interactive exhibits and visiting with Sterling Silver Ice Princesses and other characters. Ice racing is also a crowd pleaser, featuring stock car racing through the Lake Superior Ice Racing Association and motorcycle and ATV racing through the Midwest Ice Racing Association.
The third annual ice festival this year brought even more to the table, including an igloo building contest sponsored by the Superior Sunrise Centennial Rotary Club, a portable sauna known as a "Hiki Hut" outside of the Lake Superior Estuarium and the Big Pond Bonspiel organized by the Superior Curling Club. The Ice Sculpture Clue Contest was also a 2019 addition; festival attendants could visit each business hosting an ice sculpture for a chance to win $500 in "BID Bucks" that can be used to buy goods or services at participating Superior Business Improvement District businesses.
Putting on an event this size requires months of preparation and many community partners, according to Farmakes. "We get started planning as soon as August," Farmakes said, "and if it wasn't for the support of the community and the business community in particular, this event would never happen."
One of the key organizations that has partnered with the festival since year one is the Superior Amateur Hockey Association (SAHA). For over 15 years, SAHA's largest fundraiser has been the Great Lakes Pond Hockey Classic, a tournament that has attracted hockey players from Superior and beyond.
Essentially a smaller version of traditional ice hockey, pond hockey has much shorter nets, fast-paced passing, shorter games and only four people per team on the ice at a time. The lake surrounding Barker's Island allows ample space for the sport, if the weather cooperates.
The City of Superior approached SAHA in 2017 to ask for ideas for a winter event.
"We suggested that holding a festival during the Pond Hockey Classic would be a good idea," said SAHA President Brian Raygor. Since the Pond Hockey Classic was already a well-established event in the community, it was an idea that was positively received by both groups.
"It's been an excellent partnership so far," Raygor said. "For us, we would love to have more teams register, but we have gained more teams since partnering with the city, and more importantly, gained foot traffic to sell more items and raise money."
The tournament has an Open and Rat Rink division, with teams playing multiple games over the weekend. The teams who win and score the most goals move on to the playoffs later in the weekend, with the championship held on the last day of the festival on Sunday.
SAHA also builds a larger rink for open skating and the Guns and Hoses game, a match between the Superior Police Department and Superior Fire Department. The tournament overall has clearly caught the attention of the public as it was named "Best Local Tournament" by the Duluth News Tribune in 2018.
"When I was first notified that we were voted best tournament I was, like, 'Wow, that is awesome,'" Raygor said.
While public approval is a good thing to have, the main goal of the Pond Hockey Classic is to raise money to help kids in the area learn and enjoy the sport of hockey. All proceeds from the tournament go back to SAHA and are used to help keep registration costs down, update rinks and help pay for jerseys as well as other benefits.
"It all goes back towards raising money for the kids, because that is what we're all about," Raygor said.
Another key group in the festival since its first year is partnering sponsor Enbridge. In addition to monetary support, Enbridge teams up with United Piping Inc. (UPI) to make the snow slide a festival favorite every year.
"UPI uses some of their heavy equipment to build the snow slide, while Enbridge provides the sleds and coordinates volunteers to make sure it runs smoothly," said Enbridge Supervisor Line 3 Technical Specialist Janelle Hnatko.
The Ice Festival is just one of many ways that Enbridge supports the community. It also organizes quarterly volunteer activities each year for local organizations such as Western Lake Superior Habitat for Humanity, the Lake Superior Zoo and the Society for Women Engineers at the University of Minnesota Duluth. "We really like to be involved in the community where we work," Hnatko said.
Located right on the festival grounds of Barker's Island is the Lake Superior Estuarium, which first got involved with the event in 2018 just a few months after it opened. Since then, it has hosted the Kid's Zone in the estuarium exhibit hall.
"It was a huge boost in visibility for us, and I think we made some really good community connections through the festival," said Deanna Erickson, education coordinator for the Lake Superior National Estuarine Research Reserve.
Erickson, who attends and volunteers for the festival, also appreciates the event for the spirit it brings to the community. "I really appreciate the way it makes winter an advantage in our community," Erickson said. "We have beautiful winters. It's something we can complain about sometimes, but this illustrates how fun it can be."
Members of the business community are also finding ways to promote and support the festival. Businesses can hold "Ice Specials," which are special deals that only last during the weekend of the festival.
Ice Specials have been offered through the Barker's Island Inn Resort & Conference Center, Superior Public Museums, Richard I. Bong Veterans Historical Center and discoverpc.NET Computer Solutions Center, among other organizations and companies.
Businesses can also help support the festival by purchasing an ice sculpture to display outside of their property. The Spirit Room, 7 West Taphouse, and Barker's Island Inn Resort & Conference Center are just a few of several businesses that have taken advantage of this marketing opportunity.
For example, discoverPC.NET has both offered Ice Specials and hosted a laptop-shaped ice sculpture. It offered a free 27-point computer checkup at their business during the festival, which usually costs $39.
"The festival is a great way for a local business to support a community event," said discoverPC.NET co-owner Tylor Elm, who is also a Superior City Councilor. "As a business, I would encourage more to get involved, because the Ice Festival is where the people are."
As the Lake Superior Ice Festival continues to grow, it's clear that this event is here to stay.
To keep updated with new events, photos and offerings during next year's festival weekend, visit www.lakesuperioricefestival.com. P.S. 
Kevin Ott is a writer/editorial assistant at AdMax Inc.

Like this article? Want to read more?
Click here to subscribe to Positively Superior magazine.