By Judith Liebaert
Building Business
In Superior, the Historic Trade and Commerce Marketplace Defines the Intersection of Art and Commerce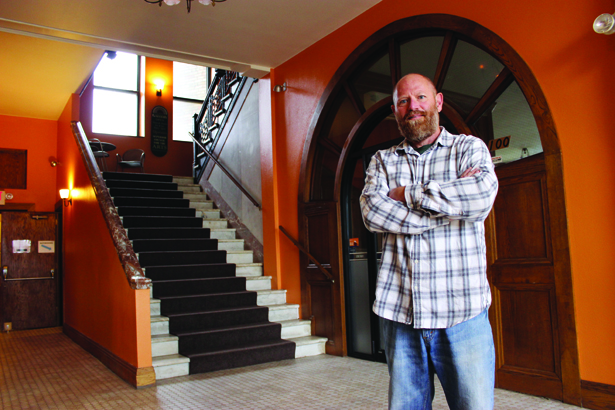 On Oct. 4, 1890, the Superior Evening Telegram reported that "On the corner of Broadway and Hammond, standing but alone in its magnificence and extending skyward to the height of five stories, is the Trade and Commerce building, one of the most substantial evidences of Henry D. Minot's faith in the future of Superior."
Now listed on the National Register of Historic Places, the Trade and Commerce Building – now known as the Trade and Commerce Marketplace – is co-owned by Jeff Heller and a silent partner. There are currently eight thriving businesses in the building, and Heller's faith in the continued viability and success of the historic property stands up to that of its original owner.
Heller is a civil engineer and partner at Krech Ojard & Associates in Duluth. The building's antiquity and unique architecture are what attracted him, including the brownstone exterior and large, arched windows. "I also liked its location in a neighborhood, rather than downtown," Heller said. "That uniqueness struck me. I thought, 'I can do something with this.'"
The five-story building, designed by Clarence H. Johnston Sr. in the Romanesque style, was built by Henry Minot's Superior Improvement Co. It was intended to house the Chamber of Commerce and the Board of Trade in two expansive second-floor suites. The city's streetcar company, in which Minot was involved, occupied main floor offices. There was also space intended for a banking business. Upper floors were designed as office space for lease.
"I'm here as a caretaker. The real story is the people that are here with their business, their dreams."
– Trade and Commerce Marketplace co-owner Jeff Heller
According to Heller, Minot's untimely death changed things a bit. Minot was a railroad investor, at one point director of the Great Northern Railway and later president of the Northern Pacific line connecting Manitoba to Lake Superior. Minot died in a train crash in Pennsylvania on Nov. 14, 1890. He was only 31 years old.
Though completed, the failure of new business to spread eastward on Broadway left the magnificent building somewhat of a white elephant until the city offered to purchase it on a contract for deed in 1904. Municipal offices were moved into the building and the city paid off the contract – $41,500 – in April of 1912. "This place had a life as City Hall – courtrooms, police station, the jail that was added on the north side – until the late '70s," Heller said.
At that time, the new city complex was completed at 1409 Hammond Ave. and municipal offices were moved there. That three-story building is now owned and occupied by Enbridge Inc.
The Trade and Commerce Building languished, with some miscellaneous enterprises coming and going for about a decade, before Heller stepped in. "I've had it now for 26 years. I'm here as a caretaker, to see that it functions. The real story is the people that are here with their business, their dreams," Heller said.
Heller's experience creating a marketplace for niche businesses was fairly close to what he'd anticipated. He and his partner have taken a slow approach, trying to work out of cash flow without borrowing too much. They plan to eventually install an elevator and continue interior remodeling on the upper floors, building out spaces to suit tenants.
"This is my love. I'm bringing an alternative for health and wellness into the community."
– Yoga Tree Studio owner Catherine Anderson
"We'd like to see one big anchor or a couple of businesses for the upper floors and remodel to their needs," he said. "We're not going to do it in a hurry or do a build-out and then the tenant is only here for three months. If you want to join this endeavor as a long-term commitment, we'll make it attractive.
"It's very rare that we have more than one space or office open. Usually, when a tenant leaves, they have purchased their own space. I don't look at that as failure; that is a success. If they can come here, have a reasonable rent and concentrate on the business rather than their space – and then move on and become successful, that will all come back to us somehow," Heller said. "I've had people in here and didn't charge them any rent. They just needed a space to get started and I wanted to help them out."
Heller also said that businesses and tenants have to fit in with the group. It's just always worked that way. "The right fit is way easier to manage than just filling the space," he explained.
All businesses in the building are independently owned, except for the Spirit Room, a pub-style tavern that Heller and his partner opened in June. Every tenant agreed that there's a vibe in the building, a spirit of cooperation – but even more so, a relaxed, inviting ambience they don't want to alter.
"It's an organic kind of internal growth that has suited us well," Heller said, adding that he didn't get into it for profit. "I have a successful engineering business; that's how I make my living. I'm not in the real estate game for rental property. I'm into creating an environment where people can do their thing and in the interim pay the rent."
"We develop arts-related programs, discover new artists … and assist them in developing art careers."
– Patricia Lenz, Superior Council for the Arts chair
Catherine Anderson opened Yoga Tree Studio (the business with the most longevity in the building) 16 years ago, later adding therapeutic massage and other services. She introduced yoga to Superior when she started teaching classes at the YMCA and then in the Twin Ports Gymnastic studio at the Mariner Mall. The whole time, she was open to finding her own space.
Anderson had lived in Superior 25 years, but had never been in the historic building until the fateful day she visited with a friend. "When I walked into this large room on the second floor, I knew I'd found my space," she said. The current tenant was vacating, so she called Heller, who was reluctant at first. "I bugged him until he finally said okay," Anderson said.
Business was slow at first, but Anderson was committed. "People have to be able to count on you. When you say there is a class at noon on Wednesday and you are here every single Wednesday, you can't help but grow," she said.
Anderson now has seven other yoga instructors working out of the studio, one Qigong (a Chinese system of exercise and breathing control) instructor and an additional massage therapist. She's retired from her nursing career and while the studio is really a full-time endeavor, it doesn't feel like work. "This is my love. I'm bringing an alternative for health and wellness into the community," she said. She also leases an additional ground floor space at another location to provide handicapped access to disabled and elderly massage clients.
The North End Arts Gallery across the hall from Yoga Tree Studio is also home to the Superior Council for the Arts (SCFTA). The gallery has had regular art exhibitions in the building since 2004.
Patricia Lenz has been with the organization since 2009 and has been SCFTA chair since 2010. "We develop arts-related programs, discover new artists, exhibit their work in the community and assist them in developing art careers. We're committed to emphasizing contributions of Superior and Douglas County artists," she said. "We also work to revitalize Superior's economy by inspiring new energy in our creative present, based on the region's creative past."
SCFTA is planning a celebration in 2016 to inspire economic activity through participatory theater, art exhibits, music and storytelling events based on historical archives and oral history.
"The ambiance has been a help, for sure. People want to spend more time in this building."
– co-owner Suzanne Johnson, Red Mug Coffeehouse and Bakeshop
SCFTA's location has provided a good experience. "People love the building and identify the 'Red Mug corner' as one of the most vital in Superior," said Lenz. "There is a constant flow of people. It helps us be visible and it feels good to be in the friendly place."
SCFTA is also responsible for administering the Broadway Community Gardens located kitty-corner from the Trade and Commerce Marketplace. The outdoor space includes permanent sculptures and hosts annual sculpture exhibits as well as the Kristkindle Outdoor Christmas Market in December. Heller owns the property and envisions an expanded marketplace on the corner lot offering fresh market foods. "I see it in other communities," he said. "They are vibrant if they are done right."
Karin Kraemer, owner and artist at Duluth Pottery-Superior Division, was instrumental in the garden's creation and has served as SCFTA Chair. She's been in the building for close to 15 years.
"I was working at the art institute in Duluth in their group studio and I needed more room," Kraemer said. "I came here, met Jeff and he talked me into it."
She first occupied a smaller group of rooms. "I was there for a couple of years before we started working on this space. This one is nicer; it's bigger and has more sunshine," Kraemer said of her basement studio with an off-street entrance via a stairwell on the Broadway frontage. "And it's right next to the coffee shop."
Kraemer specializes in Majolica pottery. "I make functional wares that are very decorative," she said. She sells out of her studio, but also has a wholesale trade of mostly restaurant ware as well as tiles for homeowners and businesses. She sells on a national level, but most of her business is local. "I just think it's a better way to live, to do it here," Kraemer said. "Being in this space has been wonderful. Just getting a studio that's all mine changed everything; having more psychological space is huge. You're not thinking, oh, I have to fit this on my kitchen table. It's been great doing business here in Superior. And there's free parking."
Suzanne Johnson owns the Red Mug Coffeehouse in the basement level and the Red Mug Bake Shop on the main level. "Kat Eldred was the original founder of the Red Mug," Johnson said, noting the business just celebrated its 10th anniversary.
Johnson was working for the Superior Telegram in advertising sales when she saw a sign announcing the opening of Red Mug Espresso. "Kat advertised with me. I got to know her and I loved the coffee house," she said. "I told her if she ever wanted to sell the business, or was looking for a partner, to let me know."
"We wanted it to be a place where people could meet after work, have some food and share conversation."
– Manager Lindsey Graskey, The Spirit Room
Not long after that, Johnson changed jobs and decided to supplement her full-time paycheck with a part-time job. She found what she was looking for at the Red Mug. "Once I started working there, I knew it was what I wanted to do," she said. "I quit my full-time job and ended up buying her out about three years ago." Johnson is the majority shareholder in the business.
"I own a very small percentage," Heller said. "It just makes it easier when purchasing equipment and things of that nature – but Suzanne has full, autonomous control of the business."
At the same time Johnson was purchasing the Red Mug, Sustenance Artisans Bread was planning to close. "Jeff had an interest in keeping the place open. We'd been working with only one tiny oven in the Red Mug and wanted to expand what we could offer as far as bakery items. I took over the bakery," she said.
Johnson is excited about future plans for both businesses. "We've been doing some catering and we get requests for so much more, but we need more cooler space and more storage to do that," she said. "After the first of the year, we are discontinuing retail sales in the bakeshop." She noted that customers may still purchase the full line of baked goods in the coffeehouse downstairs.
When asked how the building influences the business, Johnson said there's no doubt it helps draw new customers. "The ambiance has been a help, for sure. People want to spend more time in this building, and they've always done that at the Red Mug," she said. "But it's nice that there are more businesses now. The Spirit Room is going to be a big help with that."
Johnson helped develop the menu for The Spirit Room's tapas bar and the plated appetizers are prepared in the bakeshop kitchens. The name for the pub-style tavern was inspired in part by the building's reputation for having a distinct spirit – that ambiance and positive energy tenants and their clientele all enjoy.
The Spirit Room's 1,000-square-foot space was completely transformed in Heller's effort to create a modern tavern while staying true to the building's history. The attention to detail in the tavern's style and finishing is flawless. The metalwork covers for radiant heating were cut and repurposed from the original elevator cage. Original vent grates were also used after cleaning and powder coating. Some of the building's iconic marble was repurposed along with the quarter-sawn oak. Such care was taken in matching newer wood to the original that it's barely distinguishable. Entering The Spirit Room is like walking into the reception parlor of a stately, century-old mansion. Then you see the modern, fully stocked bar.
"The idea of being in an art community, in a building like this, was appealing."
– Katie Hanson, White Cedar Studio
"We wanted it to be a place where people could meet after work, have some food and share conversation," said Manager Lindsey Graskey. "People are finding us; we're becoming more known. I think that's what we wanted – for people to discover it versus a big marketing push. We wanted it to be their place to create.
"From the small, plated food to the way we make a drink here, the craftsmanship carries through," Graskey said. "It makes us stand out. It shows with the quality we are putting out in the food, in the drink and the atmosphere. I think it [the Spirit Room] raises the bar and gives the city something to be proud of."
Not all businesses are open to the public. In a large corner studio on the second floor of the one-time police headquarters, Erika Mock, who's been in the building about 10 years, turns fibers into art. "I had been working out of my home and on a whim I stopped here to see what might be available," she said. " I had seen this space earlier, when Karin [Kraemer] held a multi-person art show. Even then, I thought it would make a good studio space.
"I've always been active in the community, but I create in a solitary environment and then take my art out to the world – art shows, exhibits and fairs," said Mock. "I have a desire to bring my work out to the community so they are engaged in art.
"Being here influenced my work in that direction. I saw the potential of what can happen when art is the hub, where people can come and have fun, become curious, and see in a different way outside of the ordinary," Mock said. "The influence that you feel when there are other creative people working in the building is an undercurrent of energy that keeps you going. It opens up new ways of thinking creatively. All of it has influenced my work in really big and little ways."
Directly below Mock's studio is the newest business joining the Trade and Commerce Marketplace. The White Cedar Studio offers custom jewelry and jewelry repair. After months of refurbishing the interior of the three-room studio, owner Scott Hanson opened in November with the help of his wife, Katie. Hanson's work combines the art of lapidary and metal smith settings to create designs inspired by the Lake Superior region's natural elements.
"Scott has been working out of our garage since 1998. He's done a lot of work for jewelry stores in Duluth. This spring we started thinking it was time to have a more professional looking space to meet with people," said Hanson. "Also, he needed more space to work in. The idea of being in an art community, in a building like this, was appealing. There aren't a lot of unique places like this, or places with the opportunity to be involved with other artists on a daily basis."
"The patients love the place; they look at it as a destination."
– Dr. Greg Luke, Luke Chiropractic and Wellness
The showroom is open by appointment only. For now, the Hansons are not planning regular retail hours. "That might change sometime in the future, but it's really not in our plans," she said. "I suppose it depends on how it grows."
Luke Chiropractic and Wellness is also located in the former police headquarters, with a direct entrance from Hammond Avenue. Dr. Greg Luke operates the business with his wife, Patty. "We're coming up to our five-year anniversary at the first of the year," he said.
The Lukes came to the Red Mug building after leaving a partnership in East End. "The minute we started looking for a new location, my wife Patty thought of this building," he said. "I was the naysayer. I told her we can't have stairs; it would have to have a street entrance. She talked to Jeff and he created this space for us.
"The location of the building is great because of its proximity to Duluth – right over the bridge, free parking, easy access, visible road," said Luke. "I put my sandwich board out. And I get so many patients that just see our funky sign [that] we've virtually stopped all our advertising.
"The patients love the place; they look at it as a destination. They have coffee downstairs, they buy bread upstairs and they visit the North End Arts Gallery," Luke explained. "It's been a great asset to us having a vibrant business, and in turn, we've introduced new people to the building."
Heller worked with the Lukes to remodel the space for their needs. Luke said, "He really likes to involve the tenants in what's going on in the building, having them commit to the building the same way he would commit to us." The Lukes split the cost of improvements to their offices with Heller. "He matches the money for the project right up front, then will give back on our investment in reduced rent," Luke explained.
Every tenant has a similar story, whether it's a new coat of paint or more extensive improvements. They realize a return on everything they put into the building. Heller is more interested in finding the right businesses and helping them any way he can than in charging the going rates for commercial space.
"It's a good project for the neighborhood and the community. And I think it's a concept the city is embracing, the university is embracing, and [that] local business understands – a reinvention as somewhat of a cultural and art hub. We've kind of anchored that here," Heller said.
Kraemer agreed. "When I first came to Superior, there wasn't a whole lot of art going on here. It's fun being part of a large art community, but it's more exciting when you can create one."
"Superior has always supported Superior, in a good way," Heller concluded. "But I've felt that more in the last three months that I ever have. It's made me think I'm doing the right thing, based on what I get as feedback and patronage."  P.S.
Judith Liebaert is a freelance writer based in Northwest Wisconsin.
Like this article? Want to read more?
Click here to subscribe to Positively Superior magazine.