By Andy Greder
Calumet's Big Investment
Calumet Specialty Product Partners' Acquisition of Murphy Oil Results in a Seamless Transition and New Product Potential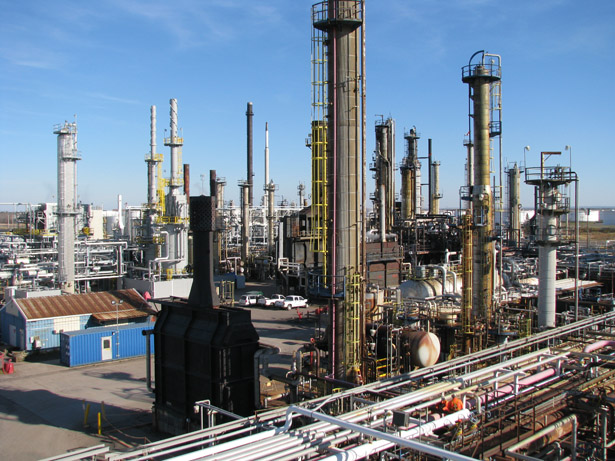 The big news regarding the $475 million sale of Murphy Oil to Calumet Specialty Product Partners is that there's little news at all. It's been business as usual at the Superior refinery of gasoline, diesel, kerosene, asphalt and home heating oil – and business is good.
After the sale was finalized in October, production from 35,000 barrels of crude oil per day has remained constant and the workforce of about 160 employees has remained unchanged.
"On Oct. 1, the trucks were coming through here just like any other day," Plant Manager Dave Podratz said. "They were loading up with product for their customers. Really, nothing has changed – not the sort of products that we make here, not how we are operating the refinery. It's really business as usual."
OK, there has been one cosmetic change, Podratz pointed out.
"Now, we will have a Calumet patch on our overalls instead of a Murphy one," he said.
Calumet Specialty Product Partners is an Indianapolis-based company with hundreds of products ranging from engine oils to body lotions and from lip balm to adhesives.
Jennifer Straumins, president and chief operating officer for Calumet, said the Superior refinery fits well with its existing holdings.
"No. 1, we thought it was a very well-run facility," Straumins said. "It's run by a great group of people with a great set of assets."
Calumet Vice Chairman and Chief Executive Officer Bill Grube, in a July 25 news release, said, "We expect the acquisition to be immediately accretive to distributable cash flow." He added, "The Superior refinery acquisition provides us greater scale and development potential to our refining business. The acquired assets will increase our current throughput capacity by 50 percent to approximately 135,000 barrels per day and will add beneficial geographical diversity to our assets."
Superior Mayor Bruce Hagen says the arrival of Calumet is positive for several reasons, including its similarities to Arkansas-based Murphy.
"Murphy was a solid corporate citizen for about 60 years," Hagen said. "I believe that Calumet will be equal in that stature as well as a family-owned company that knows its roots."
The mantra "no news is good news" is relevant because of the refinery's significant role in the community and region and the uncertainty that comes with a sale to new ownership, said Joe Stariha, Como Oil & Propane's senior vice president and chief financial officer.
"We are talking about employment, tax base, the economic impact of their local purchases and their community involvement," said Stariha, whose company receives a large portion of its heating oil from Calumet. "I think that everyone is understandably a little cautious when someone from outside the area buys an important local employer. By all indications – what they've said publicly and their actions so far – support that Calumet will continue to be a contributor to the local and regional economy. They will continue Murphy's community involvement. Generally, we are pleased to welcome them here."
Hagen called the presence of Calumet a stabilizing "anchor" in the business community that is interconnected with suppliers, servicers and customers.
"Their tentacles within the community are very wide and deep," he said. "As far as external and ancillary offspring, in regards to jobs and economic activity and turning the dollar over to the community, all have been very positive."
'We are looking at cranking out high volumes of … things such as gasoline and diesel fuel.'
– Dave Podratz, Calumet Specialty Product Partners
Podratz, who also serves as president of the Superior-Douglas County Area Chamber of Commerce, said one chief concern from the sale announced in June was how it would
affect employment.
"Murphy had a contract in place with the union, a collective bargaining contract, and one of the terms was, if the facility was sold, the new owners would have to honor the contract," he said. "Contractually, nothing has changed, and furthermore, our relationship hasn't changed as the management with the union. It's all the same people."
Straumins reiterated that Calumet plans to keep employment steady and that further capital investments are probable. She said specialty solvents for mining
operations could be a future product offering in Superior.
'We are very dedicated to continue what (Murphy has) done in the community.'
– Jennifer Straumins, Calumet Specialty Product Partners
Chuck Jacobson, the Local Business Agent for Local 317 of the International Union of Operating Engineers, said the cohesive relationship with Murphy Oil dates back at least a decade.
"From the union perspective, it's been fairly smooth," said Jacobson, also the head operator in the plant's crude area. "Calumet seems like a good company … Calumet has accepted our contract, and we are looking forward to working with them in the future with the hope of maintaining the same relationship we had with Murphy Oil."
If differences arose between the union and management in contract negotiations, open communication helped resolve the issues.
'I believe that Calumet will be equal in that stature.'
– Mayor Bruce Hagen
"It's never been a real conflict," said Jacobson, who's headed the union for 10 years.
For Como Oil, the heating supplier to more than 20,000 area customers, the established reliability of the former Murphy Oil plant is important as it goes forward with Calumet.
"The winters here can get very cold and when everyone is running their furnaces, they can use a lot of product quickly," Stariha said. "We just can't afford to have any interruptions with supply.
Murphy has always been very good about having product available when we need it."
To ensure reliability of service, Stariha said Como has been working closely with Calumet since the ownership transition became official in October.
'From the union perspective, it's been fairly smooth.'
– Chuck Jacobson, International Union of Operating Engineers
"We have a supply contract with Murphy, and now with Calumet, and it looks like there are not going to be any hitches in continuity of business," Stariha said.
Across the street from Calumet is Stack Brothers Mechanical, which relies on the refinery as its biggest industrial maintenance contract. No surprise here, when company President William Stack says it's been "status quo" through the transition.
"They are very valuable to us," Stack said. "Not only are we neighbors located across the street from them, but we maintain a good working relationship with them. I know what kind of responsible corporate citizens they are. It's nice to be able to associate yourself with a company like that."
Calumet's business spans hundreds of specialty products, and Podratz said he believes the Superior refinery will complement its existing product offerings.
'By all indications…Calumet will continue to be a contributor to the local and regional economy.'
– Joe Stariha, Como Oil & Propane
"They tend to focus on the higher-margin, perhaps lower-volume products than a typical fuels refiner would," Podratz said. "We are looking at cranking out high volumes of low margin things such as gasoline and diesel fuel.
"We are a nice complement to their specialty products," he added, "as well as geographic diversity on top of three refineries they have in Louisiana and the one in Pennsylvania."
He also noted that the rail yard installation project at the Superior site is under construction. It will consist of about 20,000 feet of track and eventually include facilities to load diesel gasoline and asphalt to expand the refinery's markets.
Although Murphy was based in Arkansas, it was supportive of the Superior community, Podratz said. Murphy contributed about 20 to 25 percent of Superior-Douglas County United Way's annual campaign funds and was a member of the chamber and The Development Association. Murphy encouraged Podratz to become a chamber leader. Murphy was also an active sponsor of Superior Days.
"Murphy always had good relationships with the business community," Podratz said. "I don't see that changing with Calumet."
Straumins said Calumet lets the individual plants or refineries pick their philanthropic channels, which includes scholarships in Shreveport, La.
"We are very dedicated to continue what (Murphy has) done in the community," Straumins said. "We run each of our locations independently and really give the plant management a lot of freedom and a lot of flexibility to do what is important in the area. I know that Superior is very dedicated to the United Way and we will continue to do that."  P.S.
Andy Greder is a freelance writer.
Like this article? Want to read more?
Click here to subscribe to Positively Superior magazine.