By Paul Nicolaus
Unstoppable
As Executive Director Kaye Tenerelli Prepares to Retire from the
Superior Business Improvement District, It's Clear that Her Legacy Will Live On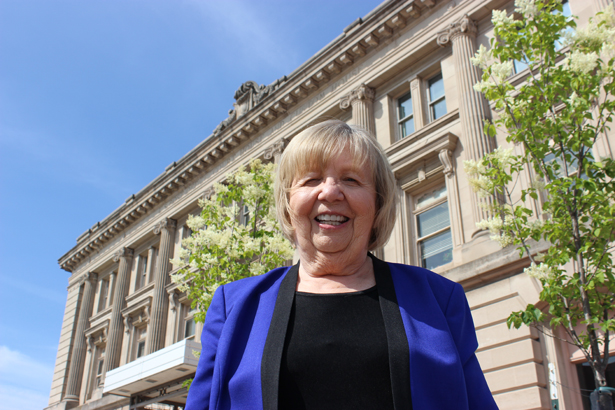 "This has been one heck of a ride," says Kaye Tenerelli, who is winding down an impressive 24-year run as executive director of the Superior Business Improvement District (BID), which encompasses 89 blocks, 322 tax parcels and more than 300 businesses in the city's core downtown area.
"Primarily, our responsibilities are to advocate, promote, provide financial assistance and be the voice for a geographic area," she explains, and as she reflects on her tenure, it's the individuals she's worked with who stand out. "I have gained so many friends and met so many people that I probably would not have had the opportunity to meet, had I not been in this job," Tenerelli says. "I'm a people person, so that has a great deal of value to me."
As she prepares for her retirement in August, a number of notable members of the business community have expressed their appreciation for the far-reaching impact of Tenerelli's efforts over the years, along with the qualities that have allowed her to thrive along the way.
"You know the little bunny they call the Energizer?" asks former Superior Mayor Margaret Ciccone, beginning to chuckle. "That would be Kaye. She has a lot of energy."
"I've never seen her have a bad day," says Mayor Bruce Hagen. "She's always got an upbeat and positive disposition with a smile behind it. She's just a wonderful lady and a dear friend."
"She embodies Superior. She loves Superior with every cell in her body," adds Sen. Janet Bewley (District 25). "I think that we would have a very different Superior if Kaye hadn't been there. The Superior that we see today has a lot of Kaye Tenerelli in it."
"I've never seen her have a bad day. She's always got an upbeat and positive disposition with a smile behind it."
– Superior Mayor Bruce Hagen
Beneficial Background 
Tenerelli, who was born and raised in Indiana, has a business background that includes experience in Florida, where she worked for what was at that time a small independent bank that expanded and was later bought out by a large corporate bank.
She says she was fortunate to be at the right place at the right time, gaining valuable experience handling branch expansion and developing regional processing centers – a practice that commonly occurs today, but was new to the market at that time.
"It was a great experience for me to learn a wide breadth of skills that I didn't have going into the banking industry," she says. Tenerelli worked her way up to her role as senior vice president of bank operations until she and her husband decided to move northward.
"These are all people who firmly believe in Superior and really want to be a part of seeing a transformation."
– BID Executive Director Kaye Tenerelli
The impetus behind that cross-country move was involvement in a family manufacturing business – her husband's family-owned Superior-Lidgerwood-Mundy Corp. Although her husband, Don, hadn't ever given much thought about entering the family business, as his father got on in years and they engaged in conversations, he felt that he needed to at least give it a try.
As her husband took over the family business, Tenerelli spent the first seven or eight years in Superior heavily involved in community work, which fell in line with a request made by her father-in-law. He said the Tenerellis owed a great deal to Superior because the city had been so good to their family. And he hoped she and Don, who co-own the company, would fulfill that repayment by becoming involved in service work.
"Don and I would have done that anyway," she says, "but having that charge just made it even more meaningful for us to participate in the community, which both of us did and have done." And that's an understatement. She has served on the board of directors for more than 20 area nonprofits and organizations, weaving her way into the very fabric of the community of Superior in the process.
Challenges Overcome  
When she first began her role with the Superior BID, Tenerelli notes that the core downtown area was losing businesses due to the arrival of big box stores and Wisconsin's sales tax on clothing. "So we were faced with a major challenge and it's still a challenge," she says, "but it's slowly reversing itself to try to keep businesses here in the BID."
"Kaye will explode a problem. She will pull it apart and see all of the possibilities by coming up with a vision."
– Sen. Janet Bewley
Another major difficultly had to do with first impressions of the downtown area alone. "I think the appearance of the street itself, particularly North Tower Avenue, didn't lend itself to having the look or the feel of someplace friendly, welcoming and safe," she says. "Even though it was safe, people perceived that it was not."
Working with property owners to invest in repairs and improvements was a key part of the evolution that has taken place over the years. "I cannot say enough for the many property owners who have spent their hard earned money and taken the risk to enhance their buildings and their properties along the way to improve this area," Tenerelli emphasized.
She also credits the team that was formed to work on the North Tower Avenue streetscape. "The team that was put together was fun to work with; all had a strategic goal that they wanted to reach and they were able to compromise," she says. "It was a perfect storm and it just worked."
Consisting of property owners within the BID, these volunteers have worked on this particular project over the course of the last seven years. And current work on the planned Belknap Street rebuilding project will likely consist of another five to six years for these same individuals, which include an architect, a business interior designer, an exterior designer and a historian, among others.
"She's one of the first ones to step forward and lend a helping hand. I think Kaye has been a valuable asset to our city."
– Margaret Ciccone, former Superior mayor
"These are all people who firmly believe in Superior and really want to be a part of seeing a transformation on North Tower Avenue," Tenerelli says. "And in believing in it and wanting to be a part [of the initative], they were willing to make that commitment. I cannot say enough thank-yous to them."
One Tower Avenue building in particular comes to mind as Tenerelli considers some of the biggest challenges faced and successes realized. The New York Building, she explains, sat vacant and deteriorating. With the building identified as both a problem and a potential opportunity, a group of interested parties joined forces to figure out what could be done.
"It was an eyesore, it was a problem, it had police calls, and it needed to be fixed," explained Bewley, who was then working as a community relations officer for the Wisconsin Housing and Economic Development Authority. "Over time, because of amazing people like Kaye, we got together a group of people and turned it into a wonderful senior citizen rental building with great apartments and retail space below – and turned an eyesore into a beautiful structure right in downtown Superior."
This was the first of several projects the two collaborated on, and Bewley came to appreciate Tenerelli's ability to look at a problem from every angle, bring everyone to the table who could be of help and leave no stone unturned along the way.
"Kaye will explode a problem," she explains. "She will pull it apart and see all of the possibilities by coming up with a vision – an idea that she's willing to shape. She's not single-minded, but sees a horizon of possibilities and will work with others to achieve a better outcome than you would normally get by being limited or focused on a single outcome.
"She's imaginative, she's fun, she's creative and she's unstoppable. She'll have an idea and is willing to stick with it over the long haul," Bewley adds, noting that Tenerelli is also able to create and foster a common vision. "It's really quite remarkable. It gets people excited about a future that they didn't know they had until Kaye kind of pulls the curtain aside and says, 'Look what we might be able to do.' Then she gets it done."
"She is not one to make a snap decision about something. She'll do her … research on it."
– President and CEO David Minor, Superior-Douglas County Area Chamber of Commerce
In the midst of all this hard work and progress, Bewley notes that Tenerelli has become a friend, a cohort, a colleague and an inspiration.
Relationships Fostered
Bewley's comments aren't unique. A number of others who've done business with Tenerelli have seen their relationships with this linchpin of Superior evolve into much more than just business.
"She's friendly, she's fun to be with and she's always willing to be a good partner in making something happen," Ciccone says. "If we had a project to work on, you could always rely on her to do her part, whatever that might be.
"She enhances everything she participates in," Ciccone adds, "and she's one of the first ones to step forward and lend a helping hand. I think Kaye has been a valuable asset to our city. She has certainly contributed to the wealth and health of our community – but more than that, she is also a great friend."
David Minor, president and CEO of the Superior-Douglas County Area Chamber of Commerce, recalls that when a development team was formed during Ciccone's tenure as mayor, it became a turning point of sorts that allowed relationships to flourish among the city's leaders.
A member of that team since its inception roughly 20 years ago, Minor says that at one point there was a realization that while rushing from meeting to meeting, there is a chance to see and interact with these individuals – but not necessarily the opportunity to slow down and get to know one another on a personal level.
So an email invitation was sent out with the idea of bringing everyone together by gathering each Thursday morning at Perkins at 7 a.m. "There's no agenda," Minor explains. "There's nobody taking attendance. If you have an issue, if you've got a problem, bring it and we'll help you solve it. And that's been going on for 20 years."
With that type of familiarity among the city's leaders, it helps facilitate the process of working together, solving problems and conducting business on a day-to-day basis. And over the course of two decades, Minor says he and Tenerelli have worked together on just about anything and everything, ranging from downtown concerts and events to the Superior Days event at the capitol in Madison (the annual grassroots community lobbying event for economic development) and the reconstruction of Tower Avenue.
"Kaye is a very well-rounded individual," he explains. "She is not one to make a snap decision about something. She'll do her homework and research on it." In addition, she seemed to find ways to bring her wealth of prior experience as a banker and business owner to the table and effectively apply that knowledge and skill set.
"We started off as professional counterparts," Minor adds, "but over the years have become very close personal friends."
Passing the Torch
As she considers the current business climate, Tenerelli says Superior is right on track, which is evidenced by the number of businesses that are choosing to locate and open within the city.
The BID is primarily looking for niche companies, and that's what Superior residents see opening in the area. "Two years ago we didn't have a boutique. Now we have two," she says. "We didn't have a donut shop and now we have one that everybody loves. A vet has moved downtown. There's just a synergy there, particularly for the smaller business person within the Business Improvement District, but we have some large ones looking, too."
"Kaye Tenerelli has done an amazing job with the Business Improvement District."
– Douglas County Administrator Andy Lisak
When she considers her successor to the BID executive director position, Tenerelli says she thinks a good fit would be someone who is able to see the opportunity that is here. "Sometimes people put their blinders on to Superior – and that's a big mistake," she explains. "I hope it's an individual who can see that there is a new day dawning. And there is.
"Quite frankly, I hope it is somebody a little bit different than I am," she adds. "We are all unique, and they are going to bring a whole different skill set to this party. They'll do a great job, and I'll be in the background cheering that person on."
Even after passing the torch, however, Tenerelli's tireless work and community service on behalf of Superior will carry on into the future, according to Douglas County Administrator Andy Lisak.
"Kaye Tenerelli has done an amazing job with the Business Improvement District," Lisak says, "and she's going to be missed. The BID will continue to move forward and continue to do great things in downtown Superior. And the legacy of Kaye Tenerelli will live on for generations."  P.S.
Paul Nicolaus is a Wisconsin-based freelance writer.
Like this article? Want to read more?
Click here to subscribe to Positively Superior magazine.