By Tony Bennett
Built to Last
IHS Door Co. Has Steadily Increased Its Commercial and Residential Customer Base by Manufacturing Products That Surpass the "Slam Test"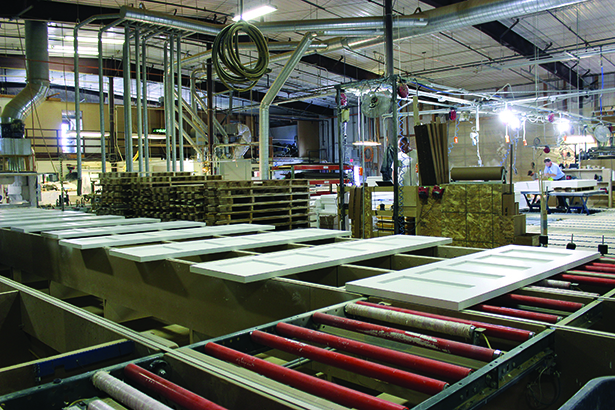 Aside from the wheel (whether it's on a car, bike, bus or other public transport), what other object do most people employ multiple times every single day? How about this: the door.  So it's a good thing there are quality companies out there whose sole job is to make doors of all kinds for both commercial and residential customers, and specially constructed in a manner that is unique. 
In Superior, IHS Door Co., located at 1505 N. Eighth St., is just such business. Since it was launched over a decade ago, IHS has created a manufacturing niche for itself through its trademarked STILEChoice® door brand. In fact, this business has steadily grown from initially serving several customers to increasing the client roster to double digits. 
Zak Richmond is the plant manager at IHS. His father, Keith, started the business, and Richmond said he was there almost right from the start, explaining that his dad "was in wood flooring and door manufacturing. He thought more or less that he had retired from the business." 
"We were doing everything you need to do to put a business together … talking with customers, programming and running a CNC machine to make the parts, running shapers and saws."
– Plant Manager Zak Richmond
But as it turned out, owner Keith Richmond went a different route. He had tested out equipment and built a prototype in his home shop of the kind of door IHS now manufactures and sells. At the time, the younger Richmond had a career in software development, but "We had discussed what the business would look like," he said. "I've been here since the beginning, really. There was a little bit of time where the buildout was happening when I wasn't here, although on my first day on the job, they were still doing buildout in the plant. That was the end of August 2007."
Richmond didn't start as plant manager. "There was no plant to manage at the time," he said with a laugh. "I've always been a pretty key person in the organization. My job has changed over the years. I think my title when I started was assistant engineer and manager, or something like that. We made something up so I had something to tell people."
Humble beginnings, to be sure – but beginnings that definitely led to a company with devoted clients and loyal employees later on down the road, thanks to IHS's focus on quality products and great customer service. 
"The first few orders, it was just Keith and I," Richmond explained. "Actually, this went on for some time. We'd be out on the plant floor answering the phone at the same time we were running production. It was just really the two of us." The Richmonds subsequently were able to hire a person to answer phone calls and do some of the administrative work. But largely, the father-and-son business team was multitasking like crazy for a while. 
"We were doing everything you need to do to put a business together," Richmond recalled. "We were talking with customers, programming and running a CNC [computer numerical control] machine to make the parts, running shapers and saws." 
Thanks to IHS Door Co.'s growth, however, its workforce has also grown. "We've ranged the last year or so between 22 and 26 employees," Richmond said. "We have about four people in the office and everyone else is in the plant. We're all ready to run out and help with production if we need to."
Outstanding product quality and excellent customer service are essential to every company's success, of course. However, it's equally important to determine the sweet spot – finding the business niche that distinguishes your company from your competitors. And that's exactly what IHS Door Co. did.
"The hole in the marketplace really is [that] the overall market is probably 70 percent to 85 percent painted doors," Richmond said. He explained that these are the kinds of inexpensive hollow-core doors that people can buy at a big-box store. 
"That type of door is going to go in – I don't know – [about] 70 percent or 80 percent of houses. On the other end of the spectrum, you have painted solid-wood, router-carved doors that are very expensive – more expensive than our doors," said Richmond. "Our part of the market is typically a whole house where there are 10 to 30 doors – maybe 60. And they will be made for that customer for their job. That's a big part of what we excel in and focus on. We have a huge range of offerings: the sizes of the doors, the designs, the profile, panel combinations.
"Something that I take pride in is that we have a great product at a phenomenal price, and our customer retention is off the charts."
– Dave Moe, Customer Service
"Our main customer market is one-step distributors," he continued. "They're going to be selling directly to the contractor or the end customer. There's one step between us and the jobsite. All of our customers need to further process the door – jambs, hinges, knobs."
As noted earlier, "STILEChoice" is the brand-name the company uses to market and sell its doors. "IHS Door Co. is the name of the company, but our actual product line is STILEChoice® doors," Richmond said, explaining that "Stile" refers to the kind of door IHS makes – a "stile and rail" door.
"It describes the type of construction. Some of our customers refer to us as STILEChoice; they don't even think of us as IHS Door," he noted.
Richmond said that customers come from all over the United States, not just the local region. "We have sold very few doors within our area – we ship all over the country. We don't have a lot of presence in the Northeast yet. Business is getting better; our customers are getting busier," he said. "The intention is to double the business in the next three to four years. We've got a solid handle on the current market. Usually, summertime kind of tapers off – and we're not experiencing that at all right now."
Dave Moe works in customer service, providing pricing and quotes service. He came from a management position at a local Walgreens, and he's watched the company go from "a handful of employees" to what it is today. He signed on, he explains, to be  part of a growing company with opportunities to rise within the ranks. Zak Richmond is his brother-in-law, so he's also part of the family business.
In his five years with the company, he's seen a lot of changes and learned a lot. "I didn't know what I was getting into initially," Moe said. "I didn't have experience with woodwork or handiwork. We were slow enough when I started that people could take the time to show me how to do things and it wouldn't kill production. That helped really shape how I'm able to serve customers and sell." Moe stressed that his training in the plant was very valuable to him in his current position. "If I'm selling a product and they have questions, I know all the different types of doors we sell," he explained. "If there's an issue, I've done countless fixes and repairs [myself], so I can coach them through it.
"The way Keith set it up was really smart in that I was able to learn the language," Moe says. "That really helped when I transitioned into the office. I was able to communicate well with customers right from the get-go."
"We started buying into this pretty cool idea of building an 'I want to' environment instead of an 'I have to' environment."
– Production Supervisor Ethan Taylor
Moe says IHS doesn't spend a lot on marketing and that most customers come to them via good word-of-mouth. "Something that I take pride in is that we have a great product at a phenomenal price, and our customer retention is off the charts. As we grow, we're adding on other customers and keeping the customer base that we have. I think that's huge," he said. He added that IHS's particular painted-door style has become more popular, so that has helped sales as well. Many customers don't want to deal with the time-consuming labor of painting themselves, or having to hire professionals to do so. So they liked the fact that IHS doors are shipped pre-primed.
Another key component in IHS Door Co.'s success is its expertise in fulfilling custom orders; doors that are created right down to a customer's design specifications. "If you have a door that's under a staircase, for example, a lot of door companies will just shave off five or six inches from the bottom of the door, and that's your custom height," Moe explained. "But that door, then, won't look like the rest of the doors. For us, we'll keep the door design intact." IHS will actually "shrink the panels," he said, so it looks uniform with the other doors in the business or home environment.
Customers appreciate the wide variety of design options available, from the number and shape of panels in the door, arches, glass doors, chevron louvered panels designed to filter light and provide privacy and so much more – even barn doors.
Production Supervisor Ethan Taylor has been with the company for about three years. He attributes some of their recent successes to a shift in thinking. "Maybe a year-and-a-half or two years ago, we started buying into this pretty cool idea of building an 'I want to' environment instead of an 'I have to' environment," he said. "What that means to us is [that] when you have people that want to do something, we find there's a personal responsibility. With that, people are able to put in their best effort."
Taylor also painted a clear picture of how the company makes its products from start to finish. "We have our raw materials come in – you just imagine these big five-by-eight-foot sheets of material of various thicknesses – and we break these materials down into components for a door," he explained. "There's a top, there's two stiles, a bottom rail, a cross rail and panels. There are two large CNC machines that will cut all these individual pieces, and then they go to different areas. From there, it goes down the assembly line towards our clamp, and that's where everybody is gluing and assembling. It's this big rotisserie-looking thing that can hold 14 doors.
"The difference is quality. The layperson could see it plain as day in a side-by-side comparison."
– Production Lead Jon Rau
"We'll unload those," Taylor continued, "and then they have to have a curing time. And then they'll go down a conveyor and get fed into our prime line." After that, he said, "They're off the prime line and into packaging, where we make sure the quality's what we need before it goes out the door."
Jon Rau is a production lead who has been with IHS since 2016, and he helps coordinate this whole process. "The difference is quality. The layperson could see it plain as day in a side-by-side comparison" with similar products from a big-box-type store, Rau said.
"What we're doing versus what the competition is doing is we focus a lot on quality. Our second major focus is our lead time," explained Rau. "We're trying to produce a whole household full of doors and get it out to our customer within five days. That's our goal. A lot of people, they're a couple of weeks out."
A reputation for product quality is a huge selling point for the company. Whether customers are business or residential, they all want doors that are expertly sized and that are built to last, so they'll stand up to repeated everyday use. When IHS Door Co. submitted a door to an independent testing lab – the University of Minnesota Duluth's Natural Resources Research Institute – for "slam testing," it passed with flying colors. In fact, after passing the lab's required 500,000 door slams, testing was actually stopped at 519,569 slams since the lab's criteria had been surpassed so greatly.
That is one tough door.
Rau concurs with his coworkers about how the company's business is booming at the moment. "Right now, our people are coming to terms with how busy we really are," he noted. "We haven't seen this before. We're able to produce what we need to inside an eight- or nine-hour day. When it did ramp up, everybody was really pushed back on their heels and working 10, 11, 12-hour days. Everybody really came together and regrouped, and we came back real strong."
Trainer Ben Taylor has been with the company for almost a decade. He attests to the company's all-hands-on-deck mentality, and his job is to make sure that new employees can do a lot of different things. "What we want is for people to do everyone else's job, so that we're not relying on one person," he said. "What I do is a lot of cross-training. Yes, people learn one main area, but they're able to go up to the other areas and help out. That way, we're more efficient."
Taylor has also witnessed "significant changes" in the years he's worked at IHS – "from the people that we have in here to the machinery we have to how the company is run," is how he puts it. 
It's been a journey that has proved fruitful, and Zak Richmond says that the support of the Superior business community has been a key factor in all of it. 
"Early on, when we were trying to establish the location, it was very clear-cut for us that Superior wanted to help support building a business that would be able to provide good jobs," he said. "It's truly a business-friendly environment. We've been talking about what our expansion plans are going to be here in the next couple of years, and we're trying to hire five, six, seven more people right now."
Owner Keith Richmond also said he's pleased about support IHS Door received through the Douglas County Revolving Loan Fund. As its website explains, the fund's purpose "is to promote economic growth in Douglas County through recruitment, expansion and retention of business and industry by providing the necessary financing to fill gaps in local markets and thereby stimulate private sector capital formation, and to serve as a 'pump primer' rather than a replacement for private commercial lending."
"What I do is a lot of cross-training …That way, we're more efficient."
– Trainer Ben Taylor
"It was very helpful to our business in providing some funding for us during the height of the housing depression," Richmond said, referencing the economic recession that started in 2008 and affected businesses all across the country. The housing industry was particularly hard hit, which naturally affected IHS Door. "The folks at the Douglas County Loan Fund were very patient and helpful," said Richmond.
At each juncture of its development, IHS Door Co. has made solid strategic decisions and provided fine products that live up to customer expectations. For those reasons, it's clear that the potential for even more growth is wide open.  P.S.
Tony Bennett is a freelance writer based in the Twin Ports.
Like this article? Want to read more?
Click here to subscribe to Positively Superior magazine.