By Holly Kelsey-Henry
Family Business, Big Business
Kwik Trip Gears Up for a Busy Construction Season in Superior,
with Three Stores This Year and Another in 2015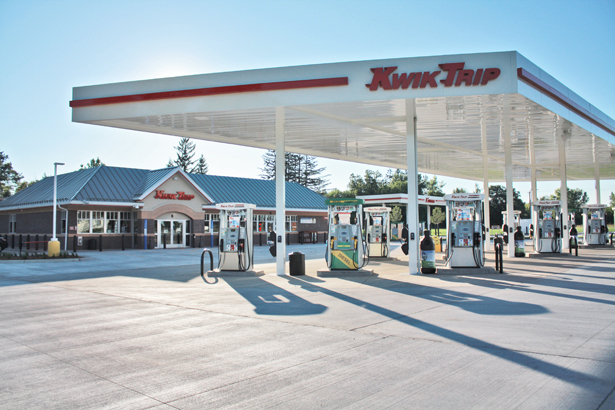 Kwik Trip team members believe in living their core values, and the La Crosse, Wis.-based convenience store chain will soon be living those values in Superior.
Kwik Trip has purchased two locations in Superior, one on the corner of Tower Avenue and North 28th Street, where the Kentucky Fried Chicken and Godfather's Pizza buildings stood, and another at U.S. Highway 2 and 30th Avenue East. The stores are slated to open in August. Kwik Trip will build a third store at Belknap Street and Banks Avenue later this year and will follow up in 2015 with a fourth Superior location that is yet to be announced.
The company will launch the new stores with the philosophy of the same mission statement it has always adhered to: To serve our customers and community more effectively than anyone else by treating our guests, coworkers and suppliers as we, personally, would like to be treated and to make a difference in someone's life.
When talking to Kwik Trip team members, it doesn't take one long to realize the company really does live up to its core values, which are:
Honesty and integrity: We are honest in all of our business interactions with our coworkers and business partners and expect the same in return.
Respect: We show respect for everyone by what we say and do.
Excellence: We strive to excel in everything we do. We are committed to producing high-quality products and services at a superior value for our customers.
Humility: We are grateful for our success and share our appreciation with our coworkers, but do not seek public recognition.
Innovation: We encourage and value creative solutions to customer needs and business challenges. Our uniqueness in our industry provides us with great competitive advantages in the marketplace.
Work Ethic: We are a Midwestern company that believes in a "roll up your sleeves" work ethic. The commitment and outstanding effort of our people have driven our success in the past and will drive our success in the future.
"We really do hire for core values," said Public Relations Director Steve Wrobel. "We don't even have to ask what happens if someone finds lost money, because we know the character of our team members. It's a culture. When we hire we are looking for core values. We can teach you how to make food and ring a register. What we can't do is teach the integrity and character."
Wrobel's claims are backed up with an abundance of accolades, the most notable of which was the Milwaukee Journal Sentinel's Top Large Workplace in Wisconsin Award in 2011 and 2012. The company has also been ranked 21st in a list of America's Top Workplaces by Workplace Dynamics.
"Anyone can sell milk or pizza or eggs, but what really makes us stand apart is our people," said Wroble. "They live our mission statement. In PR, I have an opportunity to see all the praise and letters on a daily basis. We get at least 10 a day telling us heartfelt stories from our guests. We hear about a team member helping to change a tire in brutal winter conditions and a Sheboygan team member who gave his dry socks to a young guest who had walked to the store in the snow and was cold. The stories seriously bring tears to your eyes."
Zone Leader Brad Fogarty agrees. "The first thing that comes to mind is the word 'people,'" he said. "I feel that the strength of our people is what makes Kwik Trip successful. Just about every speech that [owner and CEO] Don Zietlow gives, he talks about how our people are our greatest asset. The Zietlow family backs those words up with how all of us are treated. Unlike many companies, we all feel like part of the family, and not just a number."
Fogarty also emphasized that 40 percent of all company profits are shared with all coworkers, which makes each of them have a sense of ownership in the company.
"Just about every speech that [owner and CEO] Don Zietlow gives, he talks about how our
people are our greatest asset. The Zietlow family backs those words up with how all of us are treated."
– Zone Leader Brad Fogarty
"This simple – but fantastic – culture allows us to recruit and hire the best of the best," he said. "Our talented team, on all levels, treats every guest as they would want to be treated and executes all of our programs at a high level. Kwik Trip has many innovative products and programs, but what sets us apart is the execution by our loyal and dedicated team. All of our coworkers are happy, and they ensure that our guests are happy as well." We are very excited about bringing our culture and passion for guest service to the Twin Ports. I am confident that our new guests there will fall in love with our guest service, just like the many regular guests that we have to the south."
Wrobel added that the addition of Kwik Trip stores in the Twin Ports will bring more sustainable, stable jobs to the area. Each store will employ about 30 staff, one store leader, an assistant store leader and have an annual payroll and benefits of approximately $800,000.
His claims are backed up by team members such as Hayward, Wis., Kwik Trip Shift Leader Beverly Cunningham, who has been with the company for 10 years.
"It's great to work for this company," she said. "We get great pay along with opportunities for advancement in the company and a percentage of profits go back to the employees. We are a team, and we are valued and treated with respect and made to feel part of the company. The owners are just wonderful people."
So how did this effective team culture get started?
History
The very first Kwik Trip store opened its doors in 1965 in Eau Claire, Wis. Today, the family-owned company employs more than 11,000 coworkers in 450 Kwik Trip, Kwik Star and Hearty Platter® stores throughout Wisconsin, Minnesota and Iowa. It is, without a doubt, a growing company and leader in the industry, offering customers quality products and outstanding, friendly service at a fair, low price.
"We get great pay along with opportunities for advancement in the company, and a percentage of profits go back to the employees."
– Shift Leader Beverly Cunningham, Hayward, Wis.
Its dairy and fresh produce and other fresh foods come from its headquarters, warehouse and kitchens in La Crosse. The milk comes from Kwik Trip's own dairy farm and is delivered to stores within 24 to 36 hours after cow-milking time.
"Going way back, we have had milk in the bag that is the same quality as milk in our gallon jugs," said Wrobel. "A lot of people like that; they can use the milk and the bag compresses to practically nothing. We give our guests a free pitcher that fits the bag precisely and it's cheaper and good on the pocketbook. And it comes right from our dairy in La Crosse."
Kwik Trip also believes in buying locally, as evidenced from its sourcing locations: potatoes come from Nekoosa, Wis.; onions from Coloma, Wis.; carrots from Rochester, Minn.; sour cream, cottage cheese and French onion dip from Westby Creamery in Westby, Wis.; eggs from Reedsburg, Wis.; pizza meat toppings from Minnesota and Iowa; pizza crusts from Green Bay, Wis.; cheese from Richland Center, Athens, Colby and Gilman in Wisconsin; bologna and summer sausage from La Crosse; roast beef from Milwaukee; egg patties from Burlington, Wis.; wild rice from Spooner, Wis.; chicken and egg salad from Portage, Wis.; cheese sauce from Gilmanton, Wis.; and beans for Kwik Trip soups from Augusta, Wis.
That's a lot of purchasing to support area and regional economies, and Kwik Trip's sourcing policy delivers other benefits, as well.
"Not only does this support local farmers," explained Wrobel, "but purchasing locally also helps to reduce the carbon footprint created through shorter transport routes."
"Roughly 80 percent of what our stores sell is produced by Kwik Trip. In fact, this vertical integration is a huge factor in our success."
– Steve Wrobel, public relations, Kwik Trip Inc.
He notes that every day of the year, more than 12,000 associates in the Kwik Trip family work together to make and deliver the freshest food, produce and fuel safely to the company's stores. Team members inspect, test and sample every delivery to be sure it's only the best.
"We make it, we ship it, we sell it. Roughly 80 percent of what our stores sell is produced by Kwik Trip," Wrobel said. "In fact, this vertical integration is a huge factor in our success. We even have a subsidiary for trucking."
Community
"We're part of every community we serve," said Wrobel. "Our guests count on us to make their lives a little bit easier. We also give back by supporting worthy civic causes, from sports teams to charities."
Each year Kwik Trip donates thousands of pounds of food to the Feeding America Network. It also supports worthy causes such as the Special Olympics, Freedom Honor Flight, the American Red Cross and United Cerebral Palsy.
"We also serve our local communities through employee volunteers, in-kind contributions, monetary donations, fundraising support and employee and family support programs," Wrobel noted.
Locally, Kwik Trip recently donated $10,000 to both the Superior and Duluth public schools. In Superior, the $10,000 donation will help support the new National Bank of Commerce Spartan Sports Complex, to be built this year. In Duluth, the $10,000 will be used to help fund digital fabrication laboratories, also known as "fab labs."
Environmental Stewardship
"As responsible members of the communities we serve, we're committed to conserving our natural and physical resources, being environmentally conscious and employing sustainable best practices," Wrobel said. "It is safe to say we've been a leader in sustainability. We have LEED-certified stores. We're known for building green and it's very important to us."
In Superior, the $10,000 donation will help support the new National Bank of Commerce Spartan Sports Complex to be built this year.
LEED stands for Leadership in Energy and Environmental Design. It's a voluntary certification program administered by the U.S. Green Building Council in Washington, D.C., to promote and oversee green building practices. Industry panels peer-review design and construction plans, as well as operating processes, to ensure businesses meet or exceed green building performance standards.
Other sustainable Kwik Trip initiatives include:
Reclaiming and reusing waste water in car washes.
Offering Milk-in-a-Bag dairy products, which create a 95 percent reduction in compacted volume in landfills and a 75 percent reduction in package weight to save on fuel and transport costs.
An automated ice plant that needs only two people to run it and produces 200 tons of ice daily during off-peak hours to conserve energy.
The donation of old computer equipment to local schools.
Kwik Trip was named winner of the 2009 Wisconsin Excellence in Energy Efficiency Award by the Public Service Commission of Wisconsin and was also awarded the 2011 Deloitte Environment Distinguished Performer Award.
In the words of Kwik Trip Chief Executive Officer Dan Zietlow: "We plan to be around for a long time. Making sure we are sustainable will allow our company to provide our services for years to come."
For more information on Kwik Trip, visit kwiktrip.com.  P.S.
Holly Kelsey-Henry is a freelance writer based in Northwestern Wisconsin.
Like this article? Want to read more?
Click here to subscribe to Positively Superior magazine.