By Beth Probst
Compassionate Connections
Superior Animal Hospital and Boarding Suites Is a Leader in Providing Outstanding Veterinary Care – And a Civic Leader as Well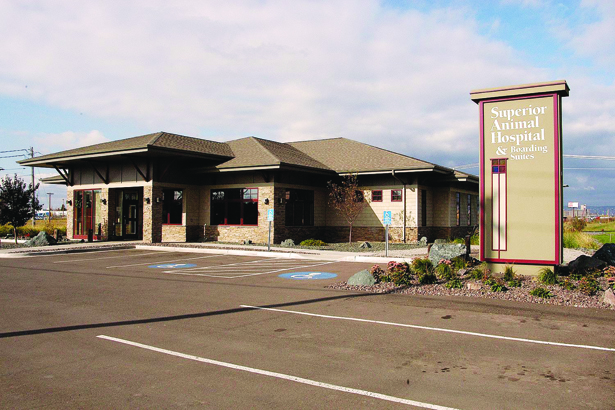 "The best doctor in the world is a veterinarian. He can't ask his patients what is the matter – he's got to just know."
– Will Rogers
The staff members of the Superior Animal Hospital and Boarding Suites, which has a rich history in the city of Superior, most certainly believe in those words of wisdom by the famed American humorist and social commentator. Once known as Tower Avenue Veterinary Clinic, the clinic was led by Dr. David Wiltrout, who opened the practice in 1979. In 1999, Dr. Robert McClellan purchased the practice and slowly began building the facility into what it is today.
"My wife, Serena, and I knew when we bought the practice in 1999, we'd want to change venues at some point," McClellan said. "We talked a lot about it, attended design conferences, bounced ideas off each other and started looking for property that would work for our vision."
By vision, McClellan means he didn't want just any vet clinic, but a modern facility incorporating their philosophy of veterinary medicine in every aspect of the building. To accomplish this, the floor plan grew from about 3,300 square feet to 10,000 square feet and included the addition of an upscale boarding facility. The building opened in 2003 and quickly became known as a superb facility. In 2006, it received an honorable mention for Hospital of the Year in Veterinary Economics magazine.
Today, the progressive facility employs five doctors and
30 support staff. It has 29 boarding suites that can house everything from dogs, cats, birds and rabbits to other small mammals.
Boarding Suites Director Jodi Frank has been with the boarding suites since its start in 2003. She came to the clinic after
volunteering at the Humane Society for 28 years. As director, she oversees a full-time staff of eight and while they have various backgrounds, she says they share a common bond. "We all love pets," said Frank. "We're genuinely compassionate and care about all of the animals that stay here."
Guests of the boarding suites can expect to be treated well, with at least three physical walks every day. The walks provide one-on-one time with staff and go a step further than just having an indoor or outdoor run. They also cycle the dogs through for an indoor playtime so they can socialize and play. For their feline clients, staff members adjust accordingly to the needs of each cat. While many prefer solitude, the more social cats receive plenty of one-on-one time and are rotated through the indoor playroom as well.
Frank says that the key to success for the boarding suites is taking the time to make a connection with the pet, while also communicating with the owner. "A dog or cat can't speak about their visit," she said, "so we make an effort to make sure the owners know what their pets' experience was like." This includes a detailed report card about how much they ate, the number of walks they went on, how they behaved during playtime and any other notes worth mentioning.
As for whether staff ever tire of interacting with animals, Frank is quick to say never. "There is nothing better than walking halfway down the hall to where an animal is and see them already up and moving around, just happy to see you," she said.
Superior Animal Hospital believes strongly in owners having enjoyable relationships with their pets and have offered puppy socialization classes led by Serena Lamers-McClellan for more than 12 years. The class offers even the experienced dog owner a wealth of new information about canine development and behavior. Research indicates the most important period of socialization for a new puppy occurs between six and 16 weeks of age. All family members, including the puppy, learn key points of behavioral training at this six-week class.
In addition to regular veterinary services, Superior Animal Hospital has several board certified specialists including a radiologist, internal medicine specialist and orthopedic surgeon who make regular visits to see patients requiring more in-depth care.
"There is nothing better than walking halfway down the hall to where an animal is and see them already up and moving around, just happy to see you."
– Boarding Suites Director Jodi Frank
A new specialty the hospital is becoming known for is laser therapy. The clinic began offering the treatment last August. The treatment is very successful in easing pain related to arthritis and can decrease the pain and healing time for various fractures and wound care. Superior Animal Hospital is the only clinic in the Twin Ports area currently offering this treatment.
Dr. Jody Berquist, one of five veterinarians and the director of veterinary services at Superior Animal Hospital, says another thing the hospital is quickly becoming known for is a very progressive dental bonding sealant. "We've been doing this for about a year now," she said. "It is a high-end dental procedure that puts a bonding sealant on teeth that are missing the enamel, allowing you to save the tooth."
The hospital is one of only a few in the Wisconsin region that is accredited by the  American Animal Hospital Association (AAHA). AAHA is all about improving the abilities of veterinarians to provide quality medical care to companion animals, enabling veterinarians to successfully conduct their practices and maintain their facilities with high standards of excellence, as well as meet the public's needs as they relate to the delivery of small animal veterinary medicine.
Accreditation requires successfully undergoing a rigorous process that only the best clinics can achieve.
But if you ask McClellan, he'd say what's truly unique about his facility is the people. "The people here are what makes us special," he says. "They are extremely passionate about everything that they do. And they really live by our motto of 'We treat them as if they were our own.'"
Berquist agrees, saying, "We're a very progressive hospital that strives to be excellent in everything we do, but we are also very compassionate. We understand and believe in the family-pet bond and do our best to treat all clients the same."
Customers are quick to agree as well. Long-time customer of both the boarding facility and veterinary hospital Pete Schenk said when he and his family first moved here, they were concerned about finding the perfect fit for their toy poodle. After searching, he stumbled across the boarding suites. Schenk was immediately impressed with the facilities, the staff's ability to answer questions and the fact that since the boarding suites are attached to the clinic, medical concerns could be addressed if something should happen while they were away.
"We're a very progressive hospital that strives to be excellent in everything we do, but we are also very compassionate."
– Dr. Jody Berquist, director of veterinary services
Since making that decision, Schenk says they haven't had a single major medical concern. He credits a strong preventative program. "I believe a program such as that is not only beneficial for the dog's overall health, but also in the long run will save us some future large medical bills," he said. "First class doesn't come close to providing an adequate compliment for Superior Animal Hospital and Boarding Suites."
Fannie Snowberg has similar sentiments about the hospital. Her relationship with Superior Animal Hospital dates back to when it was still on Tower Avenue. "We chose to follow them because we've always been pleased with the attention our pets get at the facility," Snowberg said.
Snowberg currently has two healthy dogs, but that hasn't always been the case. "We've had a couple of really sick dogs that needed major surgery," she explained. "They've always done a really good job of treating our dogs." She also noted that "the follow-through is always consistent. They follow through very closely, make follow-up calls to check in on our pets and see if there are any issues or concerns that we might have. They just really do seem to care about the animals."
This strong compassion for animals and people doesn't stop on the grounds of the Superior Animal Hospital and Boarding Suites. McClellan says it is important for himself personally and the entire staff at the clinic to reach out to the community.  "I like to be involved in the community. But we also think it is important to take care of animals that don't have owners," he said. "It is important to our clients and they appreciate that we do this, because they know these animals need help and a voice."
This outreach comes in many forms. First, the Superior Animal Hospital plays a key role with the Humane Society of Douglas County (HSDC). The Humane Society takes in stray and homeless pets in the county along with animals that have been surrendered. If for some reason any of these animals are injured, a phone call to Superior Animal Hospital happens right away.
"We also think it is important to take care of animals that don't have owners. It is important to our clients … because they know these animals need help."
– owner Dr. Bob McClellan
Jean Kioski, a long-time HSDC board member, says that one of the veterinarians from the Superior Animal Hospital does vet checks on the dogs at the Humane Society every other week on her day off work – at no charge. Beginning in 2011, the Wisconsin Department of Agriculture, Trade and Consumer Protection required that any facility that sells more than 25 dogs per year be licensed and do vet checks. This was primarily designed to address breeder facilities, but it also includes animal shelters.
Kioski says that since the HSDC does not have a veterinarian on staff, the advice provided by Superior Animal Hospital is priceless. "Sometimes it is the little things that mean the most," she said. "The advice they give – and just knowing they are a source we can call – is great. They are so wonderful. I honestly don't know what we'd do without them."
Some staff members also take on the duty of fostering injured pets that may need more therapy or care than an average person has the skill set to handle. In McClellan's case, he took on an older dog that was suffering from chronic back pain. And he is now the proud owner of a happy, healthy dog.
Outside of the services it provides, the Superior Animal Hospital and Boarding Suites is also a longtime financial supporter of the HSDC. The staff participates in various fundraisers, including the Cause for Paws annual walk. Most of the staff participates. The facility helps promote the walk with a large sign outside its building and serves as an event sponsor. In the spring, staff members serve a supportive and instrumental role in the Paws for Love dinner and auction as a major sponsor, also attending and assisting in the promotion of the event.
"They are so wonderful. I honestly don't know what we'd do without them."
– Jean Kioski, Humane Society of Douglas County board member
"They really treat every animal as their own," Kioski said. "This is not just a business. They really care about every pet that comes through their doors."
The Superior Animal Hospital also lends a hand to the Animal Allies Humane Society. Animal Allies was contracted by the city of Superior to operate the city's animal shelter in January 2012 after Animal Rescue Federation, which had operated the city shelter, merged with Animal Allies. Animal Allies has been working with the Humane Society to someday create a single nonprofit with a new animal shelter for the area to serve both the Humane Society and Animal Allies.
"Dr. Bob has been serving as a resource on this initiative since the beginning," said John Gustafson, development director at Animal Allies. "His leadership not only includes his own financial support to the project, but also the ability to articulate, as a Superior businessperson, the need for this shelter and provide leadership from the Superior side to make this happen."
Similarly, Officer Todd Maas of the Superior Police Department K-9 Unit says that without McClellan and the Superior Animal Hospital, as well as other Superior businesses, the K-9 Unit wouldn't even exist. The program had been cut for years. Then, back in 2003, the police department was able to reenact it, thanks to generous support from the business community.
"Dr. Bob immediately stepped up when we said we'd need community help to keep this program," Maas explained. "Without him, it is quite possible this program would be cut." Cost savings come through the Superior Animal Hospital providing free  checkups to ensure that 7-1/2-year-old Blek, a German Shepherd , is healthy and fit as he helps Officer Maas apprehend suspects, detect drugs and locate lost children and adults.
"Dr. Bob immediately stepped up when we said we'd need community help to keep this program. Without him, it is quite possible this program would be cut."
– Officer Todd Maas, Superior Police Department K-9 Unit
While the hospital tends to support animals, it also gives back to the community at large. Dr. Berquist says the staff does it because "we see the need for it. All spectrums of society come into our clinic and we see what they need. We just want to help."
This help varies throughout the years. One example: Rather than buy Christmas presents for each other, staff members pool their money and support a local nonprofit. Donations have supported the Center Against Sexual and Domestic Assault, the Flood Relief Fund, buying accessories (such as a life vest or special dog harness for the Superior K-9 Unit), or buying Christmas presents for a family in need through The Salvation Army Adopt-A-Family Program.
That's even more compassion from a caring staff committed to serving animals and their owners throughout the region.  P.S.
Beth Probst is a freelance writer based in Iron River, Wis.
Like this article? Want to read more?
Click here to subscribe to Positively Superior magazine.