By Dana Kazel
Born To Fly
Kestrel Aircraft Steams Ahead to Build a 'World-Beating Company' in Superior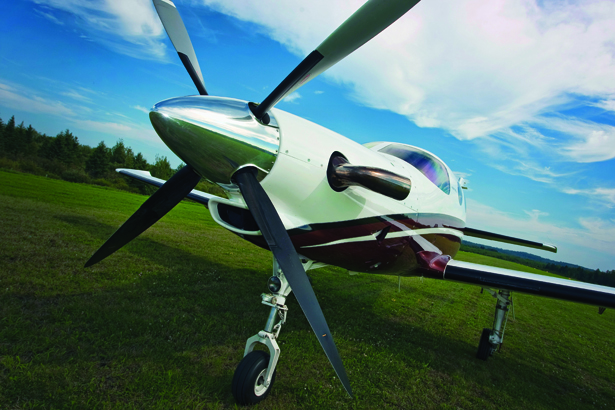 Vision and hard work, fueled by unfailing optimism and determination.
That was the case for a group of men who love to fly and had an idea for an airplane that would make the flying experience better for more people. Their vision spread, this time to a group of civic and business leaders firmly grounded in Northwest Wisconsin. They saw the job creation and economic development that same airplane represents.
Alan Klapmeier, CEO and chairman of Kestrel Aircraft, had already chosen to locate his business in Brunswick, Maine, when the group from Superior asked if he would consider an offer in their town. Klapmeier recalls telling them their odds were unlikely but they were welcome to try and put a package together. As the months progressed, and the indicated funding in Maine failed to materialize, Klapmeier started looking at other options.
"Mayor Hagen was just fantastic through all of this," said Klapmeier. He recalls hearing Bruce Hagen once say at the end of a meeting, "Alan's made it pretty clear we don't have a great chance at getting this, but I think we can pull this off."
"I remember thinking, 'I love that confidence,'" Klapmeir said. "I don't think you're going to win, but I love that confidence."
As is well documented by now, the Superior delegation's confidence proved justified and in January a successful financing package was approved. The financing includes an allocation of New Market Tax Credits from the state of Wisconsin that will bring $7 million to Kestrel this year and an additional $14 million in the
future, $18 million in long-term Enterprise Zone Tax Credits and $4 million in loans. Douglas County is contributing the land next to the Bong Airport, where Kestrel will build a production facility, and a $500,000 loan. Superior is providing $3.1 million in Tax Increment Financing and land grants, plus a $2.4 million loan.
"The credit goes to the mayor and the people of Superior," said Ed Underwood, Kestrel's chief financial officer. "They're the ones who understood our idea and product and saw the value to the community. We outlined our needs and our requirements and they're the ones who really put the work behind it. It was simply a matter of persistence that made it work. It would have been very easy for a number of people to just say this is too complicated – let's forget about it and find something easier to do, and no one would do that."
"The credit goes to the mayor and the people of Superior. They're the ones who understood our idea and product and saw the value to the community."
– Chief Financial Officer Ed Underwood, Kestrel Aircraft
Klapmeier objects to the way the media in Maine have portrayed Kestrel as setting up the states to compete against each other to package the best deal. "We never did that," he said. "What we told Maine and Superior is 'It's just a race. No offense, guys – either place is okay. All you have to do is get it done and you win. Unless the other guys get it done first.'"
For those who question if the payoff in Superior will be worth the public investment, Underwood said, "If you look at the potential return, if you evaluate it as a banker would in terms of investment, it's a risk worth taking. We believe we're a team that can pull it off. We have a product that will be accepted by the market. We have a stable market. All of those are what a private investor would look at in trying to get a return on their money."
It's no secret that new aviation companies fail at a high rate. Klapmeier proved he could beat those odds with the success of Cirrus Aircraft in Duluth, where he formerly served as CEO. Trying again with Kestrel, does he feel he's tempting fate?
"That never even occurred to me," said Klapmeier. "The evidence in the aircraft (industry) is actually the opposite. Very few get started. A fair number of them fail, but because there are so few, the percentage actually isn't so bad." That's not the only misconception in the aviation industry. "We get this reputation for being high tech, leading edge, strong engineering-driven companies. That's not true," he said. "This stuff is old technology protected by huge barriers to entry – FAA [Federal Aviation Administration] certification, with limited access to capital to develop new products, which is why the same airplanes get built for 30, 40, 50 years at a time."
That may be why his innovative way of thinking has been so welcomed. "Because of Cirrus, nobody ever tells me it can't get done anymore because we've already shown them it can," said Klapmeier. "The team that's in this building and out in Brunswick has so much more aircraft design, aircraft certification, business, sales experience than we had before that it has to be drastically lower risk."
Will that experience be enough to bring success? Here's a closer look at the plane, the plans and the people of Kestrel Aircraft.
The Plane
The plane is a composite (made of carbon fiber) single-engine turboprop. Its design, according to Klapmeier, is based on the assumption this will be an owner-operated aircraft, meaning it will be piloted by nonprofessionals. "We spend a lot of time thinking about how the pilot interacts with the airplane," said Klapmeier.
He and his partners recognize they need to reach a niche market, but say it's a stable niche that will grow when pilots realize the flexibility the Kestrel offers. It's a market that's seen limited innovation in recent years, according to Underwood. "What we're offering is a product that will incorporate not only advanced avionics materials but will provide basically much more utility than anything else in its niche at the moment," Underwood said.
"Because of Cirrus, nobody ever tells me it can't get done anymore because we've already shown them it can."
– Chief Executive Officer Alan Klapmeier, Kestrel Aircraft
The Kestrel's interior is roomy enough for up to eight people and will be equipped with luxury details for maximum comfort. It can fly long distances at high speeds and doesn't require a long runway to land. That combination makes it ideal for both business and recreational travel.
"This one blurs that line more than others," said Klapmeier of how the plane will be used. "Like a corporate jet, this provides very reliable, effective business transportation. You really can put six people and their bags and go to your meeting. It has less of the weight/payload trade-offs that some airplanes have. But because of some of its other features, like being able to land on shorter runways, it will also be ideal for saying, 'Throw the fishing rods or the mountain bikes in – we're going to some out-of-the-way place.'"
Kestrel board member Adrian Norris, who's been involved with the Kestrel since its days with Farnborough Aircraft Corp., commented, "It will be simple to operate, and will have lower operating costs and lower emissions than any other aircraft of similar size and performance. It will be American built. And it will be very beautiful."
It was the plane that won over Klapmeier. He'd been searching for a project since leaving Cirrus and failing in his bid to buy the Cirrus Jet.  "I did a demo flight in the prototype where two things became apparent," he said. "The first was that what they had was very impressive from a performance point of view. The second was that there were a bunch of things wrong with the airplane that we could fix."
"During that production ramp-up, we have to wrap up our customer support people, supply chain and pilots for doing testing. So the jobs are quite varied."
– Chief Operating Officer Steve Serfling, Kestrel Aircraft
Klapmeier called it "a good meeting of capabilities." He and Underwood recognized that tough economic conditions at the time meant they needed a project already in progress, so it could be completed sooner. Norris, meanwhile, was facing the challenge of achieving European and United Kingdom certification and needed people who had conducted certification of composite airplanes.
Because the proof-of-concept prototype was already called the Kestrel, Klapmeier and Norris chose to maintain the name for the company as they began their new joint venture in July 2010. Since then, they've moved steadily forward, always focusing on how to improve the prototype's design, while at the same time arranging financing, planning where and how the plane will be built and hiring the team that will make it.
Last August, Kestrel officials met with the FAA to start the certification process and get it familiar with their program. It typically takes three to four years to achieve certification, so the goal date to begin delivering airplanes is 2014.
The Place
Klapmeier says he knew that if financing came through, the project would succeed in Superior. "There are other places in the country where that was an issue," he said. "Do we really think we can make it work there? Can we get the right people? And do we want to live there? So Superior had that edge right from the beginning. Having said that, that wasn't the edge that made it work in Superior. What made it work was the team that was working on it was just fantastic. Something would go wrong and they'd come up with another suggestion."
"If you evaluate it as a banker would in terms of investment, it's a risk worth taking."
– Chief Financial Officer Ed Underwood, Kestrel Aircraft
An interesting coincidence: Norris, who grew up in England and now lives in France, recalls learning about Superior as a child. "Strange though it may seem, Superior was featured in my school geography text book when I was 9 years old," he said. "There was a chapter about lake steamers and how American grain got to Europe."
He's now much more familiar with the city. "For the last 18 months we have had people working for Kestrel in Duluth, and I visited (Superior) quite often. I confess that my trips were often to buy some wine on Sundays!
"The city has an amazing location on the lakeshore," continued Norris. "It has obviously suffered economically, but I really hope that Kestrel can play a part in putting that right. Mayor Hagen and his team worked tirelessly to bring Kestrel to Wisconsin. They are obviously all determined to make their city more prosperous. They have made us feel very welcome in Wisconsin, and I look forward to continuing to work closely together for many years to come."
The Facilities
Kestrel currently operates out of two locations. Company headquarters are in Duluth, but will move to Superior when the new facilities are built. It's home to a team of engineers and executives. Meanwhile, in Brunswick, Maine, another team of engineers is based at the former naval air station.
Klapmeier vows Kestrel remains committed to Maine, and not just to fulfill a condition of its New Markets Tax Credit allocation.
"We've got staff out there that we've made promises to," said Klapmeier. "They're good people and we're not going to fail them. We also think there are good opportunities out there. It is a great big facility and there are a lot of different pieces to this business that we would like to continue to expand."
Those pieces include engineering support for the team in the Twin Ports, some initial tool design and a separate division, Kestrel Aeroworks, which offers airplane customization services.
But even greater opportunities are now waiting in Superior, where Kestrel leaders are talking with architects and working with the city on site surveys for a manufacturing plant to be built on Winter Street. It's here that engineers will design and manufacture tooling, as well as the Kestrel parts needed to build first the prototype that will be used for certification, and later the actual planes. The goal is to break ground later this spring or early summer and for the building to be finished before year-end. This coincides with the timing of when Kestrel hopes to begin building its first test planes.
Meanwhile, a production facility will be built at the Bong Airport. Final assembly of Kestrel's plane will be done in this facility using a combination of Kestrel-designed pieces, plus parts – such as the Honeywell engine – from other manufacturers.
Steve Serfling, Kestrel's chief operating officer and executive vice president of product development, expects design work for the production facility, which he describes as a slightly more complex project, to begin this summer and construction to take place next year.
Kestrel will hire a project manager to oversee its building projects. Serfling says that in the days following the announcement of their plans for Superior, the company was inundated with 20 to 30 phone calls per day plus hundreds of e-mails from electricians, developers and other skilled craftsmen, all wanting to be part of the new projects.
The Jobs
Perhaps more exciting than the buildings is the number of people who will work in them. As of mid-March, Kestrel employed 52 people split almost evenly between Duluth and Brunswick. The company is in the process of hiring 35 more employees, primarily for engineering and engineering support roles. The majority of the new jobs will be in the Twin Ports, though some are slated for Maine.
By the end of the year, Serfling expects the Kestrel employee count will reach 135 to 140 between the two locations. Most of those jobs will be in product development, supported by 15 to 20 administrative positions.
The largest hiring – for an estimated 300 to 350 production positions – will happen once FAA certification is achieved and Kestrel starts selling planes, which is expected around the middle of 2014.
"That's an estimate based on how many hours per airplane we think it's going to take to build, and how many airplanes per year, and then all the support functions," said Serfling. "And obviously during that production ramp-up, we have to wrap up our customer support people, supply chain and pilots for doing testing. So the jobs are quite varied."
"We're currently looking at putting together a Composite Certificate, which will be directly designed to work with Kestrel and their manufacturing needs."
– Vice President-Academic Affairs & Campus Administrator Diane Vertin, Wisconsin Indianhead Technical College
With an eye on that hiring timeline, Wisconsin Indianhead Technical College's Superior campus is already planning to add new courses and training programs.
"We're currently looking at putting together a Composite Certificate, which will be directly designed to work with Kestrel and their manufacturing needs," said Diane Vertin, vice president-academic affairs and campus administrator. She anticipates the new program would be ready to launch in the fall of 2013.
"The timing is everything," said Vertin. "It doesn't make sense to put people through coursework two years before they get a job and forget everything they learned. So we're trying to time it with what's going on with the industry itself."
WITC also is exploring the idea of partnering with a four-year college to create an Engineering Technologist Associate Degree, the credits from which would directly apply toward a four-year degree.
A Kestrel design engineer currently sits on an advisory committee for WITC. Vertin says it's the college's mission to adapt programs based on industry needs. "We are aligned with business and industry. We train for employment," she said. "We are in constant communication with our advisory committees saying what does this curriculum need to look like? How do we align with today's standards to assure we have state-of-the-art training?"
Vertin encourages interested students to contact the college early to enroll. WITC has already seen a boost in admissions since the announcements of Kestrel and other major employers, and some programs now have waiting lists for students to start.
The Team
Many of Kestrel's employees share a common background. Seventy-five percent of them once worked at Cirrus, though Serfling is quick to note that more than half of them had already left Cirrus – by choice or by layoff – before coming to Kestrel.
Serfling, who's overseeing the hiring of engineers, describes the current crew as his dream team. "Part of it's culture. Part of it is setting expectations and continuing to keep that challenge there," said Serfling. "But put people in the right jobs, jobs they're passionate about and you don't have to worry too much about discipline and those kinds of things. And when you're building airplanes, you can't get much better than that.
"It's all about the whole and the success of the company."
– Kate Dougherty, Kestrel Aircraft Public Relations
"We tell people our job is to get this done by this day and they figure out a way. I wasn't joking when I said 60 to 70 hours a week," Serfling said. "Work ethic, camaraderie, taking care of each other, having each other's back. It sounds cliché but it's not. What sets that tone is Alan Klapmeier. He's driven, but he goes out of his way to take care of people. And that says he's got my back." Adds Kate Dougherty, another Cirrus veteran who now handles Kestrel's public relations, "It's all about the whole and the success of the company, and by doing so, we will all become successful. We're all in this together and we're all going to make it or break it together."
That camaraderie now extends to the city, county and state that were willing to support the Kestrel dream.
"We will create a lot of well-paid and rewarding jobs here, building a fabulous product, which I hope everyone will be very proud to be associated with," said Norris. "We will work with diligence and with integrity to build a world-beating company in Superior. The management of Kestrel have all made significant personal commitments to the company. Our interests are fully aligned with those of the people of Superior; we can only succeed by doing what is right for them."  P.S.
Dana Kazel is a freelance writer.
Like this article? Want to read more?
Click here to subscribe to Positively Superior magazine.