By Andrea Busche

Discover the Artist Within You

Pottery Burn, a Paint-Your-Own Pottery Studio, Provides Fun for All Ages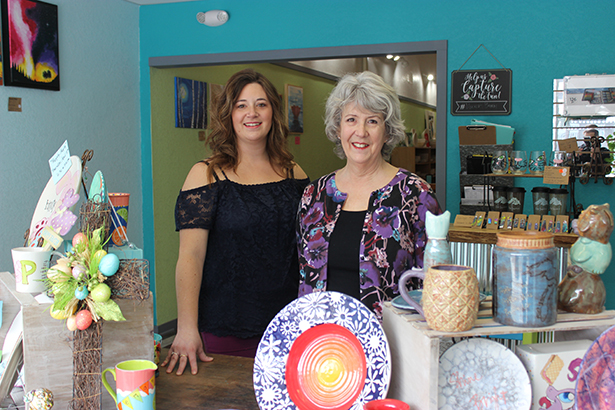 Whether or not you consider yourself an "artsy" person, Superior's Pottery Burn welcomes you. This paint-your-own pottery studio promises to inspire, teach and walk its customers through the fun and rewarding process of creating a beautiful work of art, from start to finish. No experience is required, and for many customers who have visited the studio, it was their first pottery painting experience.
Oftentimes, an amazing transformation takes place during a Pottery Burn session. Many a customer – from children to seniors – has entered the studio, head hanging low, sheepishly insisting they simply aren't artistic. But just about everyone leaves with a newfound, elevated confidence level, pleasantly surprised at what they have created.
"Right off the bat, Superior has proven to be such a close-knit community. I've been welcomed by so many neighbors."
– Owner Amanda Korhonen

From walk-in customers to groups seeking a fun venue for parties and special events, Pottery Burn is a great place to gather and create with friends and loved ones. The business offers a variety of classes where painting techniques, new designs and different types of media are taught, such as painting on wood or canvas. Visitors may also peruse the studio's gift shop to find the perfect item for a loved one. And Pottery Burn's owner, Amanda Korhonen, wants to make people as comfortable as possible during their visit, so patrons are welcome to bring their favorite snacks and beverages from home to enjoy while they paint.
So come on down and, as the studio's tagline says, "Discover the artist within you."
From Insurance to Ceramics
From its inception in 2009 and through 2015, Pottery Burn was located near Do North Pizza in Hermantown, Minnesota. Later, it was housed in Duluth's Village Square near the Miller Hill Mall from 2015 through 2018. Then Korhonen decided to relocate to Superior, opening the studio's doors at 1207 Tower Ave. on February 1.
Korhonen, who is just 34 years old, has owned the business since June 2015. She shared a little bit about the Pottery Burn's history and how she became the studio's owner.
"I attended UW-Stout and earned a degree in retail merchandise and management," Korhonen said. "And, until owning Pottery Burn, I worked for my mother-in-law at the family business, American Family Insurance in Superior. I've always been kind of a crafty person, though, and I loved the idea of owning a shop. We received notice that one of our customers, Stacie Magnuson – the previous owner of Pottery Burn – was going to sell, due to a family relocation back home to Texas."
So Korhonen and her husband, Nick, had an intense conversation about the possibility of buying the business. They ultimately decided to move forward and take that leap of business faith, despite the fact that operating a ceramics and pottery studio was new to her. "I didn't know anything about ceramics until I bought the studio," she said.
While some pottery studios, such as Color Me Mine, are part of a franchise or chain, Pottern Burn is – and has always been – independently owned.
A Move Across the Bridge
Pottery Burn's new Superior location was the former home of Rhonda's Always and Forever Bridal. Interestingly, Korhonen purchased her own wedding dress from Rhonda's – the very space where she now operates her business.
In addition to increasing the studio's square footage from 1,800 to 3,000, the move to Superior was a convenient choice for the Korhonens, who live in Poplar. Korhonen appreciates their new Tower Avenue location, which has a bus stop located right out front and plenty of parking in the back.
"We are hoping … that we can expand to many more fields of art, starting and continuing with acrylic paintings on canvas."
– Scott Checkalski, In-House Canvas Artist

The Superior location also attracts many people who are out window shopping or simply walking by. "I never got that in Duluth," Korhonen said. "Right off the bat, Superior has proven to be such a close-knit community. I've been welcomed by so many neighbors."
A Stylish Remodel
Many projects were required to transform the former dress shop into a pottery studio. All of the old carpeting and a dressing room were removed. New flooring was installed near the gift shop area, and cleanup sinks were added at the back of the studio.
A new hot water tank and two kilns were installed. An elevated platform used in the dress shop to facilitate gown alterations was given a new purpose as a "party deck," which can be reserved for groups at the
studio.
The studio's interior was also repainted in cheerful shades of blue, teal and green. Shiny pieces of corrugated metal were wrapped around the front desk and also cover the exterior facade. And a 300-square-foot artist's studio was created for Scott Checkalski, the in-house canvas artist.
Most of the interior work was done by family members, including Amanda Korhonen's mother, Gaye Erkel, who also works as the studio's manager. However, some Superior professionals were also brought in to help. John Jones Construction was hired to update the front facade, JD's Electric handled the lighting, and Ivan's Upholstery and Dye created the stylish new black, white and teal awning at the front of the business.
How It Works
No appointments are needed at Pottery Burn and walk-in customers are welcome. Reservations are requested, however, for parties and groups of six or more.
There is no potter's wheel at Pottery Burn; all of the paintable pieces are already made and are known as "bisques." Customers begin the process by selecting the bisque they want to paint. Each bisque is conveniently labeled with its full price, which covers the piece itself, paint and the cost for firing the pottery piece in the kiln.
When it comes to bisques, options abound. There are mugs, plates and bowls, piggy banks, planters, tiles and animals – all displayed across 10 bookcases in the studio. And Korhonen is always reevaluating her inventory and ordering new selections. "There is always something new to see," she said.
Customers then select the table most comfortable for them; they may choose the lower, dining table-type seating or tall, high-top tables. Then it's on to the "paint bar," where they're shown the selection of more than 100 paint colors, including sparkle paints. Many painting implements are also provided including stencils, sponges and more.
Each piece takes about two hours to paint. After painting is completed, customers leave their pieces at the studio to be dipped in clear glaze and fired (superheated in order to harden) in the kiln. Customers will then receive a call to pick up their creations in about a week.
While a lot of people create items to use as decor in their own homes, many others are creating gifts to present to family or friends. "It's about 50/50," Korhonen said. "Around holidays like Christmas and Mother's Day, more items are given away as gifts."
Employees Love the Business
Erkel retired four years ago from the bookkeeping and accounting field. Today, she is a highly valued staffer at Pottery Burn, and she enjoys working alongside her daughter.
"I do a lot of the background work, the bookkeeping, and I reestablished a point-of-sale program called ShopKeep," Erkel said. "I also set up an inventory system and created a new email database." Additionally, she visits the studio at least once a week to assist customers, clean and stock shelves.
Erkel is an invaluable asset to Korhonen. "Without her, I wouldn't have survived," she said of her mother. "We work very well together," added Erkel. "This really is an intergenerational business. We see things from different perspectives, which is helpful."
The studio also has four employees who are affectionately referred to as "creative
assistants."
"They don't really have titles," Korhonen explained, "But they are trained to help customers, dip items in clear glaze, and load and unload the kilns."
The In-House Artist
There is also another unique employee of sorts: in-house canvas artist Scott Checkalski, who is a longtime friend of the Korhonens. He has a master's degree in studio art painting from the University of Wisconsin-Superior and is a full-time artist and instructor. Checkalski has been teaching classes at two other Superior businesses, Art on the Planet and Wine Beginnings, for years.
"They really make you laugh and have a good time."
– Customer Kellie Luedloff

"All the art that Pottery Burn offers is on pottery/ceramic pieces. I was hired to bring in more options of creative art-making," Checkalski said. "I primarily work on canvas, but have painted on panel, wood and glass many times before. We are hoping – with me joining up with them – that we can expand to many more fields of art, starting and continuing with acrylic paintings on canvas."
Pottery Burn is proud to feature Checkalski's artwork for sale. Additionally, he sells art supplies, paint, canvases and more in the studio's gift shop. On April 1, Checkalski began teaching four scheduled classes a month.
In addition to Checkalski's instruction in painting on canvas and wood, Korhonen hopes to expand Pottery Burn's offerings even further. She is currently in talks with a tattoo studio about offering a henna class and is considering bringing in slab rolling with raw clay to make Christmas ornaments.
Parties and Special Discounts
The studio can help customize a party for any occasion, whether for children or adults. Birthday parties, bachelorette parties, and ladies' nights are just a few of the groups Pottery Burn has hosted. Specific party packages include: the 6" Tile Package; the Good Eats package (a food-safe bowl, mug or plate is painted); the Party Animals package (each participant chooses a bisque animal to paint); and the Create Your Own package.
Every Wednesday and Thursday, seniors receive $3 off per piece. And every day at Pottery Burn is military day; it offers a discount to military personnel with valid ID. Staff members have also taught ceramic painting at community education classes, assisted living facilities, schools, businesses and churches.
Kellie Luedloff is a regular at Pottery Burn, visiting about once a month with a group of colleagues or friends. She has taken classes with both Korhonen and Checkalski.
"Both Amanda and Scott are so phenomenal," said Luedloff. "They offer instruction and choices and never make you feel like your piece isn't good enough. They really make you laugh and have a good time. A lot of the things I have made at Pottery Burn are items where I wouldn't have the vision to create it on my own. But I can
follow directions!"
Bringing Out "The Artist in Everyone"
The Pottery Burn staff wants people to know that they are accomodating to people of all artistic skills and abilities. It is incredibly rewarding for employees to see the look of joy on a customer's face when they arrive to pick up their finished piece – especially if they don't consider themselves very artistic. "I like to be here when a customer picks up their piece," Erkel said. "I love to see their reactions."
"Some people come in the door initially with no idea of what to do or how to paint. Then they pick up their finished piece and they're surprised because it's so beautiful," said Korhonen.
"You don't have to be an artist," she added about painting at The Pottery Burn. "It's very easy. We're here to bring out the artist in everyone." P.S.
Andrea Busche is a freelance writer based in the Twin Ports.
Like this article? Want to read more?
Click here to subscribe to Positively Superior magazine.